Chris Hemsworth, Tom Hiddleston, and Robert Downey, Jr. explain their characters' journeys leading up to The Avengers. Amazing Spider-Man star Emma Stone reveals the greatest risk Gwen Stacy has ever taken. Plus Peter Jackson drops another Hobbit video diary!
Spoilers from here on out!
Top image from The Avengers.
The Avengers
Robert Downey Jr. explains the journey that Tony Stark has taken from the original Iron Man to this film:
"In Iron Man, which was an origin story, he was his own epiphany and redemption of sorts. Iron Man 2 is all about not being an island, and dealing with legacy issues and making space for others. There, he was a military machine. In The Avengers, he's throwing it down with the others."
Downey Jr. also discusses how Tony sizes up the more fantastical characters like Thor:
"It's other-dimensional, and so that's the way that Tony think of this Loki-intergalactic-planetary-Beastie-Boys-son reality that happens in The Avengers. As an engineer and scientist who explores all possibilities, I don't see why he would say, 'That's not possible.'"
G/O Media may get a commission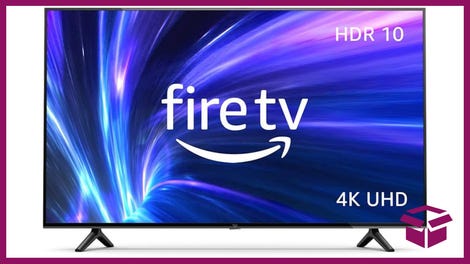 42% Off
Amazon Fire TV 50" 4K Smart TV
Finally, he reveals that Tony likes to nickname the other team members, giving the example of Capsicle for Captain America, in reference to the whole being frozen for sixty-plus years thing. [Comic Book Movie]
Chris Hemsworth notes that Thor fits in well with The Avengers, noting "he's not the only guy dressed up in a strange costume", and joking that his sleeveless costume in this movie is "a summer number." He also drops some more hints about how his relationship to Loki informs his journey in this film, perhaps suggesting that his fraternal relationship might interfere with his Avenger duties:
"Thor has more of a personal investment. It's not just some bad guy that he's gotta take care of; for him, it's family. There's a sense of, 'I'll beat him up and teach him a lesson, not you guys.' It's the first time in ages since he's seen his brother, and it's amongst all this chaos."
Tom Hiddleston talks some more about Loki's journey from Thor to The Avengers:
"He and Thor literally have superhuman powers. Within the Marvel Universe, Loki has the keys to the universe, and he's been down all those dark alleyways in space. He's met all the monsters and made friends with them. He's an all-power-being. Loki's agenda, like all delusional, would-be autocratic fascists, is power, which he believes will give him self-esteem. I haven't let go of the fat that he still motivated by this terrible jealousy and spiritual desolation."
Elsewhere, Hiddleston gives his take on why Joss Whedon was the right choice to direct the movie:
Joss has kind of got this pan-literacy about the genre and his dexterity in negotiating all the different story lines, all the different characters, all the different tones just so that it's real and relatable and funny and dynamic and then just badass, because that's what the Avengers has to be! So he was capable of directing intensely dynamic scenes between two characters, but also delivering action on the most incredible scale. I can't say enough about Joss. Amazing director.
He also discussed a couple of the coolest props on set:
There's a couple of quite cool props, actually. I'd say my favorite prop would have to be Loki's spear...Sam Jackson has these amazing screens. They're kind of like uber iPads or something. So from his command base in the S.H.I.E.L.D., the base of operations, he's got these incredible screens which he's just able to pull stuff up on.
---
The Dark Knight Rises
Here's an interview with Gary Oldman, in which he explains what he will miss about playing Commissioner Gordon and promises the trilogy is "going out with a bang."

Composer Hans Zimmer confirms that Catwoman will have her own specific theme:
"She will have [a theme], she hasn't yet. That's got something to do with I haven't written it. Of course I'm working on that. Right now my dilemma is I have far too many ideas and it will take me some time to actually execute them and put them in some sort of order."
---
The Amazing Spider-Man
Emma Stone explains the relationship between Gwen Stacy and Andrew Garfield's Peter Parker:
"And we were lucky to be able to express the authenticity of two people in love. Getting involved with Peter is the first irresponsible thing she's ever done."
Meanwhile, director Marc Webb explains why Andrew Garfield was the perfect choice to play a teenage Spider-Man, despite being 28:
"In his screentest, he killed it. He moved like an awkward kid, his elbows were flying all over the place, but he also had an ability to go deep in a way that very few actors can do. [frick], he's good."
Here's a bunch of new promo photos. [MovieWeb, /Film, Film School Rejects, and Spinoff Online]
Here's some cool new promo art. [Comic Book Movie]
---
Green Lantern 2
This probably doesn't mean all that much, but Warner Bros. has gone ahead and registered the domain name www.greenlantern2.com. While Warner Bros. doesn't register just any prospective sequel website, the act still doesn't really indicate a movie is imminent - indeed, they also renewed their registration of www.gremlins3.com - which they first reserved in 2009 - and Joe Dante himself has repeatedly said there's no forward motion on a third Gremlins movie. [/Film]
---
Ghost Rider: Spirit of Vengeance
Here are some promo images. [ShockTillYouDrop]
---
Prometheus
When asked if her character is comparable to Sigourney Weaver's Ellen Ripley, Charlize Theron explained she actually fills a very different role:
"No, I actually don't play the heroine in it; that's Noomi Rapace. I play somewhat of a villain in it. She's not believer, she's not a scientist, she is the red tape that everyone has to go through. She's working with the company that's sponsoring this whole thing and you can feel she definitely has an agenda, which we pick up in the third act. She's more quiet thunder."
So, she's the villainous bureaucrat, which means the person she's most comparable to in all Alien lore is... Paul Reiser in Aliens, making this the first and I'm sure only point of similarity between Charlize Theron and Paul Reiser. [Total Film]
---
John Carter
Here's a new international trailer.

---
The Hunger Games
Taylor Swift has tweeted that she, along with the Civil Wars, recorded a song for the movie's soundtrack. You can listen below, though there's no word on how exactly it fits into the movie, assuming it's being directly incorporated at all. [First Showing]

---
The Hobbit
Here's the latest video diary from Peter Jackson detailing the movies' production. [First Showing]

---
Underworld: Awakening
Here are a couple trailers.

And here are some promo photos. [ShockTillYouDrop]
---
Frankenweenie
Here's a new image from Tim Burton's stop-motion remake of his 1982 short film. [Stitch Kingdom]
---
Mission: Impossible 5
With the success of Mission: Impossible - Ghost Protocol, Skydance Productions reportedly wants to get started right away on a followup, and according to costar Simon Pegg the original plan to transition from Tom Cruise to Jeremy Renner as series star has been abandoned, and Cruise will likely be back for more. Pegg explains:
"I think that might have been the plan earlier on, but as the film progressed and we enjoyed it so much I think the idea of Ethan Hunt retiring fell by the wayside. Tom [Cruise] suddenly remembered why he loved doing these films so much and suddenly thought 'well maybe I do want to do more?'"
[/Film]
---
G.I. Joe: Retaliation
Here's a very short synopsis for the upcoming sequel:
In this sequel, the G.I. Joes are not only fighting their mortal enemy Cobra; they are forced to contend with threats from within the government that jeopardize their very existence.
---
Fringe
Here's a synopsis for the show's midseason premiere, "Back to Where You've Never Been", which airs January 13:
THE TIME HAS COME TO CHOOSE A SIDE - In an effort to find a way home, Peter journeys to the Other Side to confront Walternate. His venture proves more dangerous than expected. Meanwhile, Olivia receives a dire premonition from an Observer.
Episode 11 is reportedly called "Making Angels" and revolves around Astrid. [SpoilerTV]
---
Chuck
Here's the official description for episode ten, "Chuck vs. Bo", which airs January 13:
MORGAN FACES THE CONSEQUENCES OF HIS TIME AS THE INTERSECT WHEN HE MUST PIECE TOGETHER A LOST WEEKEND IN VAIL — BO DEREK ("10") AND ANGUS MACFADYEN ("BRAVEHEART") GUEST STAR — As Chuck (Zachary Levi) and Sarah (Yvonne Strahovski) try to realize a new, safer future, Morgan's (Joshua Gomez) past as the Intersect sends them to Vail on one last mission, where they enlist the help of an unlikely source — the legendary Bo Derek (as herself). Elsewhere, Jeff (Scott Krinsky) and Lester (Vik Sahay) continue their own spy mission.
[KSiteTV]
And here is a short synopsis for episode 11, "Chuck vs. the Bullet Train", airing January 20:
Sarah and Chuck face Nicholas Quinn on a Japanese bullet train; Casey faces a difficult decision.
[ChuckTV]
---
Once Upon a Time
Executive producers Adam Horowitz and Edward Kitsis preview the second half of the season:
HOROWITZ: We're going to launch into the second half of the season through the eyes of someone else, which is Mr. Gold and Rumpelstiltskin. We're going to actually find out how Rumple became Rumple.
KITSIS: That said, the reveal of the vault is a very important thing for us in terms of moving forward in the season in that we wanted to send a very clear message that Regina knows what's going on and has some very clear intentions in Storybrooke.
Horowitz also talks about the challenges facing Snow White and Prince Charming's romance, plus some more general tidbits about what's ahead:
It's the entire situation - a relationship that's starting from a place of huge obstacles. We have two people who've had an immediate attraction to each other, but one is just coming out of a coma and is married and the other one is Snow White and doesn't know it. There's a lot they have to overcome and Dr. Whale is just part of it. But one of the big stories we're telling this season is about this true love and about how it can overcome anything. That's one of the hopeful messages we're trying to send with the show...After we come back, we have Rumple, then Hansel and Gretel, then we have a Snow and Charming story. But their story continues in all the other episodes as well. We're either checking in with them in Fairy Tale Land or Storybrooke.
There's more at the link. [EW]
Here's a bunch of sneak peeks for episode eight, "Desperate Souls", which kicks off the second half of the season. [KSiteTV]

Here's a synopsis for the ninth episode, "True North":
EMMA TRIES TO HELP TWO HOMELESS CHILDREN FIND THEIR FATHER BEFORE THEY'RE SEPARATED AND PUT IN FOSTER CARE, AND THE EVIL QUEEN COERCES HANSEL AND GRETEL INTO STEALING AN IMPORTANT ARTIFACT FROM A BLIND WITCH - Feeling their pain from having lived through the same experience, Emma desperately tries to help two homeless children find their birth father before they're separated and put into the foster care system. Meanwhile, back in the fairytale world that was, the Evil Queen coerces Hansel and Gretel into stealing an important artifact from a blind witch.
And here's one for episode ten, "7:15 AM":
David and Mary Margaret continue to struggle with their feelings; a mysterious stranger in town makes Regina and Emma suspicious; Prince Charming's wedding approaches.
---
Alcatraz
Here's a bunch of promo photos for the two-part series premiere of J.J. Abrams's new show, titled "Pilot" and "Ernest Cobb." [multipleverses.com]
Here's a behind-the-scenes featurette.

Here's a breakdown of upcoming episode titles and airdates:
1.01 Titled: "Pilot" Airdate: Monday January 16, 2012, 9PM
1.02 Titled: "Ernest Cobb" Airdate: Monday January 16, 2012, 9PM
1.03 Titled: "Unknown" Airdate: Monday January 23, 2012, 9PM
1.04 Titled: "Johnny McKee" Airdate: Monday January 30, 2012, 9PM
1.05 Titled: "Cal Sweeney" Airdate: Monday February 6, 2012, 9PM
1.06 Titled: "Guy Hastings" Airdate: Monday February 13, 2012, 9PM
1.07 Titled: "Clarence Montgomery" Airdate: Monday February 20, 2012, 9PM
---
Being Human (UK)
The BBC has tweeted that they will announce the start date for the fourth series on January 9, which suggests a premiere sometime later this month. [SpoilerTV]
---
Sanctuary
Here's a bunch of promo photos for the season finale, "Sanctuary For None Part 2." [multipleverses.com]
And here's a sneak peek.

---
The Secret Circle
Here are some promo photos for episode ten, "Darkness", which kicks off the second half of the season. [multipleverses.com]
---
Teen Wolf
Ringer actress Gage Golightly has reportedly been cast as Erica, a tough student at Beacon High who catches "the eye of some of the boys — and some of the wolves — when she undergoes a bit of an ugly-duckling-to-swan metamorphosis." Friday Night Lights actor Sinqua Walls has reportedly been cast as Boyd, a "shy loner at Beacon Hills High School who reveals there's more to him than meets the eye." [Zap2It]
Here are some behind-the-scenes photos for season two. [SpoilerTV]
---
Additional reporting by Gordon Jackson, Marykate Jasper, and Charlie Jane Anders.