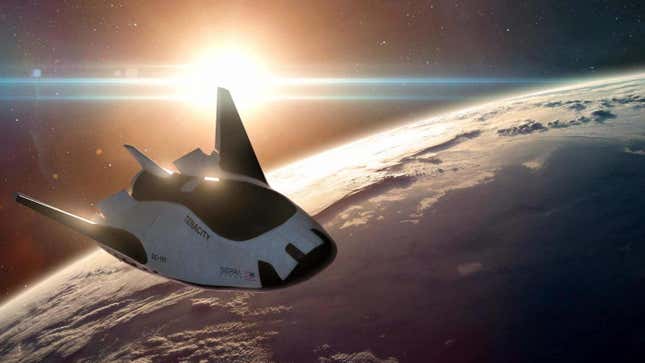 Sierra Space fired up its spaceplane in its assembly facility for the first time, signifying that the Dream Chaser shuttle could soon be ready for its first mission to low Earth orbit.
Astronomers Could Soon Get Warnings When SpaceX Satellites Threaten Their View
The Colorado-based company announced on Wednesday that it had successfully completed the first power-up of its Dream Chaser spaceplane. During the test, engineers simulated the power that would otherwise be generated by Dream Chaser's solar arrays once the spaceplane is in orbit and its systems are turned on.
"This is a milestone that points to the future and is a key moment in a long journey for Dream Chaser." Tom Vice, CEO of Sierra Space, said in the company's statement. "With this significant achievement, our Dream Chaser spaceplane is poised to redefine commercial space travel, opening up new possibilities for scientific research, technological advancements, and economic opportunities in space."
The Dream Chaser is an orbital spaceplane designed to fly to low Earth orbit, carrying crew and cargo to orbital pitstops such as the International Space Station (ISS). The futuristic-looking shuttle is designed to carry up to 12,000 pounds (5,443 kilograms) of cargo. As Dream Chaser cannot fly to space on its own, a big rocket, namely ULA's Vulcan Centaur, is required to deliver the craft to low Earth orbit. Like NASA's Space Shuttle, however, Dream Chaser is designed to survive atmospheric reentry and perform runway landings on the surface.
Sierra Space is targeting the end of 2023 for Dream Chaser's first flight from Kennedy Space Center in Florida. This flight is under a supply mission contract with NASA to send cargo to the ISS. The company also wants to launch crewed Dream Chaser missions to its own space station, Orbital Reef, a collaboration with Jeff Bezos' Blue Origin.
The company is preparing to ship the first Dream Chaser, named Tenacity, to NASA's Neil Armstrong Test Facility in Ohio for testing ahead of its inaugural flight, SpaceNews reported. The exact date of its launch, however, has yet to be disclosed. The spaceplane is set to launch on board the second mission for ULA's Centaur, but the rocket's first mission has been repeatedly postponed.
For more spaceflight in your life, follow us on Twitter and bookmark Gizmodo's dedicated Spaceflight Spaceflight page.