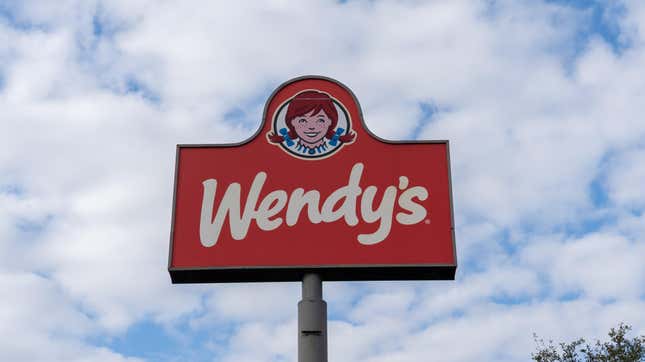 AI chatbots have come for journalism, and now they are coming for our burgers. Wendy's is reportedly gearing up to unveil a chatbot-powered drive-thru experience next month, with help from a partnership with Google.

Google's Antitrust Case Is the Best Thing That Ever Happened to AI
The Wall Street Journal reported that the upcoming rollout will be relegated to a single Wendy's restaurant in Columbus, Ohio. According to the outlet, software engineers at the fast food chain have been working with Google to build an AI on top of the tech company's own large language model. The Wendy's chatbot will feature words, item names, and acronyms that are unique to the franchise, like "biggie bag" and "JBC" for "junior bacon cheeseburger," as the outlet points out. The AI will also have the task of understanding various dialects and accents while cutting through background noise like music or people chatting in the backseat.
"Google Cloud's generative AI technology creates a huge opportunity for us to deliver a truly differentiated, faster and frictionless experience for our customers, and allows our employees to continue focusing on making great food and building relationships with fans that keep them coming back time and again," said Wendy's CEO Todd Penegor in a statement emailed to Gizmodo.
Wendy's Chief Information Officer Kevin Vasconi told the Journal that the chatbot is "probably on average better" than the company's best customer service rep. That's good news for Wendy's, but bad news for employees who are already making around minimum wage. Moreover, the AI is apparently programmed to upsell customers by asking for larger sizes, add-ons, or meals, with orders then being sent to a human line cook. Wendy's did not immediately return Gizmodo's request for comment on the souped up drive-thru.
Wendy's competitor McDonald's has already been experimenting with an AI drive-thru—to mixed results. Videos posted to TikTok illustrated just how woefully ill-prepared automation is at taking fast food orders, and how woefully ill-prepared humans are to deal with it. McDonald's began testing AI drive-thrus as early as June 2021 with 10 locations in the Chicago. McDonald's CEO Chris Kempczinski reportedly explained that the AI system had an 85% order accuracy. However, according to Restaurant Dive in June 2022, the company was seeing an accuracy percentage in the low-80s when it was really hoping for around 95% accuracy before a wider rollout.
Want to know more about AI, chatbots, and the future of machine learning? Check out our full coverage of artificial intelligence, or browse our guides to The Best Free AI Art Generators, The Best ChatGPT Alternatives, and Everything We Know About OpenAI's ChatGPT.
Update May 9 11:45 a.m. ET: This article was updated to include a statement from Wendy's CEO Todd Penegor.