At long last Microsoft will make it possible to run Windows 10 on cheap low-powered PCs (like rinky-dink tablets) as well as on smartphones. For years, Microsoft has struggled to bring the full Windows experience to ultra-portable devices that run low-power chips that can't handle the beefy OS. Previous attempts were paltry at best. That's about to change—and it might be just the kick in the pants Windows portables need to get going.
Yesterday, Microsoft announced a new partnership with Qualcomm that will bring Windows 10 to Snapdragon processors, the company's line of processors that run on many major smartphones and tablets. Unlike the Intel X86-based processors in laptops or desktops, Snapdragon is an ARM-based processor. Intel chips have the potential to be very powerful but the trade-off is poor battery life, especially in tablet devices in which you don't have space for a hulking battery pack. ARM chips, on the other hand, don't have the power potential of Intel chips (although that gap is closing), but much better battery life.
ARM chips are also easy to integrate with cellular radios, which give them a huge advantage when it comes to always-on connections—like what you might want with a tablet. The image processors that are paired with ARM chips are often better too, which could lead to better video than what you typically get with a Windows portable.
So Windows coming to ARM is a big deal because it means a new era of ultra-portable Windows 10 device is upon us. Sure, you can use X86 chips in a tablet, but for the low-intensity work that most people do on these devices, the battery efficiency of ARM chips has long been the holy grail. Microsoft tried to bring Windows to ARM chips in the past, but the results weren't very good.
Back in the Windows 8 era, Microsoft brought some Windows apps to ARM via Windows RT, a special version of Windows that tried be like iOS, but that ended up being a colossal failure. A big part of failure was because most Windows apps wouldn't run on Windows RT devices; you couldn't even run regular Microsoft Office! Microsoft has also tried to bring parts of the Windows 10 experience to its phones, but this barebones fork of the full blown Windows 10 suffers from the same problem as Windows RT in that there just aren't any apps that work with it.
How good will the experience of Windows 10 on a Snapdragon chip be? To illustrate the compatibility of beefy apps, Microsoft created a demo showing Photoshop successfully running on a Snapdragon device. And if it works this well outside the confines of a heavily controlled demo, there's a lot of potential here. The reality is that we won't know how well Windows 10 runs on Snapdragon chips until we start to see these devices out in the wild next year. It could be a terrible experience reminiscent of Windows RT.

G/O Media may get a commission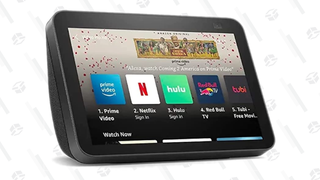 There is plenty of reason to be hopeful though. The fact is that Snapdragon chips are getting quite powerful. In fact, the gap between ultra-portable chips like Intel's battery- friendly Core M series and high-end ARM chips is getting smaller and smaller each day. Our own comparison between the 2016 MacBook and the 12.9-inch iPad Pro showed that the two experiences, from a performance perspective, are remarkably similar. This is important because it proves that ARM chips, which we know are more power efficient, are quickly getting close to the power that we see from our current generation laptops. Core M laptops aren't the most powerful machines in the world, but they're good enough for what a majority of the world needs.
We don't yet know what manufacturers will do with Windows 10's new ARM compatibility, but if means I can go a whole day without plugging in my laptop—I'm ready.