LG's got a brand new phone going up against top Android smartphone contenders from HTC and Samsung—and we got our hands on one. We've already said how the G4 seems like a well-crafted upgrade to the G series, but if you've got a few more Qs, we're here for you.
We'll be spending the next week with the G4 and will have a detailed look in our upcoming review, so we wanted to get a feel for what you, dear reader, are most interested in.
The G4's got a lot of the familiar specs you'd associate with the G series like laser autofocus, LG's very own Android skin, and a slightly upgraded 2560x1440 LCD quantum display. The "quantum" part of that jargon jungle refers to the blue backlight on the LCD panel that increases color accuracy, kind of like quantum dots on televisions. As for its new tricks, the G4 is packing a Snapdragon 808 processor (and no I can't tell any difference from the 810), and the camera has a totally great manual mode that gives you full creative control over your photos.
Feel free to ask any unanswered questions, but here's a brief Q&A to get you started:
---
What is a G4 and why should I even care?
The G4 is the latest and greatest pocket computer from LG Electronics, who's known for making some of the greatest smartphones ever made (ahem...Nexus 5). It's also one of the very last flagship smartphones you can buy with a removable back and access to microSD storage and a battery. So it's kind of like going to go see an endangered animal at the zoo—you know it's not going to be around forever, so you should probably enjoy it while you can.
G/O Media may get a commission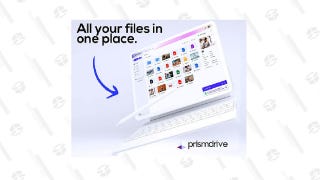 Save 97%
Prism Drive Secure Cloud Storage: Lifetime Subscription
So speaking of that battery...what's battery life like?
Ok, so I've only had this phone for about 12 hours and so far so good? But seriously, you might need to wait around for our review on that one. The battery is a 3,000 mAh monster that is removable, which is certainly one advantage over that swanky new S6. An LG rep told me that you can expect more than a day on a full charge, but seeing is believing so we'll hold out on any firm judgments.
I hear the iPhone 6 has the best camera ever. Can the G4 even keep up?
I haven't had the opportunity to run around and take a ton of pictures, but the shooter on this guy seems pretty great. For one, it has an f/1.8 aperture aided by an OIS 2.0 module so you can take those awesome lowlight shots. Also, dat manual mode. You can adjust and tweak every single little setting or just switch over to Simple mode for your more standard, hands-off shooter. But manual mode looks like one of the coolest additions to make its way to the G4.
Here are two quick snaps (lowlight and daylight) I just took:
Here's a quick look at manual mode. So. Many. Controls.
What's the operating system like?
The G4 ships with Android 5.1 with its own custom skin laid over top. Luckily we're not talking LG circa 2013 here. LG's skin looks preeeeettty much like stock Android. Yeah, there are some slightly different animations, but the drop-down notifications menu and app carousel are damn similar. If you're an Android Lollipop fan, you'll feel right at home.
---
Got some more burning questions? Ask away, I'm happy to answer any lingering smartphone quandaries (except "does it bend?").