Fringe has been ramping up the tension on its intense story of a war between two parallel Earths — but in the next two episodes, the action gets even spookier and more insane. Here's our spoiler-free preview.
We were on the edge of our seat with impatience after seeing the end of last week's episode, in which the alternate-universe version of mad scientist Walter Bishop decided that Olivia Dunham had outlived her usefulness. Could Olivia escape from the other universe she was trapped in before it was too late? We couldn't wait to see what happened next.
But we've got bad news for you — after you watch tomorrow night's episode, "The Abducted," you'll be left with a cliffhanger that's twice as intense, and you'll be stuck with a horrifying two-week wait until the following episode, which airs Dec. 2.
Without giving anything away, the next two episodes manage to pay off a lot of the anticipation that has been building up over the course of the season so far, while heightening the tension of the main storyline. Both Olivias are faced with their biggest challenges, and they're both pushed to their limits. There are betrayals, there are revelations — and in the end, it comes down to how good both Olivias are at convincing people to trust them in spite of all the reasons not to.
G/O Media may get a commission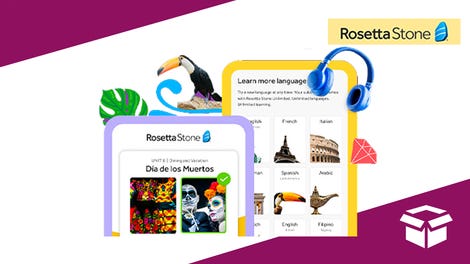 Extra 20% off
Rosetta Stone Lifetime Subscription - All Languages
But gratifyingly, we also get some new insights into just what the hell is going on in Walternate's head — and there are new hints about the nature of this "war" between the two Earths. The ongoing story of the ancient super-weapon gets a few new twists, and the mythology gets even deeper. And one much-loved character gets more of the spotlight than ever before.
It's all fantastic stuff, even if the Dec. 2 episode does have some odd plot holes here and there. All in all, Fringe is continuing to rock our worlds, and we can't wait to see where it goes from here.