Google has finally taken the lid off of the long-rumored Google Drive, giving you another option for stashing your stuff in the cloud. But what is it, exactly?
The Dropbox-dominated cloud storage space has become increasingly crowded. Microsoft's SkyDrive, Apple's iCloud, Evernote, and Box are all contending for your content. But Google Drive might just stand out from the pack.
Google Drive is a cloud storage service…
Essentially, it's a beefed-up version of Google Docs. You can store your documents, photos, music, videos, etc. all in one place. It syncs with your mobile devices and your computer, so if you make a change from one gadget, it will automatically show up if you were to access it elsewhere.
G/O Media may get a commission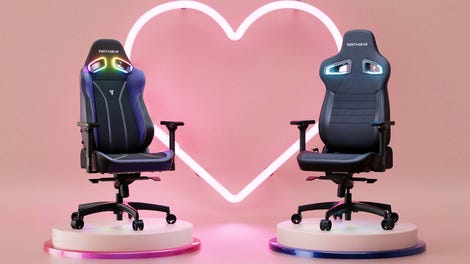 Up to $150 off
Vertagear Gaming Chairs
It tracks your changes too, so if you make an edit to the document and hit save, you can still look back at all your revisions from the past 30 days. Of course it relies heavily on Google search, with image recognition for browsing your photos and some OCR capabilities for sniffing out text in pictures.
…that will offer both free and premium options…
You can get up to 5GB of space for free, after which you can upgrade. It's $2.49/month for 25GB, $4.99/month for 100GB, and $49.99 a month for a whopping 1TB. If you move to a premium account it also automatically expands your Gmail storage to 25GB.
You'll be able to open things you saved in Google Drive using other service; it can handle more than 30 different types of files, including Adobe Illustrator and Photoshop and HD video, and you don't even have to have those programs installed on your computer. So for example, if you squirreled away a music file, you could listen to it later on whatever player you please. Drive also pretty much does away with email attachments, which makes sharing a lot easier. If you wanted to show a friend a video of your vacation, you could just pass them a link to that file, rather than adding it to a clunky message. You wouldn't have to upload it to a message and your friend wouldn't have to wait around to download a big file.
…and isn't exclusive to Android...
Though Apple's iCloud only caters to iOS users, the Google counterpart is open to all platforms. It's easily accessible from a wide variety of devices, like Android tablets and phones, as well as the iPad and the iPhone (though only through a web browser at the moment). An app for Android dropped today, and an iOS version is coming in the next few weeks. You can also download Drive for your Mac or PC.
…and will present a big challenge to Dropbox.
With 45 million users, Dropbox has been the leader when it comes to cloud storage. However, it only gives you 2GB for free, and chances are you already subscribe to one, if not more, of Google's services. So when people are deciding on a destination for their data, they'll turn to Drive by default, rather than signing up for an outside service, especially if they're one of the millions already using Gmail, for example. And for most people, 5GB is pretty sufficient, meaning they're going to stick with Google.