Matt Smith has brought out many different sides of Doctor Who's mysterious time traveler — but how would he bring an evil version to life? We were dying to know, and he told us!
We were lucky enough to ask one question each of Smith, plus Karen Gillan and the Doctor Who producers, with the answers sent to us in these videos. Gillan's answer gives a new insight into Amy's state of mind, including a pretty interesting take on where Amy's head is at this season.
And the producers give us some tantalizing hints about what's going to happen next on Doctor Who, when the show returns in the fall. Check out the other exclusive videos below!
Many thanks to BBC America, which made this opportunity happen. A few months back, before the new season started, BBC America contacted us with great news — we could get exclusive on-set video interviews with Doctor Who's cast and producers. But we could only ask one question of each person. (Check out another set of these over at Wired.) Here's what we asked, and their answers!
Matt Smith
Q: How would you play an evil version of the Doctor? What sort of hat would an evil Doctor wear?
G/O Media may get a commission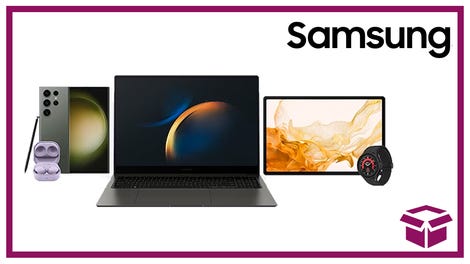 24 hour deals
Discover Samsung - Daily Deal
A: An evil version of the Doctor, that's a very good question. Well, hopefully, I may have got to play an evil version of the Doctor — for a bit, briefly — in season six somewhere. And what sort of hat would an evil version wear? Probably a trilby and a dark cape or a cloak or something. And how would I play him? I don't know. I'd play him like a mixture between MacBeth, Einstein and Hannibal Lecter. With a bit of Peter Sellers in the Pink Panther in there somewhere.
(Editorial note: Which evil version of the Doctor do you think he's referring to? I can think of two possibilities in the episodes we've already seen, but maybe he's talking about something in the remaining six episodes of the season?)
Karen Gillan
Q: How is Amy different now that she's happily married? What's it like being one half of the first married couple aboard the TARDIS?
Being half of a married couple in the TARDIS, I think is hilarious. I think it's so funny that there's a married couple on the TARDIS. And I think that it is going to change her as a person, in many ways. Although she'd never like to admit that. In fact, I don't know if you noticed, but as soon as she's married in the last episode of the last series, she kind of almost goes even more Amy Pond-y, flirty [and] sassy. Because it's almost as if she would never want to become a normal married couple. So she kind of puts that on, and ups it. But I think it's going to change the dynamic between her and Rory. I think she's got more respect for him now, otherwise she wouldn't have married him.
And also, the Doctor rebooted the universe. She's got these two alternate versions of her life in her head at the same time. And I think that's pretty difficult for a person to deal with. So one half of her is the settled, stable person that she probably should have been, had the Doctor not messed up her life. But the other side can still remember all those things that happened to her. But regardless of the two different sides, she still is the adventurer that she always was. Probably even more so, now.
The Producers
Q: How is doing Doctor Who as two half-seasons, with a summer break, changing the way you plan the season? Do you budget or shoot differently?
Piers Wenger: We are shooting Doctor Who as two separate seasons this year. We usually shoot it as one run of 13 episodes, but this year it's got a seven-part run and then a six-part run. That's all driven by Steven Moffat's desire for a big midseason cliffhanger, to bring the story to the sort of climax that we would normally get at the end of the series halfway through. And then to be able to twist the series further to be able to twist the series further, to deliver another six episodes of story, to actually give you what the real meat of the series is really about. So you're just getting two big reveals for the price of one this year.
It does give us the chance to make the audience feel like Doctor Who is with them all year, there's much less of a gap now. So that you can enjoy being with the Doctor, feeling like you've been on a really extreme experience with him. But at the end of that experience, there being just the most vertiginous, shocking cliffhanger that Steven's very very complicated mind can imagine. And then you've got another six episodes to sort of live through and feel the repercussions of that cliffhanger, before to you get to the thing that caused it at the end of the second [half].
Beth Willis: That hasn't really had any impact on the way we shoot it. We still shoot it continuously. The thing it has had an impact on — and an exciting impact for us — is the scripts. We're able to tell different stories. We're able to insert a huge cliffhanger in the middle of the series, so when you finish watching episode seven and you have to wait a few months for episode eight, you're left on tenterhooks. Which was always our aim coming into this series.
Marcus Wilson: It has changed the way we look at the series, up to and including taking completed episodes and shuffling the order around. The episode that we shot as episode nine, the episode about the pirate ship, we're moving up to the first part of the series to become episode three. Just because when we stood back and looked at the run of episodes, we felt that we'd got three or four episodes that were very interior-based and very dark, so we wanted to move the pirate ship in there to move it out a bit. And also in the back half of the series, just shuffled around a bit to make sure we were keeping the variety up. So it's made you more conscious of the pattern of episodes in a shorter run, in terms of how we planned the series.
It's also affected the storyline. Whereas before, you would start off with a story in episode one and built to a two-part finale. That was traditionally the model of Doctor Who. This year, we're opening with a two-parter to really get the serial arc going, and then we're building to a cliffhanger in episode seven, which will hopefully keep all the kids on tenterhooks over the summer. And then episode eight, which previously would have been a normal episode in the run, is in effect a season opener. So we're back with a bang in the autumn, and then building to episode 13. And because it's only a short run of six episodes in the second part of the series, we only have a single episode finale this year instead of a two-part finale.
The midseason finale of Doctor Who, "A Good Man Goes to War," airs this Saturday at 9 PM on BBC America.