Just before 3pm today, a shooter opened fire on the campus of Marjory Stoneman Douglas High School in Broward County, Florida, killing at least 17. After being taken into custody several hours later, the suspected shooter was identified as Nikolas Cruz.
As the victims of this incident are treated, details with varying degrees of credibility continue to emerge about Cruz, whom authorities believe is the villain at the center this year's 18th school-related shooting.
What We Know
Per the Miami Herald and other outlets, Cruz has been confirmed as 19 years old and a former student of the school. At least one other student at Marjory Stoneman Douglas believed Cruz had the capacity to commit this act. Several students reported that Cruz had a prevailing interest in knives and guns.
Slightly less certain is whether Cruz had been banned from entering campus while wearing a backpack. While it was reported by Newsweek and The New York Post as the result of prior incidents in which Cruz had threatened students, the source for this claim was one math teacher who spoke to the Miami Herald:

"We were told last year that he wasn't allowed on campus with a backpack on him," said Gard, who said Cruz had been in his class last year. "There were problems with him last year threatening students, and I guess he was asked to leave campus."
G/O Media may get a commission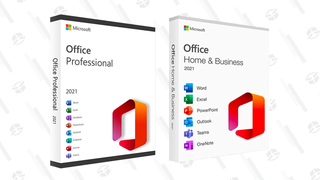 89% off
Microsoft Office Professional 2021 Lifetime License
Update: We also now also know that the shooter's first name is spelled "Nikolas" per a correction from the Broward County Sheriff's Office. We've changed the spelling in this post and other news sites appear to do doing the same. According to law enforcement, Cruz was also expelled from the school for disciplinary reasons, though when and why remain unspecified. During a press conference Wednesday evening, Broward County Public Schools Superintendent Robert Runcie added that Cruz was still currently enrolled in a Broward County public school, but did not provide further information, citing the Family Educational Rights and Privacy Act.
The weaponry Cruz used in the attack on Marjory Stoneman Douglas High is not exhaustively known, but CNN, ABC, and the Washington Post report an that he was armed with an AR-15 and multiple magazines.
Following early reports by the Daily Mail and Metro, Cruz is been confirmed to have been a member of a US Army JROTC marksmanship program. The air rifle shooting club where according to PBS Cruz was given the nickname "Wolf" received over $10,000 from the National Rifle Association. A JROTC representative has not yet replied to a request for comment from Gizmodo.
The Washington Post and Chicago Tribune also report that Cruz had been in treatment in a mental health clinic but had not been back in some time. The BBC and Time also report that Cruz's father had died a few years ago and his mother had passed away around Thanksgiving of last year.
Cruz has now been charged with 17 counts of premeditated murder.
What's Unverified
Unreliable websites like Infowars, Gateway Pundit, and Heavy are reporting as fact the archived screenshots of an Instagram account supposedly associated with Cruz, while Twitter users have picked up a second. (Infowars lists their source on these images as "a Japanese cartoon image board." Hm.) Both accounts show a variety of guns and were deleted earlier today—though untrustworthy sources continue to use these photos to speculate about Cruz's political leanings.
The first of these accounts contains a screenshot of a Google search for the term "allahu ackbar"—which conservative pundits have claimed ties Cruz to Islamist militant groups. The caption beneath that photo refers to users of the phrase— translated usually as "God is great"—with the racial slur "sand durkas." The other account features a Make America Great Again hat and a photo of animal abuse.
Crucially, neither account has been confirmed as belonging to Cruz.
Screenshots have begun circulating of YouTube comments from accounts named Nikolas Cruz. On a video titled "Antifa Gun Club" the account commented "Im going watch them sheep fall fuck antifa i wish to kill as many as i can." Under historical footage of the 1966 University of Texas shooting which claimed 18 lives, the same account wrote "I am going to what he did." "I am going to kill law enforcement one day they go after the good people," the account wrote in reply to a NatGeo clip from Alaska State Troopers : Armed and Dangerous.

Though the substance of these comments certain aligns with the violence Cruz would later inflict, the accounts themselves have no public, biographical info listed—such as linked social media pages or an email address—making the connection to the Parkland shooter impossible to determine without further data from YouTube.

FBI Special Agent Rob Lasky noted during a press conference Thursday morning that the FBI did investigate a YouTube comment made by a user named Nikolas Cruz, which according to Buzzfeed was reported to them in September. They were not able to substantiate the comment. We've reached out to YouTube for comment on whether they were or are assisting the FBI.
What's Made Up Entirely
With anyone looking to politicize the tragedy in Parkland, Florida, various right-wing figures have used the last name "Cruz" to speculate that the shooter is not only Hispanic, but also a dreamer—meaning the child of an undocumented immigrant. No one knows if this is the case, but plenty of people—including former operator of revenge porn site IsAnybodyDown and current outsider Senate hopeful Craig Brittain—are saying it's true anyway.
Dumber still are those claiming Cruz is somehow tied to antifa or other leftist dissident groups. One, from the Laguna Beach Antifa account, even contains a photo of an unknown man whom we can't confirm as Nikolas Cruz. What we can confirm, however, is that the Laguna Beach Antifa account(s) are fake.
Update: The young man depicted is a 24-year-old named Marcel, according to several Gizmodo readers who wrote in since last night, and confirmed by Buzzfeed. Associating this individual with the second-deadliest school shooting since 2012 appears to be an intentional, politically-motivated attempt at bullying.
And the lowest effort trolling of all still goes to the Sam Hyde hoaxers—unimaginative 4chan dolts who post a photo of the failed alt-right comedian holding a rifle every time a mass shooting takes place in an effort to trick legitimate news sites. We still don't have a good photo of Cruz to go off of, but we're certain he looks nothing like the 32-year-old Hyde.
Be On Alert
While Google appears to be limiting the spread of misinformation by pointing only to non-partisan news organizations covering the massacre, Facebook's search is evidently pulling up results for some users that could be called questionable at best. Twitter may be the fastest platform for getting breaking news, but it's also the one most riddled with disinformation.
After a tragedy, it's natural to look for answers—but helping to spread unverified information has consequences, especially in the wake of a polarizing event like this. Following the Boston Marathon bombing, a Brown student was incorrectly identified as one of the men responsible. He disappeared and was later found dead. Less seriously, incidents with an obvious villain tend to attract unwanted attention to people with the misfortune of sharing the same name, like the other Adam Lanza who did not kill 20 people at Sandy Hook Elementary.
Nikolas Cruz is in custody, and the unknown details of this horror will unfold in due time. Spreading unverified or invented information helps no one.
We'll continue to update this post as we learn more.