It's the year 2044—what does your kitchen sound like? What about your power supply? How about the laundry room, or even your new, high-tech burglar alarm? Disquiet, Gizmodo's subdomain of all things sonic and ambient, is challenging its readers to come up with a speculative soundtrack for the home of the future—or, more specifically, for Gizmodo's Home of the Future, which pops up in Manhattan next week.
You have this weekend only to come up with sonic bits and pieces for this speculative domestic soundscape—here is one example already, for your inspiration—with all tracks due Monday, May 12, 2014. Join the Disquiet Junto, an "association for communal music/sound-making" run by Disquiet's Marc Weidenbaum, to submit.
Instructions
Here's what to do if you want to help create the everyday sounds of the domestic future, eligible for playback in the Home of the Future next week.
Step One
Roll a single, six-sided die.
Step Two
The result of that roll determines which of the following household devices is assigned to you:
1) Refrigerator

2) Washer/Dryer

3) Home security system

4) Solar energy generator

5) Food replicator / 3D printer combo

6) [make something up that doesn't yet exist]
Step Three
Compose a track of what you think that object will sound like, in the context of daily life at home three decades from now, in the year 2044. This means both the sound of the device in question, as well as the location (kitchen, bedroom, living room, etc.) in which the device would be present. This domestic soundscape should be between approximately 90 seconds in length.
G/O Media may get a commission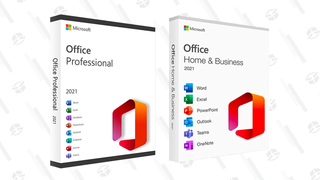 89% off
Microsoft Office Professional 2021 Lifetime License
Deadline
Monday, May 12, 2014, at 11:59pm wherever you are.
Length
The length of your recording should be approximately 90 seconds.
Information
When posting your track on SoundCloud, please include a description of your process in planning, composing, and recording it. This description is an essential element of the communicative process inherent in the Disquiet Junto.
Title/Tag
When adding your track to the Disquiet Junto group on Soundcloud.com, please include the term "disquiet0123-homeofthefuture″ in the title of your track, and as a tag for your track. If you tweet your track, please use #homeofthefuture.
Download
It's preferable that your track is set as downloadable, and that it allows for attributed remixing (i.e., a Creative Commons license permitting non-commercial sharing with attribution).
Linking
When posting the track, please be sure to make note of which domestic scenario you created sound for.
Read more at Disquiet, and be sure to join the Disquiet Junto.
The Basics
Dates: 05/17/2014–05/21/2014
Location: 268 Mulberry Street, near Houston Street in SoHo. Nearest subway: Broadway-Lafayette.
Hours: 11:00 am to late. The Gizmodo gang will be working on-site all week—with super-fast wifi, on snazzy furniture—and we'll be hosting events every night. Check back for more information on how to RSVP.
Cost: Free!
---
For all media inquiries regarding the Gizmodo Home of the Future, please contact Patrick Kowalczyk at patrick@pkpr.com.