If you love weird, thought-provoking stories about robot consciousness, then you'll be as excited as we are to learn about vN, the debut novel by Madeline Ashby which just sold to Angry Robot Books. Ashby's novel shows what happens when a robot girl loses her inhibitions.
Spoilers ahead...
The book will be out in August 2012 in both the U.S. and the U.K. According to the press release from Angry Robot:
vN introduces us to Amy. She's been grown in a stable family environment, with her robot mother and human father. But alone of all her kind, her human-protecting failsafe has stopped working for some reason. Soon she's on the run from the law, and worse – everyone's after her, some to use her as a weapon, others to destroy her. Her sole friend is a robot boy who's programmed to only like humans. This is pure science fiction entertainment, combining a stunning extrapolation of a robot future with bravura kick-ass Manga-inspired action – think Philip K Dick meets Joss Whedon.
Ashby has a Master's Degree in Manga and anime, so she's uniquely qualified to write a Manga-inspired novel.
We were excited to hear about this novel, so we had to ask Ashby more about it:
What does it mean to grow up robotic?
I think there's a lot about growing up that's already pretty robotic. One of the themes the book takes up is parenting-as-programming, even when that programming is the unwitting kind that leaves in a lot of bugs. For example: when I was growing up, I watched my mother apply lipstick in the rearview mirror before we went anywhere. "I have to put my lipstick on so I don't scare anybody," she'd say. "My mother used to say that, you know." Well, now I'm the one who says it, and I rarely leave the house without something on my lips. It's nothing major, but I think this little Lamarckian meme of my grandmother's has proved profitable for the lip gloss people.
G/O Media may get a commission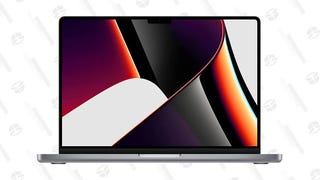 Save $300
2021 14" 1TB MacBook Pro
The robots in this book are synthetic organisms that come with a bunch of possible optimizations, and they're fatally allergic to hurting humans. So that means eating different food from the other organic kids in class, and watching different media, and so on. It also means you can't really fight back when a boy chases you across the playground at recess and tries to flip up your skirt. Not because he's bigger or faster or stronger than you, but because you'll enter a cascading failure loop should you so much as simulate the outcome. Not that you'd want to fight, anyway. You love humans. Your designers saw to that right quick.
How are you tackling the age-old topics of AI and cybernetic identity?
Like a lot of people who have read some of [Donna] Haraway's cyborg theory, I think the mix of dread and desire surrounding AI has to do even older feelings about reproduction. Asimov's Frankenstein Complex notion isn't just an early version of Mori's Uncanny Valley hypothesis, it's a reasonable extension of the fear that when we create in our own image, we will inevitably re-create the worst parts of ourselves. In other words: "I'm fucked up — therefore my kids will be fucked up, too." When I completed the submission draft of this book, I had just finished the first year of my second Master's — a design degree in strategic foresight. So I had spent months listening to discussions about the iterative process. And I started to realize that a self-replicating species of machine wouldn't have the usual fears about its offspring repeating its signature mistakes, nor would it have that uncanny response to copying. Machines like that could consider their iterations as prototypes, and nothing more. Stephen King has a famous adage about killing your darlings, and they could do that — literally — without a flood of oxytocin or normative culture telling them different.
On the other hand, humans in relationships with machines tend to anthropomorphize them. And the greater the resemblance, the more intense the bond. So for humanoids I suspected that bond would be strong enough for your love to make your robot real, or at least real enough, sort of like in The Velveteen Rabbit. Because thinking of yourself as a robot is really just another identity framework: if you think you're a person, and everyone treats you like one, you'll probably at least act like one. You may have no evidence that you actually are a person like other people, but then again neither does anyone else. We're facing increasing evidence that self-awareness among organic humans is an illusion — so for me the idea of synthetic people pining away for a spark of humanity was a little dull. I wanted a story where Pinocchio slowly realized that becoming a real little boy wasn't so terribly special, after all.
How did you sell this book?
I was introduced to the editors of Angry Robot by the wonderfully sweet and talented Jetse de Vries, while at Montréal Worldcon. Jetse edited the Shine anthology, wherein my story "Ishin" is the closer. When he asked what I was working on, I told him I was at work on a novel about the dynastic feuds between self-replicating cannibalistic humanoids with a built-in kink for humans. "Are you ready to pitch your book?" he asked. "Well...I mean, I guess I-" "ARE YOU READY TO PITCH?" "SIR, YES SIR!" Whereupon he pulled out a chair for me, told the editors how much he had enjoyed my story, and we had a nice long chat while I nervously clutched a Moxyland plush.
It took me longer than expected to finish the book, but my agent Monica Pacheco was encouraging and so were my friends — many of whom are also in my workshop, the Cecil Street Irregulars. They read multiple drafts. I also showed partials to people on a writer's retreat to Gibraltar Point, on Lake Ontario. So I was really lucky to have some sharp, award-winning sets of eyes on the book from the very beginning. I was also lucky to have the support of my husband at the time. He was one of the first people to really believe in the project and I remain humbly grateful for that. But even so, the book was rejected by a bunch of different publishers, and I still had to re-write the whole opening of the submission draft before the book became sale-able. David Nickle was invaluable for that — we watched A History of Violence together and suddenly everything clicked. Normally he gives me the end of all my stories, and this time he helped me see a new beginning.
In short: it was an iterative process.