Graph Search, which we're going to call Facebook search from here on out because nobody wants to read or write "Graph Search," is a dramatic new way to browse Facebook. But its implications spill over its rivals—which companies lose the most?
It's hard to give Facebook's new search engine a fair appraisal, because it's not really a search engine in the same way Google is or Yahoo was. It's also in beta, out of reach for almost all of The Book's billion users. So what is it, and, more importantly, what does Facebook want its search to be? The simple answer: A murderer of all Internet competition. But how that'll be accomplished is murky.
Still, Facebook search means a billion people will have good reason to reconsider using other things. What other things? These other things—the victims:
Google
Every time we turn to Facebook for an answer, we're conditioned a tiiiiiny bit to not use Google. It doesn't matter that Facebook search can't provide most of what Google search does: you won't get any movie times, directions, answers to who invented to jet engine (Hans von Ohain!), or an essentially infinite number of image results for "a cute frog."
G/O Media may get a commission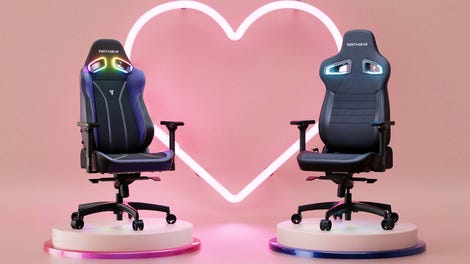 Up to $150 off
Vertagear Gaming Chairs
But Facebook will give you lots of stuff Google will never be able to touch: every photo you uploaded in June 2009. A list of your friends who grew up in Kansas. A dinner pick that's gotten the FB thumbs up from people you know (and maybe even trust). All the single ladies. These are personal queries with personal answers, and Facebook is only going to deliver them better in the future: imagine plugging in data from apps like Seamless, Spotify, Instagram, Twitter, and the constellation of other services that feed into the Facebook stream. That's a huge, invaluable chunk of what we do with tech, and something off limits to Google. Whatever information Facebook doesn't have on you, it can probably farm out to the myriad websites and apps you've connected to your account without really thinking about it, which gives it a profound advantage over Google. So Graph Search isn't a Google, but it could be a Google of Other Stuff—and maybe that's even better.
There's also the small matter of Bing, which despite what lazy popular opinion might say, is a damned good search engine. If Facebook doesn't have what you're looking for in Ye Olde Graph, Bing takes over, delivering traditional search results. Sorry Sergei.
Yelp
Facebook isn't a good place to find restaurant reviews. But that has everything to do with the fact that we've never expected it to be. Now that we can easily trigger a list of "Mexican restaurants my friends have been to in Chicago," we're going to hope typing those words does something useful. If enough of us start clicking Like on spots we enjoy, or leaving comments on their pages, we've really lost any reason to ever use Yelp, which is really a cesspool of idiocy and armchair food criticism. When Facebook implements the ability to scan the terms you use to describe a place—"slow service" versus "great prices"—the entire process is supercharged and terrifically intelligent.
Imagine this scenario: you find a restaurant your friend Chris has been to. Chris likes it. You trust Chris' taste. You message Chris and a couple others and ask if they want to meet you there tonight. They say yes. You've done this all within Facebook.
But liking isn't enough for a headshot here. Facebook absolutely needs to dig deeper, processing our sentiments, and not just our clicks—because let's face it, we "like" a lot of throwaway, dumb stuff that doesn't really have any place in our hearts at all. That shouldn't be informing someone else's lunch.
Foursquare
For pretty much every reason as Yelp. Again, this hinges heavily on changing habits. Right now Foursquare is the gold standard of saying "Hello, people online, here's where I am and what I think of it." If Facebook can push or prompt us to do the same thing, then Graph Search (ugh) could make it all worthwhile by making those check-ins sublimely cataloged.
Want a free tip, Zuck? Just steal from Foursquare. Add deals, notifications that tip us off when a friend is nearby, loyalty rewards, and please don't force us to receive News Feed updates from the spots we stamp. If FB can clone even a few important parts of Foursquare, it should be able to topple the latter through brute force alone—that sheer convenience factor of Well, all of my friends are already here. A billion users is a lot of leverage. But Foursquare might be the one who can handle Facebook's onslaught, at least for a little bit. They're sitting on a lot of location data.
New MySpace
Hahahaha. Haha. No, but really, the only decent thing New MySpace has going for it is its nifty search functionality. Calling Facebook search a threat to New MySpace is like calling China a threat to Azerbaijan, but if there were any quivering tendon of life left in Justin Timberlake's exhumed social network, Zuckerberg just emptied a clip into it.
OkCupid
Is there another website that can show you a list of every single person you know? Exactly.
And it could get even better. Imagine, by typing one sentence, being able to pre-screen your entire social group for friends who have dated other friends? Friends who just got out of relationships? Friends of friends who like tapas and haven't been in a relationship for a year? Facebook is sitting on one of the richest archives of human romance in the history of our species—and if it finesses it the right way with search, it'll make getting laid easier than anything OkCupid (and the rest of the e-dating lot) ever dreamt.
But for now, don't get your hopes up too much.