50 Cent's SMS Audio is about to announce a major deal that could help keep it from getting left behind by the newly forged Apple-Beats powerhouse. Sources close to the deal told us that the company will announce a new set of headphones based on Intel's health monitoring technology this very evening. SMS is no Beats By Dre, so why would any august tech company be interested? Because headphones—and not watches or health bands—could be the most important wearable tech in the world.
Earlier this week, 50 Cent told the WSJ that SMS Audio would launch a major new product in partnership with a major tech company this week. Our sources, who asked not to be named, tell us the product will be called the BioSport In-Ear, a biometric earbud based on the same prototype technology that Intel showed at CES in January.
G/O Media may get a commission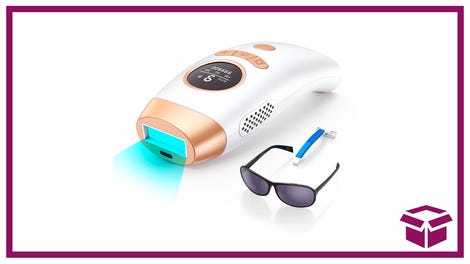 58% Off + Coupon
IPL Hair Removal Device
Like the prototype, we're told that BioSport In-Ear will be lightweight fitness headphones which send infrared and accelerometer sensor data back to your smartphone via the 3.5mm audio jack, where it's processed by software which keeps track of how fast your ticker's racing and presumably counts the steps you take. The prototype also included software that played music in accordance with those metrics to help you sustain a target heart rate. Seems like a natural addition to any final product, but our sources wouldn't confirm the software still exists. The BioSport In-Ear will, however, have a new ear hook design of some sort, and it seems logical that it would resemble the ear hook on SMS Audio's recently announced exercise buds.
Importantly, the sensors are entirely powered by the headphone jack in your smartphone, which means that unlike the LG Heartrate Monitor Earphone, you don't need to worry about the weight or inconvenience of a built-in rechargeable battery. The headphones are always ready to go, defeating a common drawback of fitness tracking wearables. If your phone is charged, so are your headphones.
Intel spokesperson Ellen Healy declined to comment on the rumored announcement, but there's plenty of existing evidence which suggests our sources are right. In June, SMS Audio all but announced its plans at a New York event in which 50 Cent and his newly minted business partner Carmelo Anthony launched a line of sweatproof headphones designed for exercise. At the event, SMS Audio President Bill Nohe told Twice that the company would launch a "biometric airbud" developed in concert with Intel this fall. We're told that launch is actually happening today—and SMS Audio confirms that there is an event tonight though they won't say anything more about it—but that the product may not be available until October. No word on pricing.
Furthermore, when Intel first demonstrated the reference design in January, the company alluded to a partner that would potentially bring the concept to market. It seems almost definite that we're talking about SMS Audio here. As always, though, we'll have to wait and see.
It's worth stepping back to note that headphones are an often overlooked wearable technology. Indeed, headphones were maybe the first "wearable" in the modern sense; the first gear that tethered our bodies to the portable gadgets we carry around. As the gadgets have gotten smarter, the market for headphones has exploded, but at the same time, headphone tech has stayed relatively stagnant. With new features, headphones could become even more useful precisely because we're already wearing them.
Exercise headphones like the BioSport In-Ear are only the most obvious wearable technology to bake into your 'buds. The earbud is a perfect place to capture biometric information because it's a product you've already got on you, and one that's wired to a device with a battery. No pesky wristable to strap on or charge. But other smart headphone features are already being tested on consumers. For example, Samsung's Level Over headphones monitor how much sound pressure your ears have been exposed to each day, and warns you when your ears may have had enough.
Wearable technology is on the verge of a huge turn towards the mainstream, so it's hard to say what shape the body-aware gadgets of the future will be for sure. That tech powerhouses like Intel, Samsung, and Apple are paying close attention to your ears makes plenty of sense, though.