Remember guys, when you have a really cool product that everyone loves and that sells out immediately, the first order of business is to kill that fucker and put it in the ground before people get too attached. This impossibly foolish logic seems to be guiding Nintendo, which just told IGN it will stop shipping the popular NES Classic.

In a statement to IGN, Nintendo said that North America will get its last shipments for 2017 in April. We asked Nintendo's agency representative whether other markets would continue to get shipments, and if it's possible that the product will return in the future—perhaps around the holidays.
The more likely scenario is that Nintendo is discontinuing a novelty it was never committed to, and never really handled properly to begin with. A company rep told IGN that the NES Classic was never "intended to be an ongoing, long-term product." Instead, the super cheap, super cool, device was a nostalgia generator. When Nintendo announced the NES Classic back in July 2016 Reggie Fils-Aime, Nintendo of America's president and COO, said "We wanted to give fans of all ages the opportunity to revisit Nintendo's original system and rediscover why they fell in love with Nintendo in the first place."
The NES Classic sold out as soon as it was available in November 2016. Any hacker will tell you it was ridiculous for consumers to be so crazy about the NES Classic. It's little more than a tiny Linux computer crammed inside a cool looking case. With a little cash and coding you can make a device that's just as cool and provides you with hundreds of times the 30 games available on the NES Classic.
But that never mattered. There was something perfect and blissful about this easily consumed little nostalgia nugget, and it resonated with consumers.
G/O Media may get a commission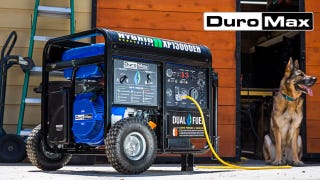 Black Friday Sale
DuroMax Generator Sale
The success took Nintendo by surprise. When Fils-Aime spoke with Gamespot last month, he assured readers more NES Classics were on the way, and explained that "When we looked at that proposition what we believed was the adults, 30-40 years old, who grew up playing NES as a kid, 10 years old or so but had stepped away from the gaming category—that was going to be the buyer [of the NES Classic]." Only it wasn't just old people who hadn't picked up a controller in decades, or new gamers too young to have a first console yet. It was everyone. "That was the marketplace disconnect that happened," Fils-Aime said.
Despite Nintendo providing additional shipments, and Fils-Aime assuring fans more $60 machines were coming, supply just never kept up with demand. And as Fils-Aime noted in the same interview, Nintendo was putting a lot of energy into getting the the Nintendo Switch out to consumers too.
Switch sales have been brisk, but perhaps Nintendo was worried about the $60 console outshining the $300 one. Maybe it wasn't just a problem with churning out enough of both devices in a timely fashion. Maybe the company doesn't want to be known for the groundbreaking consoles it used to make and would rather be known for the one it's got on shelves as we speak.
Or maybe Nintendo is no longer selling the NES Classic in the US because it isn't the big money maker one might expect. While it is likely cheap to make, there's no money coming in after the initial sale, and that's not how Nintendo operates. Nintendo is in the business of selling consoles and making money on games. The NES Classic, for all its console trappings, is really just a very cool and inexpensive toy.
Whatever Nintendo's reason (we've reached out in the hopes of some illumination) the effective cancellation of the NES Classic means Nintendo is trying to take a hard right out of nostalgia land...at least until Switch sales flag and the SNES Classic appears to give the company another quick boost.