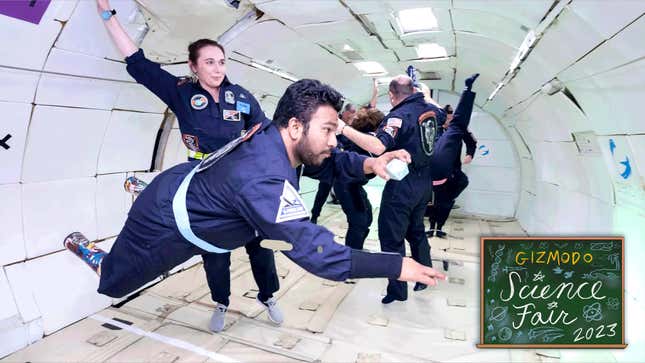 "I went silent," Dwayne Fernandes told me. "I shut the hell up." Fernandes, a double-amputee since the age of 11, was recounting his experience in weightlessness, having recently participated in a parabolic flight alongside a disabled research crew. The zero-g flight threw him into a deeply contemplative state, and as the crew celebrated its successful mission, he instead felt compelled to put pen to paper and write some poetry.

Astronomers Could Soon Get Warnings When SpaceX Satellites Threaten Their View
Speaking to me from his home in Australia, Fernandes told me that "disability is not just a wheelchair—we need to expand that thinking." Disability, he said, is "a condition plus barriers," which for wheelchair users includes barriers such as height or stairs. But gravity can also be a barrier, as he pointed out.
"On that zero-g flight, I had my condition—the condition stayed—but the barrier went," Fernandes explained. "That became a profound, weird feeling that caused me to re-identify myself. The social model of disability says I'm a person with a disability, but my condition changed in a zero-g environment." When in weightlessness, "I am not disabled—I am actually super enabled."
Upgrades included
Elaborating on this point, Fernandes described himself as being "compact" and with "upgradeable parts." Legs "get in the way in space," he said, and, as extra weight, they only serve to increase launch costs. "There's no such thing as a spacewalk," he said. "Your feet aren't walking—your feet are just anchored." All he would need to live and work in space, he said, are "a couple of carabiners and some hooks."
My interview with Fernandes had barely begun, but any preconceived notions of how our conversation would go were now firmly tossed out the window, as were my prepared list of questions. The purpose of our conversation was to discuss AstroAccess, an advocacy group aiming to become the go-to experts in the field of disability access in space. I reached out to Fernandes to learn more about AstroAccess, a winner of Gizmodo's 2023 Science Fair, and his contributions as an ambassador on the latest flight test.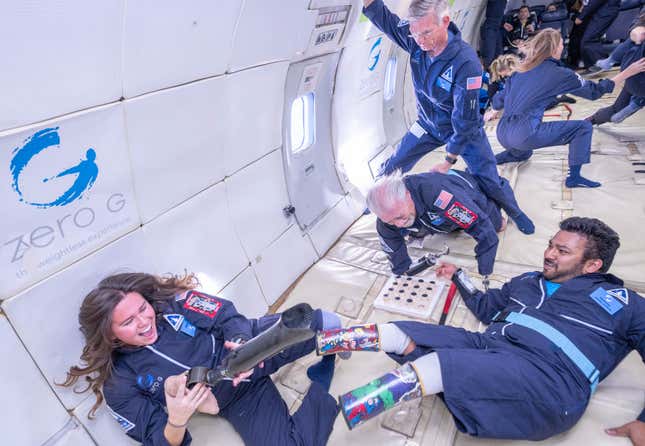 During my conversations with Fernandes and other AstroAccess ambassadors, I quickly came to realize that accommodations, while important, are only part of the story. With all due respect to Sun Ra, space is not the place, at least not for humans. Yet in typical human fashion, we are desperately trying to make it a place for us to live and work.

Trouble is, we're currently locked in an ableist mentality that equates disability on the surface to disability in space, which doesn't always translate, as Fernandes pointed out. He claims this is a consequence of the military-minded Space Race between the United States and Soviet Union, but the "Cold War era of space is over—the Right Stuff era of space is over—and we're now entering into the commercial phase of being in space," Fernandes said. "If you want space to be a profitable, commercially viable place, you need to be talking to disabled people."
Universal access helps everyone
AstroAccess is seeking to remedy this situation, not at some nebulous point in the future, but now, as humanity embarks on its next—and highly commercialized—phase of space exploration. Co-founded by Anna Voelker and George Whitesides in early 2021, the group aims to make space more accessible and ensure that "we're not leaving 25% of humanity behind," Voelker, the executive director of AstroAccess, told me. Key issues include accessibility, justice, and inclusion, but AstroAccess has an equal interest in learning how universal access creates "benefits for everyone and not just those who have historically been excluded from the opportunity," Voelker added.
AstroAccess is not alone in this mission. The European Space Agency launched its Parastronaut Feasibility Project in 2021 and named British paralympic athlete John McFall as the space agency's first "parastronaut" in November 2022. It's important to note that disabled people have a historical connection to spaceflight. In the 1950s, NASA assembled a group of deaf men, now known as the Gallaudet Eleven, to prepare for human spaceflight. Some people who are deaf have inner ear cochlear damage, making them immune to motion sickness and therefore ideal candidates for studying this very thing.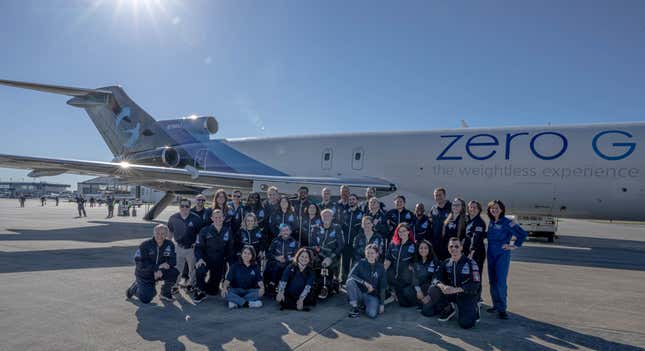 That accommodations will make space a safer and better place for everyone makes tons of sense. We see it all around us here on Earth, whether it's rounded street curbs for wheelchair users or captions for deaf and hard-of-hearing audiences. We all benefit from this stuff, regardless of our abilities. Sheri Wells-Jensen, an AstroAccess ambassador and associate professor of linguistics at Bowling Green State University, says something will inevitably go bad in space, and that's because space is actively trying to kill us.

"And if space can't kill you, it's perfectly happy to disable you," she said. "This is going to happen," so we can either "allow space and disability to wreck" a future long-term mission to space, or we can "get down to the business of figuring out how we need to make our spacecraft and science accessible so that we can have successful missions."
A new use for the 'vomit comet'
AstroAccess is getting down to this business by virtue of its parabolic missions, of which two have now gotten off the ground. Flying aboard a Zero Gravity Corporation B-727 aircraft, dubbed the "vomit comet," the disabled crew runs an assortment of tests while floating in fleeting stints of weightlessness. The tests offer hints as to how individuals with various disabilities can work in space, and how they might be challenged, enabled, and even advantaged in the space environment.
The expectation at AstroAccess is that commercial developers will use these insights while designing spacecraft and space habitats, "as opposed to having to retrofit something that's already in orbit," Voelker said. Whitesides, who, along with space entrepreneur Dylan Taylor and investor Amy Dornbusch, sponsored the most recent parabolic flight on December 15, 2022, said AstroAccess has had "all representatives from all of the different active human spaceflight companies on board our flights over the past few years," including both dedicated and partner flights.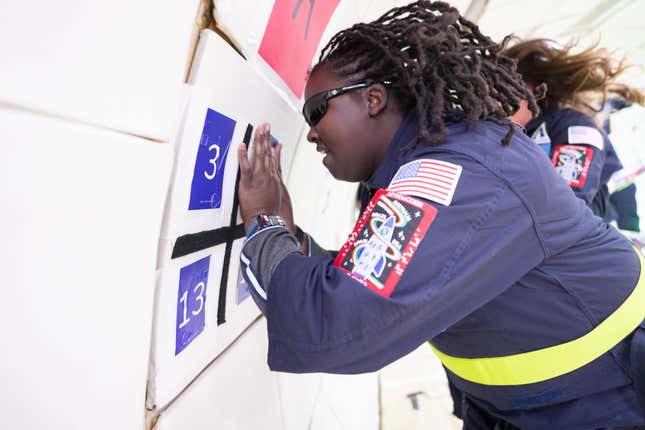 In-flight demonstrations performed during the most recent flight included tactile wall-mounted guides for the blind crew and light-based visual cues for the hard-of-hearing and deaf crew. The deaf crew ran comprehension tests of American Sign Language in zero gravity (signing is very different when you're upside down!), in addition to running demos of a speech system provided by Sony and SonicCloud.

The mobility and blind crews also demonstrated the ability to get into a launch seat and fasten the five-point seat harness, "making it clear that disabled people can safely fly aboard suborbital space missions," AstroAccess declared in a statement published after the flight. Fernandes, as part of the mobility crew, ran a beep test to prove that he could consistently float from one side of the cabin to the other. And as an avid player of Dungeons & Dragons, he also tried to roll a 20-sided die in zero gravity (it didn't work). The mobility crew also tested a two-point anchoring belt for people with lower limb disabilities, allowing them to stay in place while performing tasks. Fernandes said he benefited greatly from the light-based cues being tested by the deaf crew, as it provided a better sense as to when gravity would switch on and off.
Liberating, frightening, illuminating
For John Kemp, an AstroAccess ambassador and disability rights attorney, the parabolic flight was nothing short of "liberating" but also "frightening at the same time," he told me. "You're inside a 727 that's been hollowed out except for four or five rows of seats in the back, and with six to eight inches of padding all around," said Kemp, who was born without arms or legs below the elbows and knees. He said each crew member was matched with a support person, in addition to three astronauts and five doctors with experience serving astronauts—including Erik Viirre, the doctor who attended Stephen Hawking during his zero gravity flight in 2007.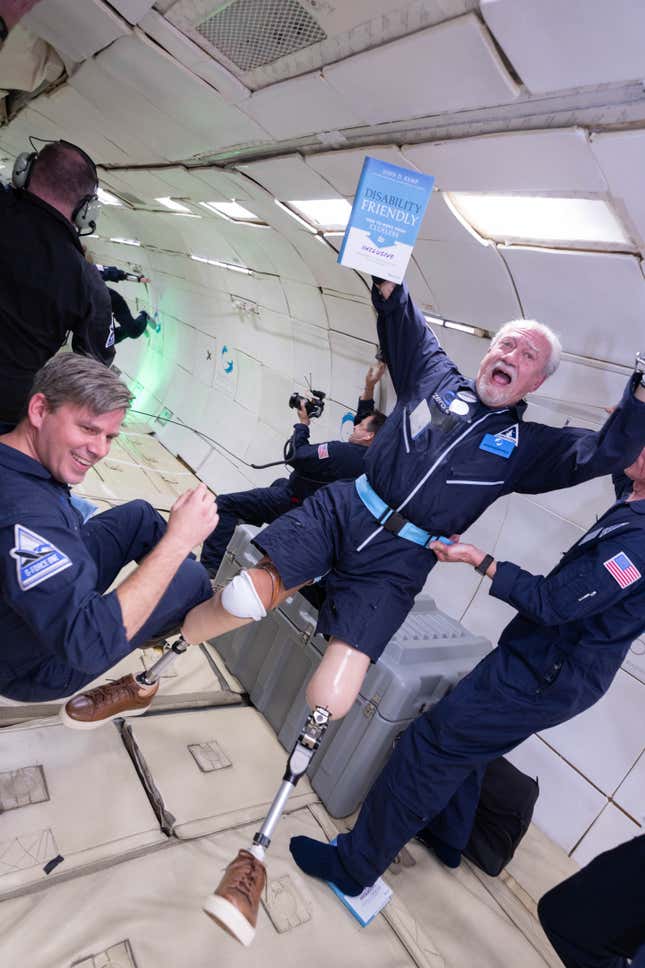 Kemp said he never did quite master the ability to control where he was going during the brief 30-second stints of weightlessness, "but nobody can," he added. For 10 of the 18 parabolic maneuvers, Kemp kept his prosthetic legs on, but he eventually took them off. "Talk about liberating," he said. "Once I got out of my legs, it was so much fun." I asked him if he thinks he could live and work on the ISS, to which he responded: "Yeah, I could."
Wells-Jensen, who currently serves as the 2023 flight ops lead, has participated in two parabolic flights. "If you're blind and you're floating in a room where there's no up or down, it's profoundly disorienting, but it's also magicland," she said. "It's amazing and wonderful, but it's also damned confusing." Gravity offers a critically important cue for orientation whether you're sighted or blind, but in space, that's suddenly gone, she explained. When floating in zero-g, "you're not touching anything at all, and you don't know which way is down." She said it's not something she typically has to worry about on the ground, but when the gravity suddenly went away, "I was like, 'Oh hell! There is no down!'"
Well-Jensen and her cohorts set up an elaborate test in advance to evaluate acoustic cues during stints in weightlessness. "We had all these beepers and dingers, and we thought it would be a lot of fun to float up in the air and come down wherever the dinger started dinging—we thought it'd be easy," she said. Due to the unexpectedly loud noise inside the cabin, however, "zero of us heard any cute little dingy sounds during the parabolic flights, so we still have questions about cues and orientation, and also questions for the blind crew about how to run the computer gear," Wells-Jensen said. She's not concerned, however, "because we already have a lot of answers to that on Earth." Had the test not been run, however, the blind crew wouldn't have known about the excessive noise—something that'll undoubtedly be present in future space stations. That's why you run experiments.
Even better than the 'right stuff'
Accommodations for disabled astronauts are critical, but the folks with AstroAccess are also in tune with the ways in which disabled people might be advantaged in space.
If you don't have legs, you're lighter and thus cheaper to launch, explained Fernandes. Blind people can still suffer from motion sickness and disorientation, but they're immune from unsettling visual cues that cause astronauts to feel that the whole room has suddenly flipped upside down, according to Wells-Jensen (more on this visual phenomenon here). And as she also pointed out, "people with ostomy bags don't have to worry about all that inconvenient toileting in space," adding that "you think those people have physiologies that are too complicated, but actually they're more simplified in certain ways." She also said that blind people never have to worry about the lights going out or smoke irritating the eyes, such as when a fire broke out on the Mir space station in 1997.
"There will be occasions in which we're advantaged and other occasions in which we're disadvantaged," Kemp said. "The issue is that we need more universally designed equipment, and we're already seeing it when we test our work."
Preparing for 'all that's out there'
Wells-Jenson said we're "just babies when it comes to figuring out spaceflight and what we're going to do in space," but we're also trying to figure out what kind of people we're going to be 100 years from now. "Those choices are being made right now," she said. Tests done during the parabolic flights are what we're thinking about now, but questions remain about making environments suitable for people with other conditions, such as people on the autism spectrum and "all the cool neurodiverse people who are super smart and want to go to space because they're scientists," she said. "How do we arrange the environment so that it's welcoming?"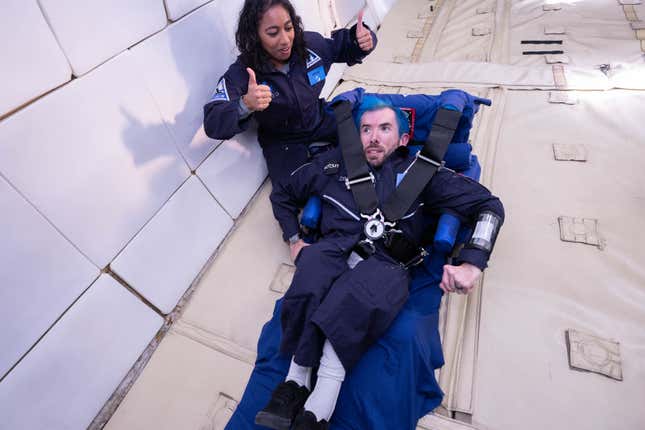 Kemp says AstroAccess has a tremendous role to play in the broader notion of future space travel and believes the group will eventually represent this field with "tremendous and deep expertise" of various disabilities. Voelker said the goal is for AstroAccess to work as consultants and experts in the field of disability access in space. "What we have is this unique conglomeration of world-renowned disability activists, accessibility specialists, and space industry leaders all in one place, and that doesn't exist anywhere else," they said. "We are uniting these communities and providing a high level of expertise."

On the issue of making space a universally accessible place, Fernandes was blunt.
"You need to make space inclusive right now, or we [disabled people] will sue you for it," he told me. "I will personally sue you for it. You are not leaving this planet without us," and that's because "we have the right stuff—the right stuff that will allow your missions to last longer, and to allow the people that you send up there to survive longer, even when they get new conditions," Fernandes said. "Disability will happen regardless of which planet you're on," he said. "You speak to experts here—people with disabilities—because that will allow you to plan for all that's out there."
Read more: AstroAccess Is Making Space for Disabled Astronauts