Ant-Man gets tons of new cast members, including plenty of familiar names. The reasons behind a major Batman villain's role as Arrow's new big bad are explained. Plus, the new Vampire Lestat movie might be circling a director and the titles of this season's Doctor Who episodes have been revealed. Spoilers now!
Ant-Man
Well, after all of that toil and trouble, Ant-Man, now directed by Peyton Reed, has started filming in San Francisco. According to On-Location Vacations, it's shooting under the name Bigfoot.
We've also got some new casting news from Ant-Man. Marvel has announced that Bobby Cannavale, Judy Greer, T.I., Gregg Turkington, Wood Harris, Abby Ryder Fortson, and John Slattery are all joining the cast. Presumably, Slattery is reprising his role as Howard Stark, but we'll have to speculate away when it comes to the rest. But that is a whole lot of character actors.
G/O Media may get a commission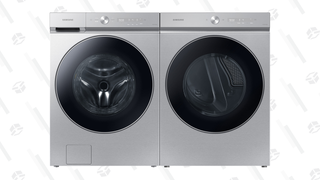 Get $500 back in credit
Last Chance: Samsung Bespoke AI Washer and Dryer Preorder
---
Alice in Wonderland: Through the Looking Glass
Our first look at the Alice sequel keeps us firmly on this side of the looking glass, but at least there are llama butts. Go here to check out all of the set photos.
[ ComingSoon]
---
Ghostbusters 3
Ivan Reitman may not be directing the third Ghostbusters movie, but he did speak to SuperHeroHype about his level of involvement with the project:
"I am very involved. I'm a producer of the film," he told us. "I wasn't giving it all up. I suddenly felt that Ghostbusters didn't necessarily need me as a director, at least I didn't need to direct Ghostbusters, let me put it that way. Having done the other two and with the passing of Harold and with Bill Murray seeming disinterested being in it, I thought it was better for me just to produce it and to make sure we're going to have the quality and style of what is appropriate for another version of that film. But the franchise could benefit from somebody else's point of view. I've done it twice before and it will be great to get somebody else to lend a hand as well."
And apparently a sequel to his 1988 comedy Twins is in the works as well. Huh.
---
Star Trek 3
Roberto Orci has confirmed to TrekMovie that the first draft of the script is finished — but still no details about the storyline or villains, or when the movie might start filming.
---
Doctor Strange
Sick of every Marvel character franchise starting out with an origin story? Devin Faraci of Badass Digest claims in an episode of the Meet the Movie Press podcast that Marvel is done with origin stories in its movies, so we won't see one for Doctor Strange.
He talks about it in the video below around the 52-minute mark:
So, for Doctor Strange they've had a script in-house forever. It is a pretty standard origin story for Doctor Strange. It's got Baron Mordo as the bad guy. That's all gone. Marvel's new thing is no more origin stories. So, Doctor Strange movie no longer has an origin. It begins in medias res. It has Doctor Strange already established as the Sorcerer Supreme. It is a totally new script. Jon Spaihts is working totally new, On his own, without any of the previous stuff. Not even touching the previous script.
[via CBM]
---
The Maze Runner
Things get competitive among the Gladers in the latest clip:
[via ComingSoon]
---
Avengers: Age of Ultron
Stellan Skaresgård confirmed to Total Film that he'll be once again reprising his role as Dr. Erik Selvig in "a small appearance." Like everyone else associated with the film, there's very little he can say about it:
First of all, I don't know what I'm allowed to say. But usually they call me in if they need something explained. There's a lot of explanations to do when it comes to that universe.
The more important question is: will he be naked this time?
[via CBM]
---
Star Wars: Episode VII
In an interview with EW, Adam Driver hints at the major themes of the new Star Wars movie, by talking about Star Wars themes in general:
Oh yeah. The thing about Star Wars that's so good—sure there's this huge [canvas]. It's space, it's a long time ago in a galaxy far away. That's set up immediately. But in the midst of all those things, what has made those movies last so long is that they're all grounded, which is something that is not so far off from every movie with huge universal themes of siblings and parents and betrayal and trust. That's so generic and obvious, but it's hard to balance those things.
He also jokes that it's weird working on Girls at the same time:
You can confuse the two and I'm like, "Why is everyone naked in space?"
---
The Vampire Lestat
TheWrap is reporting that The Fault in Our Stars director Josh Boone is in early talks direct the new Vampire Chronicles movie, which supposedly draws from Anne Rice's books The Vampire Lestat and Queen of the Damned. A spokesperson from Imagine Entertainment told TheWrap the report was completely untrue, however. Make of that what you will.
---
The Strain
Here's the synopsis for September 14th's episode, titled "Loved Ones":
Eph investigates Kelly's disappearance and struggles with what he finds. Dutch pursues a plan to retaliate against Palmer, and Fitzwilliam makes a surprising choice.
[ Spoiler TV]
And David Bradley talks to the Hero Complex about his role as Abraham Setrakian:
The scripts, the story lines, the directors we've got, Guillermo's great vision, seems to be bringing out those conflicting elements, it's not just an action thing of the good guys against the vamps. There's all these little conflicts going on between these main protagonists, who are trying to figure out what to do. They're all got different notions about what to do. I love all that because it makes them complicated, it makes them vulnerable, it makes them strong, it makes them feel things that are unfamiliar to them, especially in Setrakian's case. To me, it's a very human drama as well as action-packed.
---
The Leftovers
The promo for the season's final two episodes teases something very bloody ahead. So, business as usual.
[via SpoilerTV]
---
Outlander
The latest set of images tease this week's daring escape episode "The Way Out." Check them all out here.
[ Spoiler TV]
And the promo indicates that our time-traveling heroine will soon be accused of witchcraft:
---
Doctor Who
The BBC throws us this five-second scrap of a teaser to help tide us over until Saturday:
That's not enough, now is it? Well, the BBC has also released the titles, writing, and directing credits for each episode of the season. What can you glean from them? (Aside from a whole lot of Moffat.)
Episode 1: Deep Breath.
Written by Steven Moffat
Directed by Ben Wheatley
Episode 2: Into The Dalek
Written by Phil Ford and Steven Moffat
Directed by Ben Wheatley
Introducing Samuel Anderson as Danny Pink.
Episode 3: Robot Of Sherwood
Written by Mark Gatiss
Directed by Paul Murphy
Episode 4: Listen
Written by Steven Moffat
Directed by Douglas Mackinnon
Episode 5: Time Heist
Written by Stephen Thompson and Steven Moffat
Directed by Douglas Mackinnon
Episode 6: The Caretaker
Written by Gareth Roberts and Steven Moffat
Directed by Paul Murphy
Episode 7: Kill The Moon
Written by Peter Harness
Directed by Paul Wilmshurst
Episode 8: Mummy On The Orient Express
Written by Jamie Mathieson
Directed by Paul Wilmshurst
Episode 9: Flatline
Written by Jamie Mathieson
Directed by Douglas Mackinnon
Episode 10: In The Forest Of The Night
Written by Frank Cottrell Boyce
Directed by Sheree Folkson
Episode 11/12 Dark Water/Death In Heaven
Written by Steven MoffatDirected by Rachel Talalay
---
Once Upon a Time
Interesting. Brad Dourif previously played Zoso, who was the Dark One before Rumplestiltskin. Looks like we'll be seeing him again.
And, thanks to a teaser of the script, we get a little snippet of Frozen's Anna and Elsa:
---
Witches of East End
The latest promo takes us into the "Art of Darkness":
---
Arrow
The classic Batman villain Ra's al Ghul is the coming season's Big Bad, and executive producer Andrew Kreisberg told Comic Book Resources what that means for our hooded hero:
"We wanted to do something that we hadn't done before," Kreisberg said. "With Malcolm, it was a very specific villain who had a very specific agenda. That was designed where they didn't even necessarily know they were up against each other until the very end. In Season 2, Slade's plan was all about revenge. It was personal. It was something he blamed Oliver for.

"For Season 3, we wanted a new challenge for Oliver. [Ra's] really speaks to the emotional theme of the season, which is, 'Can I be both the Arrow and Oliver Queen at the same time?' The villain says to Oliver, 'The reason you're not able to fully be the Arrow and do the things you should be doing is because you're still holding on to Oliver Queen. I've left my identity behind to full commit to my cause. If you did that, you could rise as high as I am.' Knowing that was emotionally what we wanted to do, that was how we landed on [Ra's]."
The producers have also made an interesting, but perhaps deflating, change to the title of one of the episodes. Episode five of the third season, which tells Felicity's backstory, was originally titled "Oracle," leading many fans to suspect that Felicity might eventually become a Barbara Gordon-esque Oracle character. Instead, the episode will be titled "The Secret Origin of Felicity Smoak." EW reveals how we will meet Felicity's mother, played by Charlotte Ross:
"We've established in the past that mom is a cocktail waitress in Vegas," executive producer Marc Guggenheim says. "She and Felicity are two very different people. Episode 5, which is when Felicity's mom comes to town, really deals with the differences between these two women and how much of their relationship is a struggle as a result. It's a real challenge for these two people to find some common ground."
As for Felicity's father, it will probably be a while before we learn who he is. *Cue dramatic music.*
---
The Flash
The CW has released a new promo image of the Flash in his suit. Apparently, he can't get here any faster.
[via ComingSoon]
---
The Last Ship
It isn't exactly a happy homecoming in the trailer for The Last Ship's first season finale:
---
Marvel's Agents of SHIELD
It seems this rather understated billboard is now looming over LA:
That alien equation Coulson was carving into the wall during last season's finale is going to be very important.
---
Additional reporting by Madeleine Monson-Rosen and Charlie Jane Anders.