Bloomberg is reporting that a form of Touch ID could be coming to the iPhone as soon as 2020. That's a little at odds with a report last month from analyst Ming-Chi Kuo that the iPhone would be getting Touch ID in 2021. So what the heck is going on?

In 2018 Apple axed Touch ID from the entire iPhone line up after putting its alternative biometric security measure, Face ID, into the iPhone XR, XS, and XS Max. But it wasn't entirely because Apple believed in Face ID. It was more due to the fact that Apple needed a phone with almost no bezel and a reliable form of biometric security.
To accomplish both requires either a camera that can recognize your face or a fingerprint reader that works through the display. Apple has done okay with making Face ID secure and reliable, though security experts have still found ways around it. The technology behind Face ID has been around for quite a while—Microsoft introduced a biometric face scanner similar to Face ID back in 2015.
As we've previously reported, getting a fingerprint scanner to work through a display is a larger challenge and relies on much newer and less tested technology. Most phones with a fingerprint scanner under the display rely on ultrasonic technology to read your prints. This technology sends ultrasonic sound waves through the display to hit your finger, then takes measurements based on what is bounced back to the sensor. The tech is theoretically much more secure than the capacitive fingerprint reader used on earlier Touch ID devices. It can take a more complete 3D image of your print. Capacitive fingerprint scanners just take tiny 2D photos of your fingerprints.
G/O Media may get a commission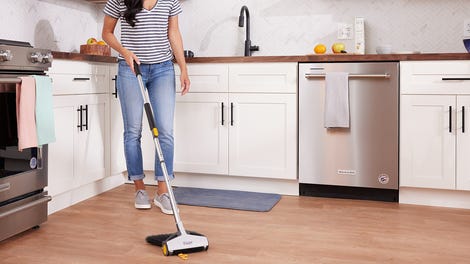 BOGO 50% Off
Flippr - BOGO 50% Off
But the technology is still really new—phone makers only started incorporating it into devices in 2017, and early versions had major issues. The ultrasonic sound waves couldn't go through the glass used on most phones, so phone makers had to use much thinner and delicate glass. There were limitations with what kind of displays the ultrasonic soundwaves could pass through too.
It was only really this year, with devices like the Samsung Galaxy S10 that the tech seemed to find a balance between the compromises necessary, and the elements of phone consumers required.
Apple, who prides itself on producing really reliable and secure devices, typically has a higher bar for its biometrics than competitors. It's been working on ultrasonic Touch ID for some time and it's clearly been a challenge. In 2017 Wall Street Journal claimed Apple was using Face ID because it couldn't actually get Touch ID to work through the display.
Touch ID still seems to be having some technical issues. Bloomberg claims that it will likely only appear in 2020 iPhones if "testing is successful." It went on to note "[s]uppliers have proven their ability to integrate the technology into iPhones, but the company has not managed to mass-produce it yet".
Bloomberg notes that the tech could appear in iPhones as soon as 2020, but that "the timeline for its release may slip to the 2021 iPhone refresh". That's in line with Ming-Chi Kuo's claim first reported by 9to5Mac.
But Bloomberg didn't just report on Touch ID's return. The same article also backs up rumors, first reported by Nikkei, that a successor to the iPhone SE would be coming in early 2020. "The device would look similar to the iPhone 8 and include a 4.7-inch screen," Bloomberg notes.
So you might not be getting Touch ID in 2020, but you could be getting a tiny iPhone.
If you know anything about Apple's future plans for the iPhone and Touch ID then drop us a line. You can reach me at alex.cranz@gizmodo.com, DM me for Signal, or contact us securely via SecureDrop or Protonmail.