NASA is set to launch its next Mars lander, InSight, early Saturday morning. But something's different about this launch. It's taking place on the West Coast, at Vandenberg Air Force Base in California.

Giving Optimus Prime a Proper Back Story | io9 Interview
Rockets typically launch from NASA's John F. Kennedy Space Center in Florida, where the Earth's rotation can give them a velocity boost spaceward. But the InSight launch—the first inter-planetary launch from the US West Coast—wasn't a scientific decision.
"It's logistics," Bruce Banerdt, InSight's Principal Investigator, told Gizmodo. "It saves NASA money."
The story goes as follows: part of InSight's concept was to show that NASA could launch a budget interplanetary mission, said Banerdt. The lander itself has the same design as the 2007-2008 Phoenix lander. InSight's cameras were leftovers sitting in inventory. The robotic arm that will be used to deploy its scientific instruments onto the Martian surface came from a scrapped project from 2000.
But Phoenix was designed to fly on a Delta II rocket, which United Launch Alliance will be retiring this year. InSight is instead launching on the smallest rocket NASA has available, the Atlas V-401, which is larger than the the Delta II. That means that the scientists have power to spare.
Rather than just waste that extra power, the InSight team decided to move the launch to Vandenberg on the West Coast. West Coast launches are typically reserved for missions that require our planet rotating beneath them, like Earth-mapping satellites or reconnaissance missions. It didn't matter for InSight, so they chose Vandenberg to lighten the load off of Kennedy and allow West Coasters to experience an inter-planetary launch.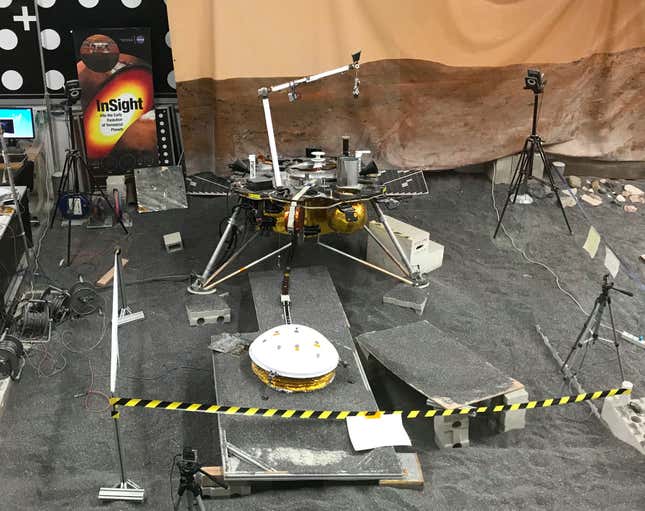 Or, as InSight scientist Mark Wallace tweeted in a thread explaining the specifics: "We're going out of Vandenberg because we can!"
Cleaning and planetary protection processes not normally necessary for West Coast launches had to be added. But otherwise, "It's a smooth transition to move these procedures from the East Coast," said Banerdt.

The mission might use budget equipment, but its goals are ambitious. InSight will put a seismometer on the planet's surface, and its heat transport probe will burrow 16 feet into the Red Planet. InSight's goal is to record seismic activity—Marsquakes—to help understand how rocky planets evolve, and why our own planet somehow ended up with tectonic plates.
The InSight launch will happen on May 5 at the earliest, and we'll continue covering it here. But the real fun starts in six months. That's when InSight will need to safely land on Mars and use its robotic arm to deploy its instruments onto the surface. Said Banerdt: "There are a lot of exciting milestones coming up in this mission, even before the great science gets going."