A couple of days ago, the esteemed Charlie Jane Anders looked at the dearth of new, sustaining pop culture heroes and villains. That, with the exception of Harry Potter, we haven't seen a new character with the perceived permanence of a James Bond or a Captain Kirk or Spider-Man — and she blamed it on a lack of a pulp media. Ah, but she was looking in the wrong place.
Top image: Francois Baranger via Kotaku
The pulps were, in their glory days, cheap ways to deliver genre entertainment. You could, for a dime, read a war story, a romance, a superhero yarn, a detective tale, a horror anthology, you name it. They contained multitudes. But they are, as Charlie Jane correctly surmised, dead. Comics don't count, neither do movies or TV. Young adult novels used to be the new pulp, but they've gotten too respectable.
But, in truth, the new pulp has been around for about 20 years, right under our noses: video games. They're not cheap to make, no. Nor are they particularly cheap to buy. But they fulfill the same role that the classic pulps did: easily digestible genre entertainment that you "used" then passed on to a friend or simply threw away. (In the case of games, you trade 'em in.) You can play almost any type of game - intergalactic adventure, zombie survival, WWII combat, hard-boiled noir, sprawling fantasy - just like the pulps of yesteryear. This is the bold new world of storytelling, where you can spend hundreds of hours lost in a story that you play an active role in, with a tremendous potential and a built-in audience.
G/O Media may get a commission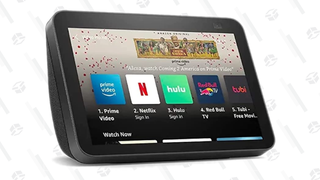 And with this New Pulp has come a New Hero. And his name is Player One. Us. We're the hero. Video games have taken the power fantasies of comics and pulp digests and made them manifest (or as close to manifest as we're going to get for a long while). There's a reason why games like Call of Duty and Halo and Mass Effect all make more money in their first week that most movies do in their entire theatrical run. Because we are the heroes we've been looking for...or, at least, the chance to be those heroes.
Yes, there have been games built around characters like Halo's Master Chief or Metal Gear Solid's Snake or Tomb Raider's Lara Croft, and they still have a name recognition. But we don't care about what happens to them...we care about what we can make them do.
That's what we want from our heroes: to be better versions of us. Stronger, smarter, impervious to the petty things that make life so hard. Video games let us get closer to being our own heroes than ever before.
Pulp is dead, long live pulp.