At any moment, your computer could crash, and you will need to hand it over, unedited, to a repair person. If weird filenames freak out that person and the police, they can open your files, a court has ruled. Ugh.
An Alabama man got 10 years in jail after taking his computer in for repair at Best Buy, where red flags were raised over his "very explicit" filenames, according to Kashmir Hill at Forbes. The police were called, opened the suspicious files and found child porn, just as in past computer repairs ending in child porn charges. Chalk up one for the good guys: The man is doing 10 years in prison.
But even law abiding citizens have cause for concern about the case. That's because it established that your file names can and will be used against you if you hand your computer over for repair — there's no privacy expectation keeping staff and police from using them to justify further search, at least according to the Alabama Court of Criminal Appeals. Even if you think you've got nothing to hide, you could be in for a lot of headaches, suspicion and lost time if you give a file an unfortunate name. The best bet is probably to encrypt your entire drive, which also protects you against having your identity stolen by unscrupulous, underpaid repair staff. And keep the computer constantly backed up . That way, you can tell the repair guys to go ahead and delete the whole disk when you take it in for service — no scanning of your personal stuff allowed, or necessary.
G/O Media may get a commission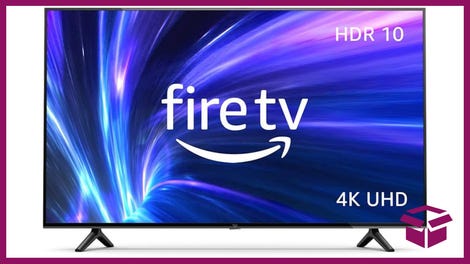 42% Off
Amazon Fire TV 50" 4K Smart TV
[Pic: Computer hard drive by Carl Berkeley/Flickr]