Chris Hemsworth gives his seal of approval for a Thor 2 directing candidate. Steven Spielberg talks Robopocalypse, and new actors join Pacific Rim and Paradise Lost. Chuck enlists your friendly neighborhood comics legend for a cameo. Plus new R.I.P.D. set photos!
It's spoilers all the way down!
Top image from The Avengers.
The Dark Knight Rises
Definitely best to take this with a grain of salt for now, but people are claiming to have seen Cillian Murphy in and around the Los Angeles set, suggesting another return appearance as Scarecrow. Here's one report:
Cillian Murphy is returning in TDKR. You can see him at Union Station in Los Angeles, but at least that's where I saw him earlier on my way back home from taking spy photos. I couldn't take a picture of him because there are a ton of security guards, but he's definitely there...He was wearing a black robe, probably to disguise his suit underneath.
As for how Jonathan Crane fits into the movie - well, again, take all this with a grain of salt, but supposedly a scene filmed at Union Station featured Scarecrow acting as a self-appointed judge handing down sentences on supposed "criminals", which includes Gary Oldman's Commissioner Gordon and Marion Cotilard's Miranda Tate. Both Bane and Harvey Dent are somehow alluded to in the scene. Ultimately, the pair have to choose between death or exile, with "exile" involving walking over the thin ice of the frozen Gotham river. All that sounds a bit hard to swallow, as it suggests a pretty in-depth knowledge of the film beyond what one could really see just during filming, but it's certainly possible that Scarecrow will make another cameo, and Murphy has never ruled it out. So the basic story here might - heavy emphasis on "might" - be true, even if a lot of these details aren't. ( [Comic Book Movie]
---
The Avengers
The new issue of Entertainment Weekly features a very detailed set report, and here are the highlights. EW visited during the filming of the "climactic battle, an assault led by Thor's villainous brother Loki (Tom Hiddleston), who's planning to make Earth his new kingdom after being expelled from their family's celestial realm." And it actually confirms that Loki "has enlisted an otherworldly army to aid his conquest," though not the identity of the aliens.
G/O Media may get a commission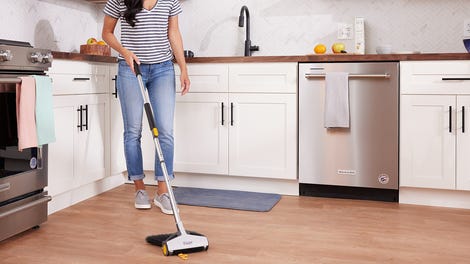 BOGO 50% Off
Flippr - BOGO 50% Off
At one point during this sequence, Iron Man is injured and Thor and Captain America go to his rescue, and Iron Man wakes up and asks "What's next?" Although Whedon and Downey Jr. improvised a few versions of that exchange, including one where Iron Man asks, "What happened? Please tell me nobody tried to kiss me." Also, they have to check Iron Man's pulse, which is difficult with his armor on - so they check his chest for breathing. And in that scene the Hulk is stomping in the background, after having just caught Iron Man "in his fall from the skies." Iron Man "actually enjoys setting off the Hulk, to the dismay of his team-mates." Meanwhile, Thor "struggles with tact around those he considers inferior (which is everyone)."
EW also has a bunch of quotes from the actors. Let's start with Marc Ruffalo explaining how Bruce Banner fits into the team:
"He's the most – guy, but a total loose cannon. No one wants to set him off except for Iron Man... who just wants to see him pop. It's funny, there's a really cool dynamic between Tony Stark and Banner. Banner actually enjoys it, and finds it really refreshing. They're a lot alike in a strange way. They're both these kind of scientists who are mavericks, kind of renegades. Banner, for all his mild-mannered mythology, he's still the dude who was testing some pretty crazy s–t on himself, so he has that rebel streak in him."
Jeremy Renner also notes that Hawkeye is the only hero who can really control the Hulk, because he has special tranquilizer-tipped arrows. He also says that Hawkeye and Black Widow, as the only completely normal humans on the team, have a history and bond that predates the movie.
Also, Chris Hemsworth confirms that Loki's status as the villain gives this an added dimension for Thor:
"I think [Thor's] motivation is much more of a personal one, in the sense that it's his brother that is stirring things up. Whereas everyone else, it's some bad guy who they've gotta take down. It's a different approach for me, or for Thor. He's constantly having to battle the greater good and what he should do vs. … it's his little brother there. I've been frustrated with my brothers at times, or family, but I'm the only one who is allowed to be angry at them. There's a bit of that."
There's a ton more at the link. [EW]
Tom Hiddleston promises that we will see Loki fight every superhero, and he also reveals which is the toughest:
"The fun thing about Loki is that he goes 1-on-1 with every single Avenger. Loki has become so menacing that they all have to team up and overcome their differences to stop him. I think I can dismiss the mere mortals, so Captain America may be a super soldier but he's still a man and he's up against Loki, who's a God. I think Iron Man's blasters hurt a bit...But I think it comes down to his thunderous brother. No one is harder to fight than his brother because there's all that angst within him. Thor still comes out on top."
---
Thor 2
Monster director Patty Jenkins confirms that she's a main contender to take over as director for the sequel:
"I can't say, but yes. I can't say anything definitive, but it's exciting to be in talks with them about it." I think Marvel is really ballsy to think outside the box. And I think everyone they've talked to and hired has been interesting.
[Vulture]
Chris Hemsworth confirms that he's met with Patty Jenkins, and that he is impressed:
"She has a great take on the story and a solid grasp on that kind of universe. [Previous director Kenneth] Branagh read every comic book he could get his hands on. She also looked like she had done her homework."
Ray Stevenson discusses the possibility of returning as his Warriors Three character Volstagg:
I think they're in talks with the director now. I know they want to mash these worlds together in The Avengers. I don't know. If the sequel happens it may be that Thor will go off on a wild adventure on his own and lead The Warriors Three to Asgard. We'll see.
---
Pacific Rim
Diego Klattenhoff, who will soon be appearing on Showtime's new series Homeland, has reportedly joined the cast of Guillermo del Toro's 2025-set action movie in which humans pilot massive robots in a war with giant monsters that emerged from a rift in the Pacific Ocean. The already awesomely eclectic cast includes Sons of Anarchy's Charlie Hunnam, The Wire's Idris Elba, It's Always Sunny in Philadelphia's Charlie Day, and Willem Dafoe, along with Rinko Kikuchi, Max Martini, Rob Kazinsky, and Clifton Collins Jr. [Variety]
---
The Thing
Here's a fairly extreme Russian trailer - the gore makes it borderline not safe for work - featuring some new footage but all dubbed dialogue. [/Film]

---
R.I.P.D.
Here are a couple high-res photos from the Boston set, courtesy of WENN.com.
And here are a few more set photos. [Celebuzz]
---
The Adventures of Tintin: Secret of the Unicorn
Here's a Spanish trailer, featuring a bunch of new footage. [The Playlist]

The movie has slightly shifted its release date from Friday, December 23 to a couple days earlier on Wednesday, December 21. [Deadline]
---
Mission: Impossible - Ghost Protocol
Brad Bird's new Mission: Impossible movie is also changing release dates slightly, beginning limited IMAX-only screenings on Friday, December 16, five days before its wide release on December 21. Bird explains the rather cool reason why he wanted to take this unusual approach:
I feel like multiplexes and the shutting down of the grand old theaters have taken a lot of the showmanship out of presenting movies. There used to be a thing such as "first run." The meaning of "first run" is gone now because on opening day you can see a brand new movie on a good screen but it's more likely you'll see it on a crappy screen. And it can even be a small, crappy screen. It used to be that when a movie opened, if you wanted to see it early, you had to see it great. To me, the best example of showmanship now is IMAX. I pushed to shoot in IMAX, and Paramount went along with me, so we filmed a good chunk of this movie in IMAX, which is a pain in the butt. The cameras are big and they're noisy. But the image quality – you can't get that any other way...you really feel it when it's in IMAX. Maybe one of these days I'll get to do a whole film that way.
[Deadline]
---
Robopocalypse
Steven Spielberg explains what drew him to the project and his filming plans:
"It reminded me of Michael Crichton. I'm in pre-production on it right now. I'm hoping to start shooting the picture some time in '12. I don't exactly know when, hopefully some time this summer, for a '13 release."
The Michael Crichton reference suggests he might view this as somewhat similar to Jurassic Park and The Lost World, which were his two adaptations of the late author's books. There's a few ways to interpret that, but I'm going to go with the most awesome possibility and hope for a giant robotic T. Rex. [Empire Online]
---
Paradise Lost
I Am Number Four actor Callan McAuliffe has reportedly joined the cast of Alex Proyas's adaptation of the John Milton poem. He'll be playing the archangel Uriel. [Variety]
---
Doctor Who
Here's one last promo for "The Wedding of River Song." This one's a radio ad, so you don't even have to look at your computer. [Blogtor Who]

---
Fringe
Tonight's episode will feature Peter trying to make his presence felt in a "rather maddening way", and "you might even hear Astrid make reference to him in front of Olivia." Also, executive producers Jeff Pinkner and J.H. Wyman promise that both versions of Lincoln Lee will feature prominently this season, beginning with this episode. Finally, Peter's non-existence has created a reality where someone who was once dead now no longer is. [TV Line]
---
Person of Interest
Michael Emerson discusses what threat Taraji P. Henson's Detective Carter poses to Finch and Reese:
"[Carter] turns out to be a very dogged and resourceful investigator. She doesn't have to study Reese for very long before she figures out that he is not operating solo. For both Finch and Reese, their lives depend on their fictional existence. They cannot bear much scrutiny, or it's a danger to them and everyone else. Elaborate shell games and ploys have to be brought to bear."
He also discusses whether or not Finch is really a good guy:
"I don't think he is greedy or self-serving or has a lust for power, unless a lust to be an avenger for justice is a kind of power madness. I think he means to do good, but obviously he is working in a way that is outside the law. His behavior is ethically and legally questionable. The borders are really blurry."
[TV Guide]
Here are some set photos of Jim Caviezel. [multipleverses.com]
---
Chuck
Well, I think Chuck can now officially end with no regrets - sci-fi's lovably crazy grandpa Stan Lee will make, his obligatory but still endearing nerd-friendly cameo in episode seven. It's unclear from the initial supports, but it sounds like Stan Lee might be playing himself - which admittedly is pretty much what he always does, but the character will actually be called "Stan Lee" - although this version of the comics legend will reportedly run into Chuck in an unexpected place that suggests Lee might actually have a secret identity of his own. Either way, I can't imagine how this won't be both ludicrous and awesome in that inimitable Stan Lee sort of way. [Hitfix]
Sarah's mother Emma and her former handler Ryker will reportedly both appear in episode 8, called "Chuck vs. the Baby." While Emma is a loving, maternal woman, Ryker reportedly has some unfinished business with Sarah, and it's probably reasonably lethal, like all good unfinished business. Also, the episode will reportedly feature a major revelation about Sarah's past. [ChuckTV]
---
Grimm
Here are some promo photos for "Bears Will Be Bears", the second episode of NBC's Friday night fairy tale cop show. I'm not even sure it's possible to come up with a combination of words that inspires less confidence than that, but here we go. [SpoilerTV]
---
Supernatural
Here's the official synopsis for the wonderfully named episode seven, "Shut Up, Dr. Phil", featuring a pair of familiar guest stars:
"BUFFY THE VAMPIRE SLAYER" ALUMS CHARISMA CARPENTER AND JAMES MARSTERS GUEST STAR —- Sam (Jared Padalecki) and Dean (Jensen Ackles) meet Maggie Stark (guest star Charisma Carpenter), a witch who has unleashed her wrath on a small town, resulting in numerous deaths. Sam and Dean track down her husband, Donald (guest star James Marsters), to see if he can help. Donald tells the brothers that Maggie is mad at him for having an affair and is taking it out on the townspeople.
---
American Horror Story
Here are four more promos for FX's upcoming horror series.

---
Warehouse 13
Here's a sneak peek and synopsis for next Monday's two-hour season finale, courtesy of Syfy.

In the finale, there is something transmitting from within the Warehouse, and Pete and Myka are racing through the multitude of sections trying to find out who or what it is while Artie and Claudia try to track it from back in the office. It turns out that it's Sykes using his own cache of artifacts to try and destroy them and the Warehouse. They realize the transmitting is coming from near the art gallery and the entire team heads to meet up there to bring a stop to the chaos.
---
The Vampire Diaries
Here's a promo for next week's episode, "Disturbing Behavior."

Here's the synopsis for episode six, "Smells Like Teen Spirit", which I'm just going to go ahead and assume will be a particularly touching Kurt Cobain tribute episode:
WELCOME BACK, SENIORS - On the first day of their senior year, Elena (Nina Dobrev), Caroline (Candice Accola), Bonnie (Kat Graham) and Matt (Zach Roerig) are still reeling from recent events, while Tyler (Michael Trevino) seems to be enjoying everything a little too much. Damon (Ian Somerhalder) is annoyed by a new houseguest, and everyone is surprised by the arrival of a new student in Alaric's (Matt Davis) history class. Matt asks Bonnie for help when he realizes he made a serious mistake. Meanwhile, Stefan (Paul Wesley) continues to carry out his latest assignment from Klaus (Joseph Morgan, who does not appear in the episode).
---
The Secret Circle
Here's a promo for episode four, "Heather."

Here's the description for episode six, "Wake":
FAYE PLOTS HER REVENGE WHEN AN EX-BOYFRIEND RETURNS TO CHANCE HARBOR - When Jake (guest star Chris Zylka), a mysterious young man, shows up in Chance Harbor, he learns a lot has changed since his last visit. For one, the girl he left behind, Faye (Phoebe Tonkin) has discovered she's a witch and has plans to get even with the handsome guy who broke her heart. To complicate things further, he sets his sights on the alluring Cassie (Britt Robertson), much to Adam (Thomas Dekker) and Faye's dismay.
---
Additional reporting by Mandy Curtis and Charlie Jane Anders.