For the last few years, the United States has been a lukewarm leader on global climate action. Now, if President-elect Donald Trump keeps his campaign promises, it may become the rogue state of climate change.

But as I've said before, even if the United States abandoned its climate pledges, the fight against global warming is far from over. In fact, there are already signs that China—yes, the same China known for environmentally reckless development, the same China whose capital city is steeped in a permanent cloud of smog—could take on a bigger international leadership role.
Trump has promised to pull the United States out of the Paris climate agreement and dismantle Obama's domestic climate change regulations. He could do both. Not only would disavowal of America's climate commitments effectively lock the planet into many more gigatons of carbon emissions, such action could prove toxic to international climate cooperation, prompting developing nations like India to scale down their ambition, too.
But if China, the world's largest carbon emitter, stays the course, others may be more inclined to take their carbon reductions pledges seriously no matter what the United States does. Following Trump's surprise victory in the election this week, China now finds itself in a position to assume a greater leadership role on global climate action, banking goodwill among the many nations that consider climate change a serious threat.
These realities are not lost upon Beijing. "Proactively taking action against climate change will improve China's international image and allow it to occupy the moral high ground," Zou Ji, deputy director of the National Centre for Climate Change Strategy, told Reuters. If Trump choses to abandon the Paris agreement, Ji added, "China's influence and voice are likely to increase in global climate governance, which will then spill over into other areas of global governance and increase China's global standing, power and leadership."

G/O Media may get a commission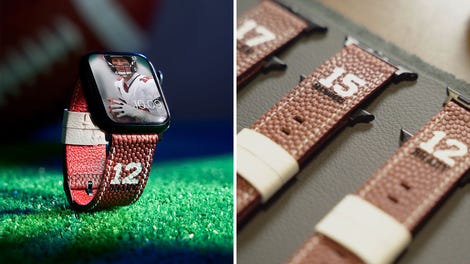 Official NFL PRODUCTS
Official NFL Apple Watch Bands
In an unusual rebuke earlier this month, China's top climate negotiator criticized Trump's promise to pull the United States out of the Paris agreement, saying that a "wise" leader should enact policies that conform with global trends. At a UN climate meeting in Marrakesh this week, China doubled down, asserting that its efforts, and the efforts of other nations to address climate change, will not change if the United States rescinds.
Of course, it remains to be seen what other nations, even the United States, will do once Trump assumes office and is faced with the task of not just issuing bombastic rhetoric, but actually leading the country. But Beijing's claims about its own climate ambitions are supported by the government's recent actions, particularly with regards to clean energy. China is now in the midst of a renewable energy expansion of unprecedented scale.
In 2015, China installed 32.5 GW of wind power capacity, a global record. It also hit 43 total GW of solar capacity, exceeding what was considered an ambitious goal of 35. China is on track to meet its Paris pledge—of reaching peak carbon emissions peak by 2030 at the latest—well ahead of schedule, and has even set itself a new target of cutting power sector carbon emissions 60 percent by 2020.
"China has its own motives and drivers for doing what it's doing on clean energy," Paul Joffe, Senior Foreign Policy Council at the World Resources Institute, told Gizmodo. "It has huge issues of air pollution in cities, it has big energy security issues, it's got very big exposures on climate impacts. And they have a very big economic interest in being a leader in clean technology."
Joffe, for one, does not think that America's climate ambition will dry up overnight. "There's a lot going on in the US apart from what's going on in Washington," he said, noting that states like New York and California have been quick to reaffirm their climate action plans this week. "There's a lot of momentum."
Still, if an international leadership void does open up after Obama leaves office, China may have more reasons than ever to press on toward a low-carbon future.