Marc Webb takes us inside The Amazing Spider-Man. The original Blade Runner screenwriter returns to write the follow-up. Will NBC's Revolution be the first J.J. Abrams show that's easy to follow? Plus Kristen Stewart talks Snow White and the Huntsman!
It's spoilers all the way down!
Top image from The Amazing Spider-Man.
The Avengers 2
Probably the most fundamental question that needs to be answered about the Avengers sequel is simply whether Joss Whedon is coming back to write and direct it. Now that his movie has made just ludicrous amounts of money at the box office — and so likely given him a bit more clout to do exactly what he wants with the sequel — it would seem decently likely.
However, there is this quote from Whedon on whether he would return — which, it should be stressed, is from an interview that happened before the movie's US release — that throws a bit of a monkey wrench into the works:
"You know, I'm very torn. It's an enormous amount of work telling what is ultimately somebody else's story, even though I feel like I did get to put myself into it. But at the same time, I have a bunch of ideas, and they all seem really cool."
G/O Media may get a commission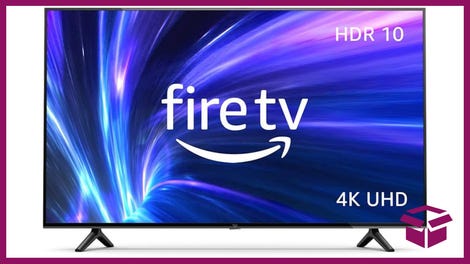 42% Off
Amazon Fire TV 50" 4K Smart TV
---
The Amazing Spider-Man
Here's a new behind-the-scenes video from director Marc Webb.

---
Iron Man 3
Filming will reportedly kick off in Wilmington, North Carolina on May 29 at the Cape Fear Club, reportedly lasting from 5:00 AM to 7:00 PM. [/Film]
---
Prometheus
Here's an awesome international poster that seems to feature a potentially spoiler-y spacecraft collision.
And here's some more images to whet your appetite for Ridley Scott's return to the Alien universe and the science fiction genre in general. [Shock Till You Drop]
---
Blade Runner
Lest we forget, Ridley Scott is also working on the Blade Runner followup that definitely isn't a direct sequel but could be almost anything else. And now another name from the past is reportedly joining him, as original Blade Runner screenwriter Hampton Fancher is also reportedly in negotiations to work on the script. It should probably be pointed out that Fancher has only ever written three scripts, the most recent being 1999's Minus Man, which is probably best vaguely remembered as that movie in which Owen Wilson is a serial killer. Point is, cool as it is to see Fancher come back, I'm going to go ahead and guess that he won't be the only screenwriter to end up working on the followup. [Heat Vision]
---
Catching Fire
If local Asheville news anchor Ross Bowen is to be believed, the Hunger Games sequel may be leaving North Carolina. Here are his relevant tweets:
Looks #catchingfire filming in NC could be very limited. Soundstage used for #hungergames may move out of Charlotte #avlnews #cltnews

Just asking the question. Is NC fighting to keep #catchingfire?

Pre-production for #catchingfire starts in mid-june and looks likely soundstage leaving Charlotte and headed to Atlanta #avlnews #cltnews
Of course, there's no real way to know how much credence we should give this, so grain of salts all around until we hear something more substantial. [/Film]
---
Skyfall
Here's the first teaser poster for Daniel Craig's latest James Bond movie, directed by American Beauty's Sam Mendes. [/Film]
---
G.I. Joe: Retaliation
Here's an epic, seven-minute interview with director Jon M. Chu, Dwayne "The Rock" Johnson (Roadblock), Adrianne Palicki (Lady Jaye), and D.J. Cotrona (Flint). [Coming Soon]

---
Battleship 2
Battleship costar Brooklyn Decker says a sequel is a definite possibility, though I'm going to go ahead and wildly guess that it could be way less of a possibility after this weekend's box office results:
There's talk, there are rumblings of a Battleship 2. I would love to do it. I would start it tomorrow if I could. Yes...Well at the end of the credits we have a little sneak peek that talks about aliens still being on the Earth. There's something that's left over...Stay for the credits if you see Battleship."
---
Snow White and the Huntsman
Star Kristen Stewart of Twilight fame and/or infamy discusses how director Rupert Sanders realized the fantastical concept art in the actual movie:
"It's rare when you see concept art, it's always cooler than the movie ends up being. It's inspiration, I suppose. That's the way Rupert Sanders got the job as director, is kind of putting together this five-minute version of the movie and presenting the darkness and lightness of the world. I thought that it was insane because it felt like two different people did it. It was like so, so beautiful when it was light and so exuberantly happy, and then when it was dark, it was wretched, it was disgusting," Stewart said of the concept art. "When I first saw the movie, I saw that. And I was really like, wow! Everything I wanted it to feel like, everything I wanted it to say, it's there."
---
Maleficent
The Dark Knight Rises and Little Birds actress Juno Temple has reportedly joined Angelina Jolie's Sleeping Beauty movie as Thistlewit, one of three "neglectful and superficial" fairies (along with Imelda Staunton's Knotgrass and Lesley Manville's Flittle) "who are tasked with taking care of Aurora in the cottage in the woods" after Aurora (Super 8's Elle Fanning) is cursed to eternal sleep by Jolie's Malificent. [Heat Vision]
---
Stranded
Here's a promo poster for the Christian Slater-starring movie that's rather wonderfully described as "Rosemary's Baby meets The Thing in space." If that doesn't immediately do it for you, there's a slightly more complete in-depth plot description below:
Slater plays Gerard, who leads three other astronauts on a mission, when a meteor suddenly collides with their space station putting the lives of the entire crew in danger. Those on board quickly learn that spores from the meteorite can replicate cell structure, reproduce, and mutate. Ava, the only female astronaut becomes infected, showing signs of pregnancy at a rapid rate. Within 36 hours she gives birth to a creature that mutates into the life form of another crew member. As the astronauts begin to experience this sinister presence, the virus spreads and Gerard urges for the killing of Ava. The alien being targets the crew one by one, leaving those remaining to destroy it before all are killed.
---
Sin City: A Dame to Kill For
Directors Robert Rodriguez and Frank Miller continue to confound my expectations that the Sin City sequel will never actually happen by acting like this Sin City sequel is actually going to happen. The latest proof of its future existence? A release date has been set for October 4, 2013. [Shock Till You Drop]
---
Game of Thrones
Robb Stark actor Richard Madden promises that episode nine's Battle of Blackwater will live up to all possible expectations:
"I'm really excited to see a certain battle that happens. Season one viewers were a bit mad that they didn't get to see enough of the battle, but anyone that missed out on the battle last year is not going to be disappointed with the battle this year. It's going to be awesome."
---
The Walking Dead
Here's a casting call for a recurring character who will be introduced in the third episode of season three:
[HAROLD] 40s to early 50s. Male. A studious and fastidious man, trying to create a niche for himself in this new world. Guest star. Recurring.
---
True Blood
Alcide actor Joe Manganiello talks about what might be ahead for his character in season five, including asking the almost rhetorical at this point question about whether Alcide and Sookie will hook up — if his following knowing smile is anything to go by, then yes — before discussing how Anna Paquin's real-life pregnancy might lead to Alcide getting Sookie pregnant as well:
"I will say that I'm the only character on the show that can get her pregnant, so if they have to with it, there's kind of only one way you can go!"
Here's another poster for season five. [SpoilerTV]
Here's a casting call for episode eleven, reportedly entitled "Finally":
[GENERAL CAVENAUGH] A tough as nails general along the lines of Norman Schwarzkopf. Guest star
---
Once Upon a Time
Despite the fact that he is now bringing his particular brand of chilling awesomeness to NBC's Revolution on a regular basis, Breaking Bad's Giancarlo Esposito says he also hopes to keep showing up on Once Upon a Time as well:
"I think I can [pop up on Once]. And I would love to do that. I am so happy about their pickup, because it's a show my kids can watch! So you know I'm going to be trying to go back and forth."
[TV Line]
---
Touch
Here are some promo images for the show's two-hour season finale, "Gyre Parts 1 and 2." [SpoilerTV]
---
Revolution
Star Billy Burke promises NBC's new sci-fi show is easier to follow than some other shows with J.J. Abrams's name on it:
"I don't think people will be confused in the slightest watching it. For some reason, all forms of energy and power go out. Fifteen years later, people are trying to get along and trying to figure out how to reconnect and how to form new societies without any of those benefits. We cut back and forth a little bit in time, but it's all pretty linear and very easy to follow and highly entertaining."
[Zap2It]
---
Supernatural
Here's a sneak peek for tonight's seventh season finale, "Survival of the Fittest." You can also check out another video here. [Buddy TV]

Star Jared Padalecki teased this about a possible direction for season eight:
"You'll see why tomorrow, but we're going to have a wonderful opportunity to see the brothers apart, and I hope, I hope, I hope we take advantage of it."
[Zap2It]
CW president Mark Pedowitz suggests the eighth season likely won't be the end for what is now the network's last link to the old WB, saying the next season isn't seen "as the final year in any way, shape or form." [TV Line]
Speaking of season eight, here's a press release for it. Also, it's probably worth knowing the show is moving to Wednesdays to form a block with Arrow, the network's Green Arrow show:
The thrilling and terrifying journey of the Winchester brothers continues as SUPERNATURAL enters its eighth season. Sam (Jared Padalecki) and Dean (Jensen Ackles) have spent their lives on the road, battling every kind of supernatural threat. Over the years, after dozens of bloody adventures, they have faced everything from the yellow-eyed demon that killed their mother to vampires, ghosts, shapeshifters, angels and fallen gods. They even came face to face with Lucifer and the Four Horsemen in averting the Apocalypse. With the help of allies - both human and supernatural - they've discovered that every threat they vanquish opens a new door for evil to enter in. In the show's seventh season, their hunt for the dreaded Leviathans - monstrous creatures escaped from Purgatory - has cost them dearly. Claiming the life of their best friend and father-figure, Bobby Singer, and shattering their protector, the fallen angel Castiel, Sam and Dean's battle to somehow defeat the age-old Leviathan threat will take everything they've got. As dawn arrives after their endless struggle and sacrifice to defeat the world's evils, they know that, come nightfall, something otherworldly - something supernatural - will claw its way out of the shadows, demanding their attention.
---
Arrow
And speaking of the CW's Green Arrow show, here's a promo image.
---
Beauty and the Beast
Here's a promo image for Smallville star Kristin Kreuk's return to the CW fold. [EW]
---
The Selection
CW president Mark Pedowitz says the network isn't done with its pilot that is more or less a sanitized version of The Hunger Games:
"The Selection is going to go back into redevelopment; we're very high on it."
[TV Line]
---
Tron: Uprising
Star Elijah Wood discusses the animated Tron spin-off:
"When I saw the initial designs and some of the test animation, I was so blown away that it had such a cinematic quality to it. It really didn't look like any animated series I had seen before. A lot of it is computer animation, but all the characters look like two-dimensional cell animation. I love the mix of the two. It's a really unique look. I also love how angular the characters are."
---
Teen Wolf
For those wondering the all important question about season two - what's up with Stiles? - let's go right to Stiles himself, actor Dylan O'Brien, for the latest Stiles scoop:
"He's still Stiles, just with everything going on, everything gets so much bigger and there's so many more people and so many more problems. He's just got to be a little more serious."
Also, the storylines for Stiles will apparently be "more dramatic" this season, because really, what else could they be? Guys, it's Stiles we're talking about here. [E! Online]
---
Additional reporting by Jennifer Griffith-Delgado and Charlie Jane Anders.