What do you do with a new operating system? You roll up your shirt sleeves and jump elbow-deep into every part of the OS you can get your hands on. You make manual registry tweaks to open up hidden elements of your new OS; you navigate through all of the different configuration options to see what's changed, what's new, and what you can personalize to your liking; you devote hours to playing around with all the different features.
Or, if you want a quick fix, you can read a guide like this.
We've gotten our arms full of data and dust in our attempts to unearth some of the more noteworthy features of the Windows 8 Consumer Preview. And the following list of twenty awesome items represents the must-do tweaks and must-check-out, new features of Microsoft's latest operating system.
Metro: Just Type It!
G/O Media may get a commission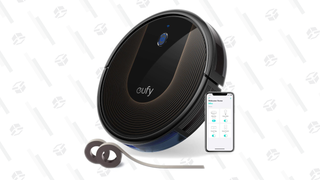 48% Off
Eufy BoostIQ RoboVac

We'll start with an easy trick. When you're in Windows 8's Metro UI and you want to load an app, don't bother moving your mouse around the screen or trying to scroll your way over to wherever it is you've placed the app's tile icon. Just start typing. Literally – start typing. You don't have to go find the search button or any of that: Windows 8 will try to find anything you type, be it "Solitaire" or "Control Panel," or what-have-you.
2. Screenshots Are Fun and Useful

Tech journalists covering Windows 8, take note: Microsoft has finally made it super-easy to dump the contents of your screen down to an image file. In times prior, you could hit the Print Screen key to copy the contents of the entire display, but you'd still have to paste that image into a third-party application (or Paint. Or you could also use Microsoft's Snip tool, but we digress). Now, hitting the Windows Key and Print Screen at the same time dumps the entirety of your screen to a .PNG file in your Pictures folder. Easy!
3. Don't Upgrade!

You've (hopefully) caught our guide for installing Windows 8. If you haven't, go read that. And no matter what you do, don't install Windows 8 as an upgrade to your existing operating system. There's a giant list of reasons why you shouldn't let a Consumer-Preview-cough-beta serve as your primary operating system, the least of which being that it can be a bit confusing for newcomers to try. You'll shoot your productivity in the foot, not to mention all the potential incompatibilities / bugs / quirks you'll find in your favorite software, games, and the current "test version" apps found in Windows 8.
4. Hot Corners Are Your Friends

If you're a bit befuddled the first time you fire up Microsoft's newest operating system, we understand. Microsoft's left a number of navigational elements invisible to your eye unless you move your mouse over one of the four extreme corners of your screen. Hover your mouse over the top-right or bottom-right to access the Charms Bar: Windows 8's built-in Search and Sharing capabilities, as well as a list of devices you can send the contents of the current app to and Windows 8's ever-important Settings menu. Hover your mouse over the top-left or bottom-left corners of your screen to jump between open apps on Windows 8's "Switch List," just like you would otherwise do by hitting the combination of alt and tab on your keyboard.
5. Hotkeys Are Your Friends, Too
Unless you're rocking a touchscreen PC, navigating your way around the Metro UI interface (and its horizontal-friendly apps) can be a bit of a drag. So don't use your mouse; Use your keyboard. Check out some of these helpful hotkeys for flying through the OS and controlling its many elements:
Windows Key + Tab – Opens up the left-hand "Switch List"
Windows Key + C – Opens up the right-hand Charms Bar
Windows Key + I – Opens up your ever-important Settings Menu
Windows Key + T – Dumps you back to Desktop Mode and cycles through your open windows on the taskbar.
Windows Key + Shift + . – Docks the app to the left, middle, or right side of the screen with each press.
Windows Key + M – Jumps to the Desktop and minimizes all applications
Windows Key + Q – Opens up Windows 8's global search utility within Metro.
6. The PC Settings Panel Is Your Best Friend

In its infinite wisdom, Microsoft has decided to split the options you can configure on Windows 8 between the contents of its typical Control Panel and a new Metro-based Settings menu, which can be accessed by going to the Charms Bar's Settings option and clicking on the slightly buried "More PC Settings" link. Here's where you'll be able to adjust your lock screen's background, Metro's colors, how notifications and Windows 8's built-in search work, the names of the attached devices Windows 8 has found, and your specific synchronization settings, among other important options.
7. Windows 8 Versus Disaster
Well, you've gone and done it. Either as a result of something (or things) you've installed, some setting you've mucked up, or just general apathy toward the well-being of your PC, Windows 8 doesn't work right anymore. In Windows' past, this would normally force you to take a trip down reinstallation lane. That part hasn't changed, but Windows 8 now makes it really easy to return a broken operating system to happiness once again. Click on the General tab within the aforementioned "More PC Settings" menu. The "Refresh" option strips your system of the third-party apps you've installed and returns it to factory-default settings, but it keeps your User files. The "Reset" option wipes your operating system clean of all your data and returns your system to Windows 8's factory-default settings.
8. Enable Safe Mode
Speaking of computer disasters, if you want to reboot your system into Safe Mode, you can't just jam on the F8 key prior to Windows 8 loading: You have to first enable Safe Mode itself. Type "cmd" on your Metro UI, right-click on the Command Prompt app (called "cmd"), and select to run it as an administrator. Then type "bcdedit /enum /v" on the command prompt screen and hit Enter. Copy the entire "identifier" string (including the braces) for the entry that has "Windows 8 Consumer Preview" as the description, not "Windows Boot manager." Then, type the following into the command prompt: bcdedit /copy youridentifierstring /d "Windows Developer Preview (Safe Mode)" and hit Enter. After that, type in "msconfig" and hit enter.
Click on the "Boot" tab and select the entry called "Windows Developer Preview (Safe Mode)." Click on the "Safe Boot" option, the "Make All Boot Settings Permanent" option, click OK, and click "Yes." Restart your system, and you'll be given the option to launch either your normal Windows 8 environment or your new Safe Mode environment.
9. Be a Super-Administrator in One Click
Here's a great hidden tidbit of Windows 8: Move your mouse cursor the lower-left corner of Windows 8's Metro or Desktop mode until it pops up the live thumbnail of the to-be-switched-to environment. But don't left-click; Right-click. You'll pull up a menu that gives you a shortcut to a bunch of handy power user options, including Command Prompts, your Disk Management window, and your System menu, among other options.10. Fast-Uninstall Apps
Looking for a quick way to nuke any Windows Apps or third-party apps that you've installed on Windows 8? Just right-click on the app's icon within Windows' Metro UI and select "Uninstall." Third-party apps will jump you to the good ol' Windows "Programs and Features" window for the same ol' Windows uninstallation routine you should be used to by now. Apps downloaded from the Windows Store will simply disappear. Poof!
Hate Metro?
Here's a fun one. Fire up Windows Explorer and navigate over to your Windows directory. Do a search for "shows desktop," and copy the shortcut that you find into the following location: C:\Users\username\AppData\Roaming\Microsoft\Windows\Start Menu\Programs\Startup. By doing so, you'll ensure that Windows 8 always boots to the "Classic Desktop" instead of its Metro UI.
12. Hate Passwords?
Passwords are important, especially if you're using Windows 8 to share files within a network. For important files and directories, you're going to want to make sure that only those with user accounts on your system can access your files. Or, if you're extra security-cautious, you're also going to want to make sure that your system is password-locked whenever you step away from your desk (via Windows' Lock Screen).
But what if you don't like having to type in your password each time you boot your computer? You can remove this part of the process – but still use your password to protect these other parts of Windows 8 – by hitting the combination of the Windows Key and "R," and then typing "netplwiz" into the Run window's field and hitting enter. Uncheck the "Users must enter a user name and password to use this computer" option and click on OK.
13. Console Gamers, Unite!
One of Windows 8's newer features is its ability to link up to your Xbox 360 console – and not that lame-o "media sharing" stuff that one finds in Windows 7. No, Windows 8 allows you to launch a game on your Xbox 360 from your PC and, ideally at some point in the future, play a game on your PC that's "streamed" of-sorts from your Xbox 360. And, of course, you should also be able to bounce media back and forth between your Xbox 360 (and attached television) and your Windows 8 system.
But for all this to work – whenever Microsoft enables it – you have to first make your Xbox 360 and your Windows 8 PC meet. Click on the "Xbox Companion" app on Windows 8's start menu to get the ball rolling: It's a pretty easy process, and one that carries the potential for great, future reward.
14. Task Manager Is Awesome
One of the better upgrades that Windows 8 brings to the table can be found in the good ol' (and previously boring) Task Manager. Load it up by typing "Task Manager" in Metro (or give your system the three-finger salute), and then click on the "More Details" link at the bottom of the window. Up pops Window 8's new-and-improved Task Management program.
Of particular interest is the prettied-up "Performance" tab, which you can use to get a look at the last 60 seconds of your system's CPU, Memory, Disk, or Network use. New to the program is its "App History" tab, which gives you a look at just how man resources your apps eat up over a lengthier period of time. And the ability to enable or disable apps that start with Windows itself has been moved from Windows' System Configuration menu to the Task Manager's "Startup" tab.
15. Passwords Gone Visual
We touched upon passwords a bit ago, but it's important that we mention one of Windows 8's more novel approaches toward system security: The picture password. Click on the Settings menu on Windows 8's Charms Bar, and then click on the "More PC Settings" link. Click on "Users," and then select the option to create a picture password.
What's a picture password? In short, you start by selecting an image – any image you want. On this image, you'll draw a combination of gestures, which can include circles, straight lines, and taps. The theory is that you'll draw associations in a picture – like a line connecting you head to your favorite pet's – that only you would know about, thus preventing a random stranger from successfully logging into your system. You have to nail all three gestures, in the order they were created, for your system to authenticate you.
16. Bypass Windows' Default App Choices
Some of the new apps built directly into Windows 8's Metro UI are less than pleasing when it comes to actual usability – here's looking at you, Video app. But it's equally frustrating to have to use an "open with this app" command whenever you want to pull up a new file format.
Our solution? Edit your file-opening preferences in one big batch. Type "default programs" within Windows 8's Metro UI and click on the corresponding link that appears. Select "Set your default programs" and have at it – each program will tell you how many extensions it can open versus how many it is opening, just to give you a sense of your batch-processing power.
17. Manage Thy Tiles
We confess, we do think that Metro's user interface is as pretty as a rectangular grid gets. But you probably want to mix, match, group, and resize your icons to your specifications, not Microsoft's.
Want to move tiles? Easy: Drag them around. Want to move a tile to its own column? Drag it on over – it's exactly how you form new groups of apps. Want to shuffle an entire column's worth of tiles around? First, click on the magnifying glass icon in the lower-right corner, and then move away. And although you can select multiple tiles by right-clicking on each, you can't move a number of tiles en masse. Sorry!
Finally, resizing tiles – that can be resized – is as easy as right-clicking on the tile and selecting the "Smaller" or "Larger" option.
18. Where Are Your Drivers?
It pains us to have to say this, but we're going to say it anyway: Don't forget to install drivers for your devices on your Windows 8 configuration. That's not to say that Windows 8 does a bad job installing drivers that work for most, if not all of the parts and pieces inside your system. But you're going to want to trust your devices' manufacturers, not Microsoft, for the most up-to-date system drivers you can get your hands on. Of particular importance should be your motherboard's drivers, your video card's drivers, and the various, fancier drivers for your input devices (if you're rocking a non-standard keyboard and mouse).
That all said, Windows 8 does a pretty good job of establishing a working baseline of drivers post-installation!
19. Sync Up
Windows 8 comes with a plethora of ways to synchronize your operating system to all the various third-party accounts you hold on other sites. The most important one to link up is your Microsoft Account, which you can do when you set up Windows 8 for the first time and via the users menu within PC Settings (Charms Bar > Settings > More PC Settings). By doing so, you'll be able to load up your preferred themes, settings, languages, and app settings – to name a few – on any Windows 8 machine you touch. Your Microsoft Account also powers Windows 8's SkyDrive cloud storage, for what it's worth.
But that's not all. You can integrate your Hotmail, Linkedin, Google, Facebook, and Twitter accounts with Window 8's "People" application. And, if it works, you can chat with your Facebook and Windows Messenger friends via the aptly named Messaging application. Just think of it as "Newbie's Trillian."
20. Shut Down
One of the more peculiar features of Windows 8 is just how much Microsoft buries the shutdown button within its Metro UI – you know, the way you go about turning off your PC when you're done for the day. You can always switch over to Desktop mode and give it the ol' alt+F4 to receive your shutdown options. But you can also create actual shutdown tiles that accomplish the same effect in Metro.
Within Desktop mode, right-click on the desktop and create a new shortcut. For it's "location," you'll want to type in the following: shutdown.exe -s -t 00. Feel free to name the shortcut whatever you want ("Nuke it from orbit?"). Once it's on your desktop, fire up Windows Explorer and move the shortcut to your C:\ProgramData\Microsoft\Windows\Start Menu\Programs directory. Jump back to your Metro interface and you'll see your Shutdown button appear as a brand-new tile. Click once, and off goes your system!