Microsoft announced Windows Phone 8 today, with multi-core support, a new Start screen, native code sharing with its forthcoming Windows 8, a new Wallet feature for mobile payments, SD card support, more screen resolution support, and IE 10. Phew.
Oh yeah, and existing users won't be able to upgrade to Windows Phone 8, just version 7.8 which basically is a stop-gap. Sorry! Microsoft really appreciates your business and loyalty, but it's time for you to smile and bend over.
The new consumer-facing features are largely UI enhancements. The new Start screen gives more real estate to apps, ditching the right-side trough. All the tiles will be customizable, in small, medium, and large sizes. The SD card slot support will let people store media, or even sideload apps. The new screen resolution support will enable more devices, with support for WVGA, WXVGA and true 720p screens. Under the hood, Windows Phone 8 will support dual- and quad- core processors and is designed to be able to support up to 64-core processors. That's not a typo; Microsoft is trying hard to future-proof this OS from the inside-out.
G/O Media may get a commission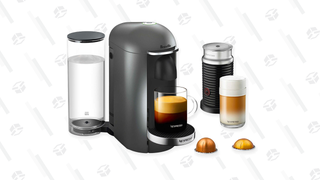 40% off
Nespresso by Breville VertuoPlus Deluxe Coffee and Espresso Maker Bundle
The new Wallet will have support for both NFC payment systems, and store cards and coupons. It's basically a combination of what Google and Apple are doing, taking on both ends. And finally, if you have a ton of great Windows Phone 7 apps (I mean, someone must, right?) you'll be able to run those on the new phone.
For developers, today's news is all about how the new Windows Phone OS will share its core with Windows 8, Microsoft's forthcoming future-of-Windows operating system that's in Release Preview right now. Developers will be able to share native code between the two systems, and although it won't be write-once-run-anywhere, Microsoft claims that it will take a minimal amount of reconfiguration to get code that runs on one to run on the other, thanks to a shared set of native APIs that will allow for quite a bit of re-use. Microsoft was also touting a new ability for developers to create in-app purchases as a new revenue stream. Microsoft expects to have a software developer kit out later this summer.
There's welcome news for enterprise environments as well. Microsoft is promoting Windows Phone 8 as a complete security platform with secure boot and a vague promise of bitlocker-like encryption. Companies and other large organizations that want to manage which apps their users can have on their phones will get their own app distribution environments.
All in all, it's a substantive upgrade that's going to ultimately please lots of developers and corporate IT departments. But existing users are getting boned. If you've got a Lumia running Mango today, you won't be able to upgrade to Windows Phone 8. Microsoft is upgrading those users to Windows Phone 7.8, which includes the new Start screen. But once native Windows Phone 8 apps start coming out, 7.8 users will be out of luck. Sure, it had to do this to swap over its codebase, but that doesn't make it suck any less for the existing userbase who, you'd think, it would want out there talking about how much they love their Windows Phones.