Remember the woman who got a ticket for wearing Google Glass while driving? Well, her citation's been dismissed by a San Diego court commissioner, who said he found no proof the device was operating at the time.
The achingly contemporary court case saw technology entrepreneur Cecilia Abadie challenge a citation, given alongside a speeding ticket, for using a visual "monitor" in her car while driving. By visual monitor, the ticket was in fact referring to her wearing Google Glass.
But Court Commissioner John Blair has dismissed that citation, reports Reuters. He quite rightly points out that there was no sure-fire way of telling whether her smartglasses were turned on at the time. "There is no testimony it was operating or in use while Ms. Abadie was driving," he said.
During the hearing, it came to light that Highway Patrol Officer Keith Odle hadn't planned to issue a ticket to Abadie for wearing Google Glass—until she got a little bit feisty. "She got a little argumentative about whether or not it was legal for her to wear them," he explained.
G/O Media may get a commission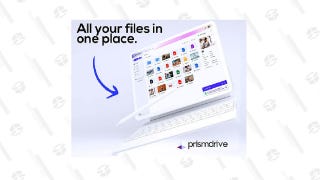 Save 97%
Prism Drive Secure Cloud Storage: Lifetime Subscription
The case sets an interesting precedent, though it's far from clear if wearing Google Glass while driving is safe or not. One things is certain: you can expect a rash of other cases like this before the matter of wearables at the wheel is settled once and for all. [Reuters]