Ever since sitting became the new evil, offices have sprouted all sorts of arrangements we would have once considered bizarre: bouncy balls, standing desks, treadmill desks. But none are perhaps as weird—and uncomfortable!—as the Dutch design studio RAAAF's "The End of Sitting" office, a labyrinth of hard slopes where sitting is expressly forbidden.
It would be one thing if "The End of Sitting" were just a rendering, a piece of design fiction that provokes us into reconsidering bad posture. But, no, the office was actually built and is currently in use at an art space in Amsterdam where a rotating cast of writers, artists, philosophers are working out of the labyrinth. And a group of researchers from the University of Groningen is on hand to study the whole arrangement and issue a report next year.
Instead of tables and chairs, the space is filled with sloping barriers for leaning. But if this all looks rather sparse and harsh, well, comfort is totally not the goal. "This could be softer, there's no place for my coffee cup—there's a thousand things that could be improved, but that's not what this is about," Ronald Rietveld, a partner at RAAAF, tells Wired, "The most important thing for us is that it's offering more activity and more productivity."
Oh productivity, that obsession of office design. Certainly, every office has to strike a balance between making workers feel at home and making them feel like they are actually are lounging at home. But there is something undoubtedly sterile about the initial design of "The End of Sitting," where every work surface is an impersonal white.
G/O Media may get a commission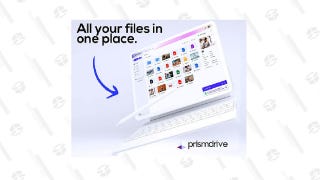 Save 97%
Prism Drive Secure Cloud Storage: Lifetime Subscription
Desks, even cubicles for all their ugliness, allow us to stake a small piece of the corporate office for ourselves. It's not chairs whose absence is the most startling in these photographs, but personal space. [Wired]
Images by Frederica Rijkenberg