From March, you'll be able to pick up the latest PSP. Sorry, did I say PSP? I meant Xperia Play phone—but really, it's hard to tell the difference. True, it's running Android, but at the very core of the phone is a gaming titan begging you to play it. And play I did.
In the video above you can hear a Sony Ericsson rep giving us the lowdown on the phone's features, and as you will have noticed, he's really enthusiatic—but that has nothing to do with him actually working for them. I wanted to dislike this phone, I really did, but gamers (hardcore or otherwise) will love it. It's hard not to.
What's so hot about this phone, then? For one, Sony Ericsson has almost done away with its horrendous UI which so-clogged its X10 last year. It's still lurking on there, but that's no bad thing. Flick the homescreen right, and you'll see the media player which is part of MediaScape; otherwise it's just their special messages widget on the homescreen which gives the game away.
Speaking of games, there are going to be 50 available on the PlayStation-branded corner of the Android Market when the phone launches (unfortunately that section of the Market wasn't being demoed today), and there will be five already pre-installed. Games are left running in the background, so answering a call or tucking the phone in your pocket won't interrupt your Asphalt 6 session.
G/O Media may get a commission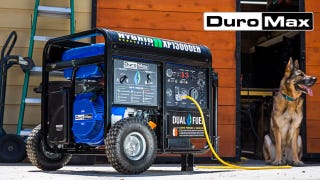 Black Friday Sale
DuroMax Generator Sale
Asphalt 6 was the game I enjoyed playing the most during my time with the Xperia Play. There were three ways to control the car—using the "joystick" touchpads; the d-pad, or the phone's accelerometer for physically tilting it. I found the arrowkeys easiest to use of them all, but obviously choose what's best for the game you're about to play.
Supposedly most Android games (non-PlayStation ones) aren't compatible with the touchpads, but we heard that a couple of the older ones will, such as Pac-Man and Radiant.
Playing Asphalt 6 and the Bruce Lee games were not without fault, but the lag and two crashes I experienced can probably be written off to unfinished software. The speed was incredible. In fact, it felt just as good as playing a game on the PSP, or even on the PS3—I was amazed that a phone game could feel so good. And look so good too—the 480 x 854 pixels produced astonishing brightness and sharpness.
In fact, it's so sharp and bright that you'll be more than happy watching movies or flicking through photos on it. Sony Ericsson's actually selling a dock for the Xperia Play which I can just imagine sitting on bedside tables, charging the phone but also displaying the time/alarm, or playing photos on a continual loop like a glorified digital photo frame.
Taking a few quick photos in the demo room actually wasn't too much of a disappointment. The camera focuses well, and insanely quickly—like the other areas of the phone, the 1 GHz Scorpion ARMv7 processor was felt strongly. Fortunately the flash wasn't too overbearing either, rendering objects beautifully. It may only be 5MP, but that camera is brilliant. I didn't get the chance to try out the video feature, but from what I saw from taking around 10 or so snaps, it's probably just as sharp. Unfortunately the same can't be said for the 2MP forward-facing camera, which was blurry as my glasses-shed eyes after a bottle of rouge.
The overall build quality was ok. It wasn't up to HTC levels of premium, of course, but compared to some of the rubbish SE has come out with in recent years it felt positively luxurious. There was an issue when the gamepad was slid out, and I touched the different sides of the display side, and it wobbled horribly. But if you can overlook the plastic-y design, you'll be able to marvel at how thin (considering the power and slide-out gamepad) and light it actually is.
This phone will sell well, that much is obvious. Picking up from where Nokia's N-Gage left off many years ago, it's the first phone that's well and truly addressing the millions of gamers out there today who are pumping more money into new game releases than many of the box office movies are seeing.
Will non-gamers be interested in this phone? Probably not, but then Sony Ericsson—and countless other manufacturers—already have squillions of suitable phones for them. Sony Ericsson's Xperia Play is for the gamers, by the gamers—that much is obvious.
To view these on one page, click here