There has been a little confusion about this over the past few weeks, so let's put this to bed. Yes, Jennifer Connelly is the voice of Spider-Man's suit in Spider-Man: Homecoming.

Minor spoilers ahead.
In the film, Peter Parker eventually figures out how to override the "Training Wheels protocol" that Tony Stark has put on his suit. This reveals that his suit has its very own AI, which he originally calls "Suit Lady." Later, he renames her "Karen."
There was some minor confusion online about who did the voice of Karen because Connelly isn't the only "Suit Lady" in Homecoming. Kerry Condon also voices a "Suit Lady" in the film—she's Tony Stark's AI Friday, just as she has been in the past several Marvel movies. And the word out of early screenings was that Condon was listed as a "Suit Lady." That is not the case. Condon is Friday, and Connelly is Karen.
G/O Media may get a commission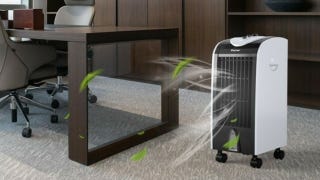 Save $10
Evaporative Portable Air Conditioner Cooler with Filter Knob
With that cleared up, you should still not get too excited about the fact that Jennifer Connelly does have a previous Marvel connection—remember, she played Betty Ross in Ang Lee's the Hulk. What you can get excited about, though, is that in real life, Connelly is married to Paul Bettany, who first was the voice of JARVIS before becoming Vision, who we'll next see in Avengers: Infinity War.
"It is pretty neat that Karen is married to Jarvis in real life," director Jon Watts told me. "Maybe we're setting up a Vision spinoff."
I then posed the possibility that Vision might not have much time left in the MCU since he has that Infinity Stone in his head, and Thanos will probably be looking for that. Watts swore he didn't know what was going to happen. "That's what's so funny about this. I'm just as excited to find out what's going to happen in that movie as [everyone else]," he said.
Spider-Man: Homecoming opens July 7. Avengers: Infinity War opens May 4, 2018.