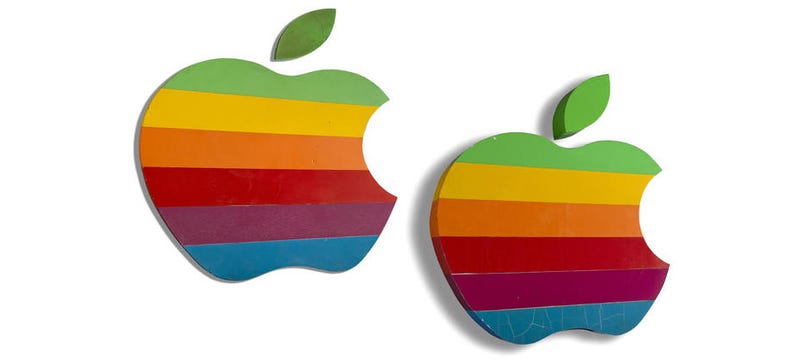 Fanboys, form an orderly line: true Apple fans can take their chance at buying these original rainbow logos that once graced the walls of the company's Cupertino HQ in a forthcoming Bonhams auction.
The larger of the two signs is made from foam and measures 46 by 49 inches, while the smaller is built out of metal-backed fiberglass and has dimensions of 33 by 36 inches. Both carry the multi-colored design that was used from 1977 until the late '90s. Bonhams explains the origins of the iconic logo:
The first Apple Computer, Inc. logo was actually a sketch of Isaac Newton sitting under a tree, an apple dangling above his head. Less than a year after its introduction, the Newton sketch was replaced by the Rainbow Logo, commissioned at Steve Jobs' request. Jobs appreciated the simplicity of the apple (with a bite taken out of it, so that no one would confuse it with a tomato), and also insisted on the use of colors to "humanize" the company.
The only catch: they're expected to sell for between $10,000 and $15,000. You've got until June 4th to save up. [Bonhams via Verge]