I spoke to Imagination Technologies—maker of the PowerVR chip that powers smartphones like the iPhone, Droid and many others—and they said, definitively, that you'll have graphics comparable to the PlayStation 3 in 3 years.
They know this because these are the chips they're designing right now. The way the development process works for phones is that Imagination comes up with a chip, which they license, and that works its way through development cycles and people like Apple or HTC, which then incorporate them into their phones, which they in turn have to productize and bring to market. The whole thing takes three years. But in three years, says Imagination, you're going to have a PS3 in your pocket. And that's not just running at the 480x340 resolution that most phones have now, that's PS3-esque graphics on 720p output via HDMI to a TV. Hell, some phones in three years will have a 720p display native.
But there are going to be some interesting things between now and then. Imagination is still working on support for the products out now—the chips in the iPhones and the Droids and the Nokias that use PowerVR. The two most interesting things are Flash acceleration in hardware and OpenCL support, which enables GPGPU computing.
G/O Media may get a commission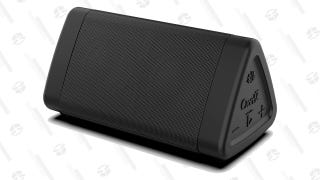 Save 31%
Oontz Angle 3 Portable Bluetooth Speaker
The first is obvious. By utilizing a software-based update, phones on the market right now can run Flash acceleration. Imagination's been working with Adobe for about three years now, and they've gotten the acceleration up to about 300% compared to using just software. They think they can do even better. Even still, 300% is pretty damn good for just pushing what you can do with your current phone.
Secondly, there's OpenCL support, which allows devices to utilize the GPU—the graphics chip—to help out in general purpose computing. For a more in depth look on what this means, check out our feature on GPGPUs, but in essence it's going to allow multi-threaded tasks to be executed faster than they would be otherwise.
I also asked Imagination about what's going to be different about their chips that will hit the market one, two and three years from now, and they say one of the big things is going to be focused on multiprocessors. Theoretically you can get about three or four into a phone without going too crazy on power demands, which will help them pull off that PS3-equivalency we talked about earlier.
Keep in mind that this stuff is what's "possible" in three years, based on what hardware is going to be available in the phones released then. A lot of this is still based on phone makers like Apple or HTC or Palm or Motorola to make these features available. But since most of the major phone manufacturers are going to have essentially the same chip, it's in everyone's self-interest to push as much power out from their phones as possible.
But if you're looking forward to what's coming one year from now, check out the screenshots in the post, taken from the demos they had running on sample hardware.