Spoilergeddon! New Dark Knight Rises set photos may confirm a key plot point, and the Avengers cast may have just gotten bigger. Stanley Tucci joins The Hunger Games and a Sons of Anarchy star joins Guillermo Del Toro's Pacific Rim.
Plus our first photo of Abraham Lincoln, Vampire Hunter, new Green Lantern and Conan posters, and more hints for Doctor Who.
Prepare yourself for the future — with spoilers!
The Dark Knight Rises
[gallery 5800201]Here are some new set photos on location in Jodhpur, India, giving us a better look at the alleged/probable "Lazarus Pit", and confirming the presence of Josh Pence, who will be playing the young Ra's al Ghul. The last image, described by Mehul Gohil of Facebook's Dark Knight Rises community, is a "training area". [Coming Soon]
---
The Avengers
As a recent guest on the BBC talk show Something For the Weekend, Gwyneth Paltrow suggested, "I'll probably be in Iron Man 3, I'll possibly be very briefly in The Avengers… maybe… we'll see." [Obsessed With Film]
G/O Media may get a commission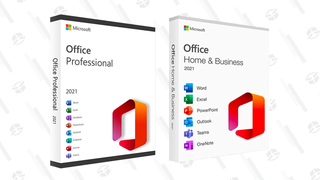 89% off
Microsoft Office Professional 2021 Lifetime License
---
Pacific Rim
Sons of Anarchy's Charlie Hunnam is the first confirmed cast member of Guillermo del Toro's kaiju movie. No information as of yet on who he will be playing. According to Deadline, the film takes place in "a future where giant malevolent creatures threaten to destroy the earth, city by city. To combat its annihilation, the planet must band together and use highly advanced weapons technology to eradicate the growing threat. So once again, Hunnam will be kicking some ass." [Deadline]
---
Green Lantern
Here's a new banner featuring the Lanterns in an impressive V formation. [Coming Soon]
---
Abraham Lincoln Vampire Hunter
A big article in the New York Times includes the first picture of Benjamin Walker as Abraham Lincoln. The Times article also says the film takes place from Lincoln's childhood to assassination "and because this is a vampire story - beyond." The vampires in the film are involved in the slave trade, but aren't all bad, leading to a moral dilemma for Lincoln. And the filmmakers have hired a State Historian to show them how to "slip vampires into Lincoln's story with minimal damage to the historical record." There are 8,000 costumes, many of which will be destroyed in the course of filming, including a huge Battle of Gettysburg sequence. And Abraham Lincoln will have a special vampire-hunting overcoat that cloaks him and hides his weapons. [New York Times]
---
The Amazing Spider-Man
Here are some set pictures of Gwen Stacy under an umbrella. [Multiple Verses]
---
Conan The Barbarian
Here's the new, gory and amazingly Frazetta-esque poster. Bigger version at the link. [IGN]
---
The Hunger Games
Stanley Tucci has been cast as Caesar Flickerman, the eerily optimistic host and interviewer of the "Hunger Games", easily recognized for his lightbulb- festooned, color-changing attire. Flickerman is known for changing the pigment of his eyelids, lips and hair for each game, so Tucci was, of course, a natural choice. [Film School Rejects]
---
Insects
Czech animator Jan Svankmejer, director of spooky stop-motion adaptations of Alice In Wonderland, Faust and Otesanek has set his sights on "The Insect Play", an early work from science fiction writer Karel Capek. According to Svankmejer, the adaptation, simply titled Insects,
will combine dark comedy, grotesque, classic horror genre and both animation and feature acting. Capek's play is very misanthropic, and I always liked it-bugs behave as human beings, and people behave as insects. It also reminds one a lot of Franz Kafka and his famous METAMORPHOSIS.
Insects is slated for a 2015 release date. [Fangoria]
---
The Dark Tower
Although there are tons of rumors swirling around that this production is possibly being canceled or postponed, there are still new casting rumors as well. According to Norman Reedus' IMDB page, The Walking Dead star is attached to play a major series protagonist, the ex-junkie gunslinger Eddie Dean. When approached on the subject, Reedus responded:
Um… no comment? That's what I say, right? No comment? No comment. I can't even talk about it. I don't know what's going on with 'Dark Tower.' I have no idea.
But Reedus added that he would be "running down Times Square screaming at the top of my lungs" if he actually gets attached to this project. [MTV]
---
The Future
Here's the new trailer for Miranda July's kooky hipster comedy, in which a guy talks to the Moon and the Moon talks back, plus according to early reviews one character gains superpowers and all sorts of other supernatural/weird stuff happens. [EW]
---
Spy Kids 4
Here's a new picture of Jessica Alba with Jeremy Piven as "The Timekeeper". He's clearly doing something sinister with his watch, as Alba looks on pensively. [IGN]
---
Doctor Who
Following yesterdays' dialogue teasers, here are some hints for "The Doctor's Wife".
"The Doctor repeats a line from 'The Eleventh Hour'.
The Doctor has been doing something wrong for 700 years.
The Cloister Bell makes a return.
A desire Rory showed last week comes to fruition.
The phrase "timey wimey" has some new competition.
The RTD era is evoked more than once.
More hints at the link. [Life Doctor Who and Combom]
Here are a few more promo pictures for the same episode. [Blogtor Who]
Finally, on the Today Show, Meredith Vieira divulged her guest appearance in an upcoming episode in a segment featuring cast and crew interviews, appearances from the Cybermen and Silurians, and the revelation that Winston Churchill will become a Holy Roman Emperor who rides his own personal woolly mammoth to Buckingham Senate.
---
Wonder Woman
The latest rumor has it, this superhero show from David E. Kelley may not appear this fall after all — but may be pushed back to 2012 to give it more time to find its footing in those treacherous high-heeled boots. [EW]
---
Torchwood
Jane Espenson tweeted that this show is nearly done filming, but there's "some very good casting news" that she can't reveal the details of yet. [Twitter]
---
Fringe
Lest any confusion remained, Joshua Jackson will definitely be back as Peter next season. [E! Online]
---
Falling Skies
Here's a new promo for the two-hour series premiere, airing Sunday, June 19th, 9:00 PM EST on TNT.
---
Game of Thrones
Here's the promo for next week's episode, "The Wolf and The Lion".
---
Smallville
Here's a rousing preview and a brief promo for the two-hour series finale from Canada's Space network, as well as a CW sneak peek, and an ominous promo portending the return of Lex Luthor!