Even though the digital wellbeing features in Android 9 Pie are still in beta (and only currently available on Pixel phones), today, Google is expanding its online health and wellness endeavors to YouTube, ostensibly to help you prevent yourself from watching too many bad videos.
Apple's Vision Pro Seems Powerful, But Who Is It For? | Future Tech
The new tools themselves are pretty straightforward and consist of a collection of stats that tell you how much time you've spent watching YouTube (including YouTube Music and YouTube TV), some extra toggles to control the kind of YouTube notifications you get and how often you see them, and the ability to set time limits so you know when to take a break.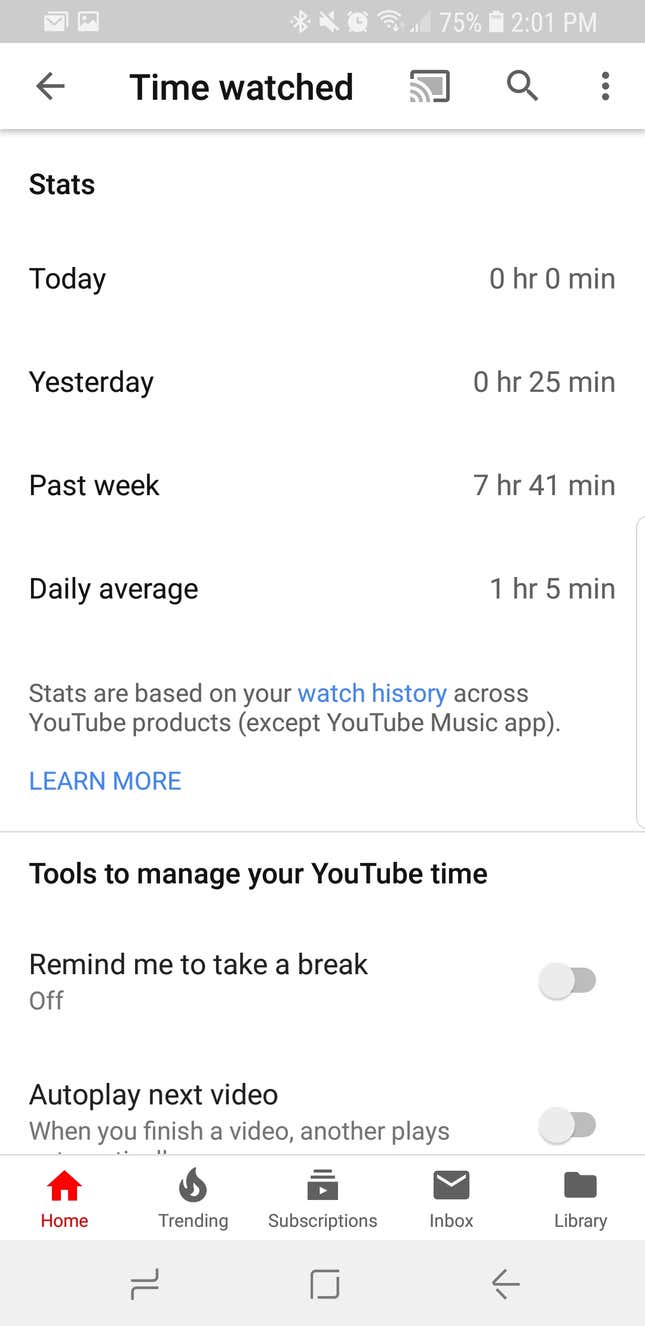 YouTube's stat breakdown is split into today, yesterday, the past week, and a weekly average in order to give you a better sense of how much time you really spend watching videos. However, since the data is based on what's in your watch history, if you clear our your history or have your history turned off, YouTube can't provide accurate watch time information.
Unfortunately, it's not clear if YouTube counts offline videos that may have been viewed while you weren't connected to the internet. And if you are someone who has multiple channels listed under the same Google account, you'll need to switch back to your main account in order to see your watch times. Currently, it also seems like time spent watching YouTube videos when signed in as another channel doesn't get credited to your main account.
On mobile, checking your watch time is as simple as opening YouTube and then tapping your portrait in the top right corner to open the settings menu, and then just hitting the option that says "Time watched." As for desktop, it seems like the Google hasn't quite updated its web interface with controls for digital wellbeing yet.
But the ability to track your hours wasted, and control your notifications is a good thing! There's even a new option to disable them entirely between certain hours, so even if your favorite YouTuber uploads a new clip in the middle of the night, your phone won't buzz and wake you up.
YouTube's new digital wellbeing are rolling out today and should be widely available before the end of the week.