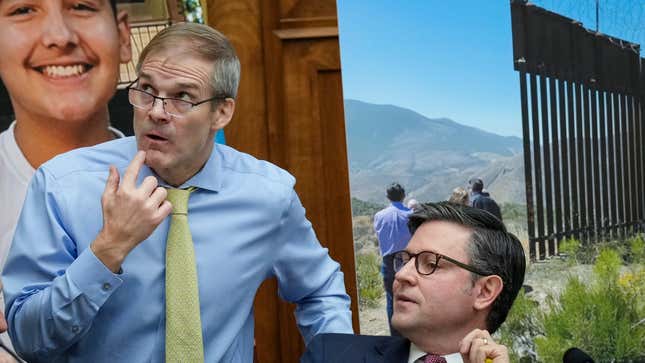 The House Judiciary Committee announced Wednesday that it had subpoenaed several of the biggest tech CEOs in the U.S., from Microsoft, Alphabet, Amazon, Apple, and Meta, for documents and communications related to more vague and so-far unfounded hints of government "collusion."
Why Banning TikTok Won't Protect Our Privacy
According to a release, Ohio Republican Jim Jordan, the House Judiciary Chairman, said they called on Google's Sundar Pichai, Amazon's Andy Jassy, Apple's Tim Cook, Meta's Mark Zuckerberg, and Microsoft's Satya Nadella to hand over "documents and communications" of communications with government agencies by March 23.
This latest move is a continuation of House Republican's efforts to create a new front of the culture war centered around big tech companies, with claims that Republicans have been censored on social media platforms. Jordan was a diehard for former President Donald Trump and has been a snarling dog in the supposed fight between congressional Republicans and big tech. Before Republicans even took control of the House of Representatives at the start of 2023, Jordan was sending letters out to big tech companies asking for documents related to communications with the White House or executive agencies.
Jordan started each of these letters with: "Big Tech is out to get conservatives, and is increasingly willing to undermine First Amendment values by complying with the Biden Administration's directives that suppress freedom of speech online."
Last month, Jordan was asked to lead the newly-launched Select Subcommittee on the Weaponization of the Federal Government. The judiciary subcommittee was designed from the get-go to target tech companies to get them to hand over emails, memos, or other communications.
In many ways, this further fallout from last year's Twitter Files, the pseudo-journalistic report based on internal Twitter documents that were supposed to show how the company worked in lockstep with federal agencies to suppress conservative voices. The documents showed that Twitter execs went back and forth about suppressing the Hunter Biden Laptop story, something those same execs already admitted was a mistake. Otherwise, the reports showed that while the FBI and other agencies asked Twitter to curtail some accounts and posts, Twitter execs often debated whether or not to follow through.
Last week, house Republicans held a hearing on the Hunter Biden Laptop scandal, which was so full of conspiracies and disruption it was hard to call it anything but an utter shitshow.