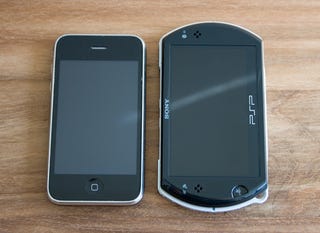 Wow, as if we needed more incentive to not invest in the PSPgo, a new trend has arisen during the first day of Mini availability. The same games cost more on the PSP/PSPgo than they do on the iPhone/iPod touch.
Examples:
Unfortunately, the system is setup to charge the consumer at maximum from the get-go. Games from the App Store start at free. PSP Mini games start at $5.
The fact of the matter is, the iPhone gaming experience isn't all that great. Full-fledged PSP titles should cost more than tiny downloadable apps any day. But there's no good reason for gamers to pay a premium on PSP titles that are available for less on other platforms, just because they generally pay more for games.
There are multiple fingers to be pointed here. Sony, for not allowing free games, which would inspire some price competition. Sony again, for skimming who knows how much off the top of the price point. (In comparison, it's known that Apple takes 30% off of the iPhone App Store sales.) And the publishers, who decide to set their games at prices of up to two or three times the cost of the iPhone version.
But the worst part? Not only is the content of overlapping titles generally no better than the iPhone; sometimes it's worse.