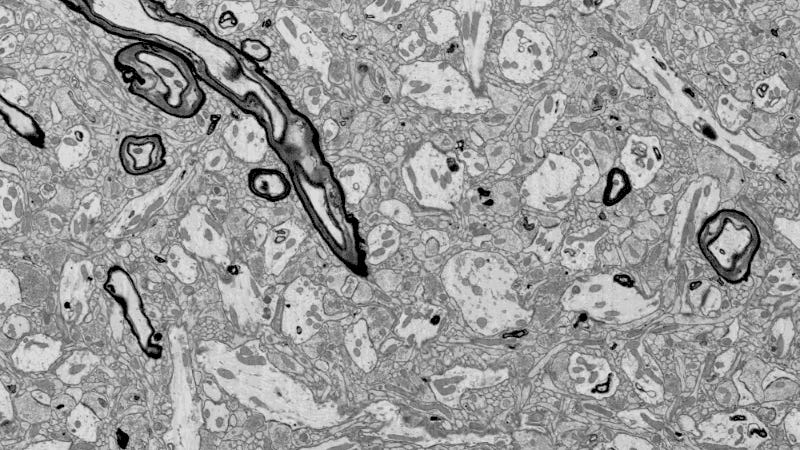 Researchers from 21st Century Medicine have developed a new technique to allow long term storage of a near-perfect mammalian brain. It's a breakthrough that could have serious implications for cryonics, and the futuristic prospect of bringing the frozen dead back to life.
By using a chemical compound to turn a rabbit's brain into a near glass-like state, and then cooling it to -211 degrees Fahrenheit (-135 degrees Celsius), a research team from California-based 21st Century Medicine (21CM) showed that it's possible to enable near-perfect, long-term structural preservation of an intact mammalian brain. The achievement has earned not just accolades from the scientific community, but a prestigious award as well; the 21CM researchers are today being awarded the $26,735 Small Mammal Brain Preservation Prize, which is run by the Brain Preservation Foundation (BPF).

The new technique means that neuroscientists will now be able to study brains, both animal and human, in unprecedented detail. But it could also apply to cryonics —the practice of preserving a person in cold storage in the hopes that they'll eventually be brought back to life once the requisite technologies exist.

Brains don't fare well during the cooling down process, even when advanced cryopreservants are used to protect the brain from freeze damage. This limitation has made it difficult for scientists to properly preserve and study the brain and its detailed web of connections following death. Reversible cryopreservation—that holy grail of cryonics—has so far remained out of reach.
To change that, the BPF launched two contests back in 2010, one for successfully demonstrating the reliable long term preservation of a small mammal's brain, and a similar prize for doing the same in a large mammal (the Large Mammal Brain Preservation Prize). To win either, a research team had to demonstrate that the ultrastructure of a mammalian brain—including the animal's entire connectome and synaptic structure—can be reliably preserved indefinitely after death.
"Fortunately this work has been successful, as we have been able to validate the small mammal protocol, and are now working on evaluating the large mammal protocol," noted BPF vice-president and co-founder John Smart in an email to Gizmodo.
The 21st Century Medicine team, led by cryobiologist Robert McIntyre, discovered a way to preserve the fragile neural circuits of an intact rabbit brain using a glutaraldehyde-based fixative along with with cryogenic cooling. The details of this procedure, called Aldehyde-Stabilized Cryopreservation (ASC), can now be found in the journal Cryobiology. The new protocol was verified independently by neuroscientist and BPF president Dr. Kenneth Hayworth and Princeton University neuroscientist Dr. Sebastian Seung.
"Every neuron and synapse looks beautifully preserved across the entire brain," noted Hayworth in a press statement. "Simply amazing given that I held in my hand this very same brain when it was frozen solid...This is not your father's cryonics."
As an idea, cryonics has been around for decades. Back in the 1960s, futurist Robert Ettinger speculated that deceased individuals may eventually be revived after prolonged storage in vats of liquid nitrogen. Half a century later, cryobiologists are still struggling to preserve dead individuals, let alone bring them back to life. As already noted, reversible cryopreservation has proven difficult owing to the intense damage inflicted on brains during preservation—things like fractures and damage to cell membranes.
This fundamental limitation has inspired a new generation of cryobiologists, who are focused on techniques that preserve the delicate pattern of synaptic connections, known as the "connectome," that encodes a person's memory and identity. Called plastination or chemopreservation, the new approach involves chemical fixation and the embedding of brain tissue in a plastic-like form for long-term storage. McIntyre's system is unique in that it combines chemical fixation with cryonics.