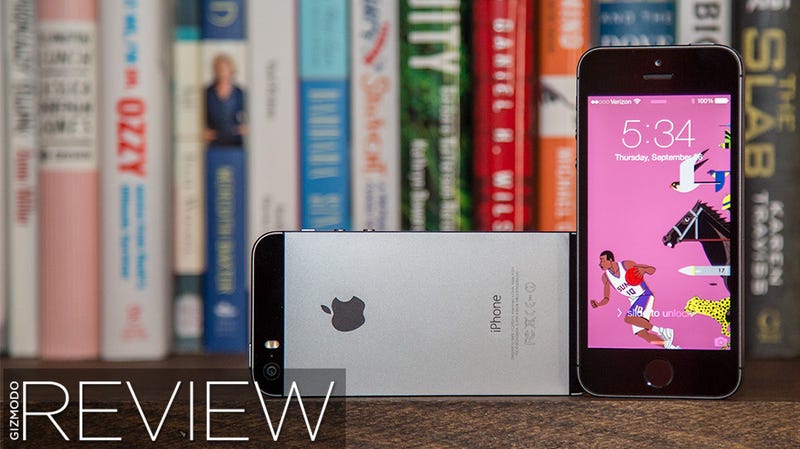 The trajectory of the iPhone is, in most ways, the trajectory of Apple over the past decade. Insane ambition, untouchable dominance, the inevitable slowing of momentum. And now, reinvention, sort of. Mostly from iOS 7, partly from the iPhone 5S itself. But underneath it all, it's still just an iPhone. And that's still pretty good.
The smartphone race has reached a point where Apple can no longer pad its lead simply by staying entrenched with its existing product—competition has caught and in places passed it. And that, in turn, means the phone in your pocket will be evolving a little more rapidly than it has in the past. A new software design, fingerprint unlocking, broader motion sensing, even the continued evolution of Siri—these are the sorts of leaps forward that Apple is usually content to let others test out before giving its own refined take. The result is a mixed bag.
Design
The iPhone 5S is literally just an iPhone 5, with a slightly different home button. It comes in gold now. If you're somehow unfamiliar with the iPhone 5, here is all you really need to know: It is impossibly light, the display is smaller and more narrow than most popular Android phones, and it is chamfered to high heaven.
Using It
Hardware
Whatever else it is, the iPhone remains a gorgeous phone, one that's as satisfying to hold and use and look at as any piece of electronics has the capacity to be. It's thin, light, solid, regrettably scratch-prone, on the fragile side if not outright brittle, and all the other things you know iPhones to be. That's a little boring, but it also works.
And so Apple plays the hits. The screen is the same retina display you're used to. It's been outstripped in size and pixel density by other larger and more powerful phones, but you'd be hard pressed to point out any flaws. The size, weight, and general shape are all the same old Apple standards. We like them. They're not going anywhere. In fact, if you want to find change here, you're going to have to look inside.
TouchID, Apple's fingerprint scanning security system, just works. Remember how that feels? It's simple and convenient and never feels like an imposition. Every time I'm asked for the thumb ID, it feels like a shortcut. Oh, I'd have to input a whole damn password here, wouldn't I? It's almost like MagSafe, in that it takes a small not-really-an-inconvenience and makes it easier, better. Wet fingers—after just washing your hands and drying them on your pants, say—don't work so well, but we did find that eating chicken wings and having gross, orange fingers was just fine. So there's that.
There's another piece of hardware in the iPhone that hasn't been talked about nearly as much, but is maybe even more important than TouchID. The M7 processor is supposed to make your iPhone come alive. At the announcement event, Nike showed off a new app that would turn your iPhone into, basically, a Fuel Band you carry around in your pocket. The phone would pick up the fine movements of your body, but because that information would be routed through the M7 chip instead of the main processor, the effects on battery would be minimal.
That functionality, from Nike and anyone else using the M7, isn't in use yet. We don't know how well it will work or how accurate it will be, but that it wasn't ready for launch isn't the best sign. These are natural growing pains, but they fold into a larger trend of Apple just not getting things right the first time around. Siri, Apple Maps, and now whatever's going on here.
It's a shame that the battery-saving M7 hasn't really kicked in yet (or maybe a good thing, depending on how well it works), because the battery is crap. The 5S doesn't last as long as the Moto X or Galaxy S4, but the gap isn't huge. It's crap, mainly, because I think about battery every time I use it. With background updates off on non-essential apps, I'd get to around 5 or 6PM before the phone was flat dead on moderate use. A little longer on light use, and far, far shorter when I was screwing with it constantly (obviously). But that's not good enough. Sure, you can use a battery pack to top off throughout the day if traveling, or charge throughout the day at your desk (if you work at a desk, yuppie). But the primary feature of your phone should always be its ability to turn on, and that's an area the iPhone lags behind its major competitors, and is lapped, twice, by brutes like the Razr Maxx.