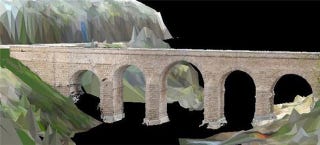 Ancient stone bridges dot the Spanish hills. Some are still in use, and all play a part in defining the region's landscape and heritage. Now, researchers at Spain's University of Vigo can examine the inner structures of these bridges without disturbing a single stone, thanks to some incredibly powerful imaging technology.
The University of Vigo's Applied Geotechnology Group uses two high-tech imaging systems to scan ancient and medieval structures. Ground penetrating radar (GPR) puts a radar emitter and receiver on a mobile cart, sending short radar pulses into the ground near interesting artifacts and analyzing the signal received to understand the shape and layout of ancient structures.
The other technique, LiDAR, sweeps a laser beam over visible, above-ground structures, gathering millions of dimensions and measurements. When combined, the GPR and LiDAR data generates a virtual, 3D blueprint with precise measurements of both the visible and hidden parts of the structure.