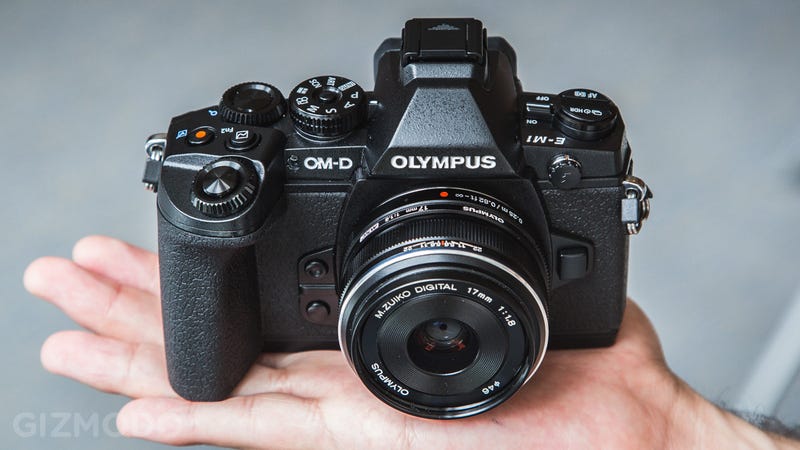 The interchangeable-lens OM-D E-M1 is so much camera you won't believe it's mirroress. The E-M1 is the successor to 2010's E-5, the last Olympus camera with a mirror box and an optical viewfinder. I just shot with one of the first units in the world at the Oly launch event in New York, and I'm certain that almost no one needs a DSLR anymore. This camera is a serious business photography machine.
And we mean serious: Like, people who want to buy a $1400 body and bunches of lenses. The only kit bundle will be a M.ZUIKO Digital ED 12-40mm f/2.8 lens—the first in Olympus' "Pro" line of mirrorless lenses. It won't be available at launch, but when it is, the bundle will cost $$$$$. That's a lot of dollar signs for anybody, and it reflects the evolution of the technology—as well as the evolution of photographers.
---
Four Thirds DSLRs are gone but their lenses live on
The beginning of the OM-D E-M1 story is that it's probably the end of Olympus' DSLR format—and don't be surprised if everyone besides Canon and Nikon goes this way as well. The four thirds system was jointly developed by Olympus and Kodak for the production of DSLRs. Olympus released 15 four thirds shooters starting with the E-1 in 2003. The last, the E-5, was released in 2010. All have been discontinued. The 17.3 x 13 mm sensor size is smaller than the APS sensor that's now widely accepted as the minimum standard for DSLRs, and even many APS-based DSLR formats are starting to seem excessive for their mirrors.
In 2008, Olympus started releasing its first micro four thirds system cameras, which used the same four thirds sensor size, but with a slightly different lens geometry for a mirrorless camera body. At first, these cameras looked like a race to the bottom on price and size, but that changed about two years ago when mirrorless got good. Rumors that Olympus would replace its 2010 E-5 DSLR with a smaller product have been circulating since last year's expensive, full-featured OM-D E-M5 hit the market. Today's OM-D E-M1 announcement shouldn't surprise anyone.