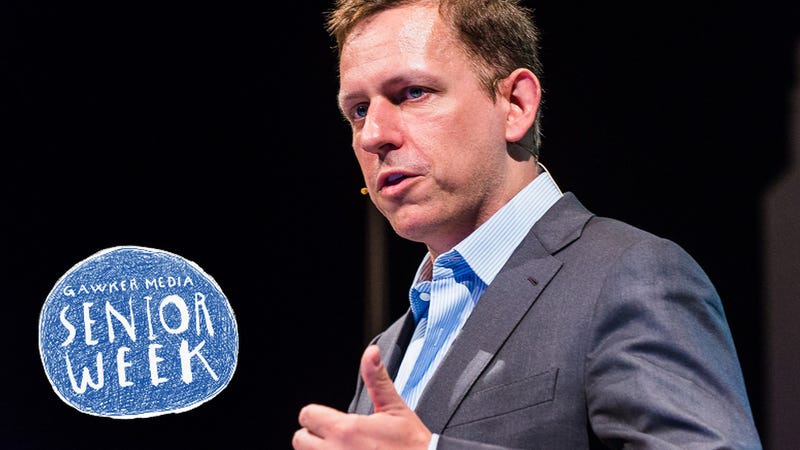 Billionaire douchebag Peter Thiel has plenty of crazy ideas, but his commitment to radical life extension isn't one of them.
Without question, Thiel clings to some rather obnoxious ideas. An ardent libertopian and admirer of the pseudo-intellectual Ayn Rand, the tech mogul believes that freedom and democracy are incompatible, and he questions the prudence of giving women the vote. Thiel has said that higher education is a waste of time, and has repeatedly told young people to drop out of school so they can pursue entrepreneurial projects. He has even paid some to do so. Frustrated by the real world and how it operates, Thiel has invested in the Seasteading Institute, an organization dedicated to setting up a lawless utopia in international waters. Not surprisingly, he's also an an ardent supporter of Donald Trump. And of course, he also thinks it's cool to sue media companies into oblivion when they write unflattering things about him.
Oh, and he wants to live forever.
Now, while much of the mainstream media will try to discredit the tech mogul on this seemingly outlandish issue, I'm not one of them. On this point, the man is right on target. Death is fucking awful, and we need to get rid of it sooner rather than later. We also need to lose this idea that not wanting to die is somehow crazy or deviant. Not wanting to die is actually one of the most rational beliefs a person can have.
Back in 2014, when asked about his most ambitious goals for the future, Thiel told an audience at the Venture Alpha West Conference that he's "very passionate about trying to do something to really get some progress on the anti-aging and longevity front," describing the field as "a massively under-studied, under-invested phenomena." Speaking recently to the Washington Post, he said, "I've always had this really strong sense that death was a terrible, terrible thing...I prefer to fight it."
To that end, Thiel has invested millions in the Methuselah Foundation, a research group dedicated to extending the human lifespan by advancing tissue engineering, genomics, and regenerative medicine. Headed by biogerontologist Aubrey de Grey, the group has distributed more than $4 million to support research in this area. De Grey himself has outlined a plan, called Strategies for Engineered Negligible Senescence, to stall—and even reverse—the aging process. The Thiel foundation has also given money to Cynthia Kenyon, an anti-aging researcher from the University of California, San Francisco. Failing advances in this area, Thiel has also signed up to be cryonically preserved in the event of an untimely death.
Thiel is not alone in his desire to stave off death. Inspired by advances in genetics, regenerative medicine, cellular biology, and cybernetics, an increasing number of people are calling for an end to aging and mortality. Aging, these self-proclaimed immortalists claim, is a disease that can and should be stopped. They argue that it's not an inexorable process, and that the human body, like any other machine, can be modified and restored to a former glory.