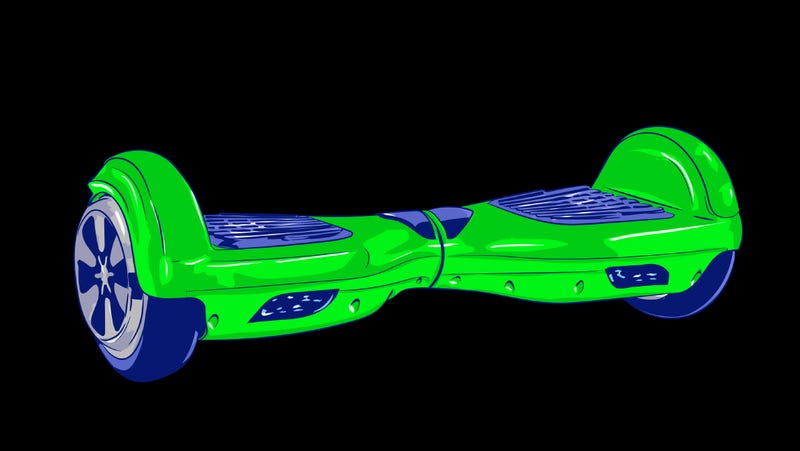 Two things: One, those two-wheeled self-balancing teen transporters you've heard so much about lately should not be called "hoverboards," as they do not hover. Two, everyone should stop buying them.
The United States Postal Service just banned quote-unquote hoverboards on airmail flights since the batteries have a naughty tendency to catch on fire. The move comes just a few days after multiple airlines put hoverboards on the no-fly list citing the same safety hazard. The abrupt change in policy is understandable, since explosions in the sky are a very real danger.
But the fire risk is only the latest item on a growing list of ways that hoverboards wreak havoc on the world. Last week, the United States Consumer Product Safety Commission (CPSC) told Gizmodo that it's conducting an extensive investigation into over 30 emergency room visits due to hoverboard accidents, in addition to nearly a dozen reports of the gadgets spontaneously combusting. Some poor family in Louisiana lost their home after a hoverboard bought on Amazon exploded while charging. "It was like fireworks," the mother of the boy who owned the hoverboard told the local news, "the middle part of the board—just 'poof.'"
Just 'poof. That's how quickly these things can ruin your life.
The hoverboard threat isn't just being acknowledged by government agencies and airlines–stores are taking action, too. Amazon itself quietly stopped selling a number of hoverboard brands due to safety concerns. Target and Overstock.com have similarly pulled hoverboards off their digital shelves until somebody gets a handle on this rash of fires and accidents. Meanwhile, the popular and very poorly named Swagway as well as big box sports hut Moddell's are the target of a class action lawsuit in New York over some kid's Hanukkah present catching on fire.