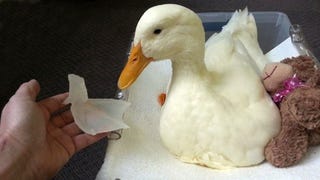 Buttercup the duck was born with his left foot turned backwards, making it nearly impossible and extremely painful to walk. But now he's waddling again with a 3D-printed foot.
Even if you're roasting a chicken, or just heating up a can of beans over an oil bin fire, it's ok to use this adorable duck-shaped kitchen timer that Finnish designer Eero Aarnio created for Alessi. It's a humorous take on the traditional egg timer that hints at the longtime chicken vs. egg debate.
As someone with a proudly stupid ringtone ("Gonna Make You Sweat"), I'm okay with being embarrassed when it invariably goes off in public. But then, I'm not a White House reporter who interrupts the President with loud digital quacking.
I did my best, we started the day with iPhones, but we've digressed to radio ducks made for the tub. Still, the design is pretty interesting. You turn the duck/radio on and off by twisting its head. An AM/FM switch is on the wing, and stations are adjusted by twisting the tail. The unit runs off 3 AAA batteries and…
Our keyboard is a gross pile of chips, cat hair and coffee spills topped by a neatly organized layer of buttons. We could use the Sucky Ducky.
Manager on your ass again about those TPS reports? Instead of venting on your poor copy machine, take out your anger on ducks with this Duck Shooting Gallery desk game.
Roboducks are robotic decoys that lure unsuspecting ducks to their doom much more effectively than the standard, dead-in-the-water decoy. These things flap their wings and wiggle their tails and make hunters six times more effective. I'm not liking those odds for Mr. Mallard, but I guess it makes the hunting part of…