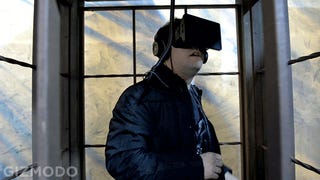 Game of Thrones might be fantasy, but the characters are so deep and the betrayals so gripping that it feels real. And thanks to Oculus Rift, I just experienced a brief slice of life in the Seven Kingdoms. It was awesome—but I'm glad to be back in our reality.
For the second year in a row, HBO will be hosting a traveling Game of Thrones exhibition, and the first preview of the multi-city nerd extravaganza is happening right now in New York. Inside, there's a prototype of one of the most thrilling Oculus Rift experiences I've ever had.
Called "Ascend the Wall," the virtual reality scenario places you in the carriage of a lift that's scaling the 700 foot wall of ice in Game of Thrones. You know, this massive thing:
The overall experience is super immersive, even if there's not a lot you can really do. I stepped into a cage-shaped booth and strapped on the original Oculus Rift 720p development kit—rather than the new 1080p prototype. An exhibit staffer set a pair of over ear headphones on my head, and almost immediately I was transported to the icy northern border of the seven kingdoms. The gate to the lift carriage slammed shut and a rickety sounding winch started hauling me to the top of the fortification, as howling winds whizzed by.