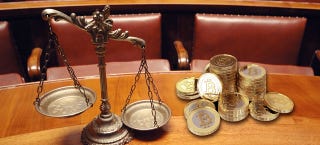 Over the weekend, Ross Ulbricht's lawyer, Joshua Dratel, filed a motion asking the court to dismiss all charges against the Silk Road kingpin. It's largely what you'd expect from a bullish defense attorney. But here's the twist: Dratel throws bitcoin under the bus.
It's funny, really. Many would argue that Bitcoin has the Silk Road to thank for its explosive popularity. After all, the cryptocurrency was worth almost nothing until Adrien Chen published an exposée on the underground website nearly three years ago and practically made bitcoin a household name. Now, the Silk Road case stands to define the future of bitcoin, specifically whether it's really money and how it should be legislated.
The Case Against Bitcoin as Currency
In the Silk Road case, Ulbricht's lawyer doesn't actually say anything bad about bitcoin. Dratel simply adopts the same point of view as the federal government. Just a few days ago, the Internal Revenue Service (IRS) declared that bitcoin is property and must be taxed as such. In other words, bitcoin is not currency. The taxman went so far as to say that virtual currency in general "does not have legal tender status in any jurisdiction." The Department of Treasury's Financial Crimes Enforcement Network issued a similar statement last year, defining bitcoin as a "virtual currency [that] does not have legal tender status in any jurisdiction."