Every year, humanity turns off the lights for Earth Hour. Well, some of humanity. As we learned during this week's Shooting Challenge, a lot of people leave the lights on.
Winner: Vincent Thomas Bridge
Took this picture of the Vincent Thomas Bridge in San Pedro, CA while on the way home. It's normally very brightly lit at night so it's interesting to see it with only the safety lights on for Earth Hour. Taken with a Sony Nex-6.
AJ Sian
---
Dark Arch
For my Earth Hour picture, I couldn't think of a better spot. I was hoping for more participation from the surrounding buildings but you have to take what you can get. This photo was taken with my Nikon D7000, 15 sec, f/8 at ISO 100 using a 35mm lens. I also adjusted the curves in Photoshop just a little.
Alex Flett
---
Tree
G/O Media may get a commission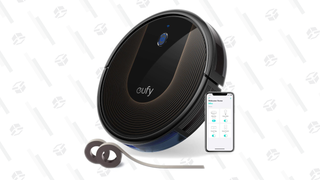 48% Off
Eufy BoostIQ RoboVac
The image was captured at about 9 pm, but it was actually the day before Earth Hour. I liked the way that the tree had just enough light on it from a nearby street lamp for my Nokia Lumia 635 to get a usable picture. It was then globally processed in Paint.net 4.0.5 for color, contrast and saturation to bring out a little more detail.
Jonas Demuro
---
By Candlelight
Inspired by your contest and armed with my new Canon G7X and tripod, I headed outside into the cold and proceeded to shoot a number of images of nearby houses, the moon, the stars and clouds with exposure times ranging from 15 seconds to 2 minutes. It was freezing cold, and the clouds rolled in and flurries started to fall, so I went back inside. Earlier, I told my family about Earth Hour, and they had embraced the idea. The TV was off, the electronic tablets were put away, the lights were off, and the kids were reading actual books by candlelight. I took the camera off of the tripod, set it on a stack of books, and set the aperture for at narrow depth of field (f/1.8). I took a number of exposures at various shutter speeds, but the 1/4 second shutter speed left the background underexposed and isolated the kids faces in the darkness.
Photo release information: These are my children, and I hereby release and permit the exhibition and use of the image in the manner set forth in the contest rules without additional compensation. I have on file a signed consent for the release of the image.
Scott Wootten
---
The Dock
Photo taken at 8:45 pm at the Dock Street Marina in Tacoma, Washington. The marina was dark and quiet while the lights from the city cast an orange glow around it. This photo was taken with a Nikon D7100. ISO 1600, F/3.5-5.6
Karen B
---
Little Dipper
Well this challenge was tough to shoot. I tried to photograph the little dipper, I think you can see it on the left center. I used a Nikon1 J1, on manual mode with ISO 3200, with a 10 second exposure and f/4.8.
Bobby Gutierrez
---
Partial Compliance Skyline
No description given.
Jamique Mascoll
---
Car Trails
I took this picture of Denver, CO at 9:07pm on March 28th. I have taken pictures from this spot before and I knew it would give me a nice shot of Denver for this weeks challenge. Shot on a Canon T3i using the kit lens with a neutral density 1.2 filter. ISO 100, 43mm focal length, f/5, 4 minute shutter.
Shane Sosh
---
St. Mark's Square
I'm currently in Venice on vacation, and brought my trusty 6D with me. For earth hour, Venice shut off the lights in St Mark's Square and the surrounding area. Here you can see the Campanile and other buildings with their lights off in contrast with the other island to the where lights remain lit on a statue. Taken with a 6D. 105mm, ISO 1250, f/4.0, 0.5s exposure. Used one of those rickety wooden tree-holding posts as a stand.
Ulysses Popple
---
Wilderness
No description given.
Tyler Valentik
---
So, maybe Earth Hour lacks a complete lights-off punch, but I sure enjoyed the photos everyone took all the same. Find the big photos on flickr.