You've no doubt got your favorite apps, the ones you turn to again and again on your smartphone—but have you discovered the best add-ons and plug-ins for those apps? There's a growing market for apps that work with other apps, and we've picked out some of the best and most useful examples you can find right now.

---
1) WikiBot for WhatsApp
As you might have surmised from the name, WikiBot for WhatsApp returns Wikipedia summaries inside WhatsApp conversations. All you need to do is work through the brief setup process, add WikiBot as a contact inside WhatsApp, and you can then start pinging queries at it—type out your search and you should get an article summary in return.

---
2) Inbox When Ready for Gmail
G/O Media may get a commission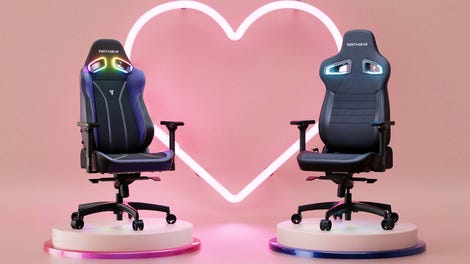 Up to $150 off
Vertagear Gaming Chairs
Inbox When Ready works on the web as a Chrome extension for Gmail: Essentially, it lets you check your email on your own terms, hiding the contents of your inbox until you're ready to see them. You can lock yourself out of your inbox manually or on a schedule, set a limit for email checking, and look for old emails without getting distracted by new arrivals.

---
3) Equalify Pro for Spotify
If you've been crying out for better control over the audio output of Spotify, then Equalify Pro will interest you—it adds an advanced equalizer on top of the Spotify desktop client for Windows, giving you a host of bands and filters to play around with. It is going to cost you for a license though, £10 (around $13) for use on three different Windows computers.

---
4) Layout for Instagram
If you want to put multiple photos in the same square on Instagram (so several photos become one), then Instagram's official tool for the job is well worth a look alongside the many third-party alternatives. Layout for Android and iOS sticks to the basics in terms of collage making, but it does them well, and of course works seamlessly with Instagram.

---
5) Paper for Dropbox
Speaking of official app add-ons, Paper for Android and iOS is made by Dropbox itself and adds Google Docs-style collaboration on top of all the usual syncing and sharing tricks. It doesn't have a load of features to its name, but it excels at letting you work on simple documents quickly with a group of people, with tagging and commenting built right in.

---
6) Upflix for Netflix
The Netflix interface is fine, but it doesn't always do a great job of letting you know about content that's just been added (or indeed just been removed). Enter Upflix for Android and iOS, which brings with it an intuitive and elegant interface that lets you see exactly what's new on the platform, as well as plenty of other options for exploring the Netflix catalog.

---
7) Afterlight for Photos on iOS
The Photos app for iOS has allowed third-party apps to appear right in the native editing interface for several years now, and Afterlight for iOS ($3) is one of the best apps taking advantage of this. Once you've installed the app, you can use its filters, color tweaks, and editing effects in the separate Afterlight app, or via the Edit pane inside Photos for iOS.

---
8) Enhancer for YouTube
Get Enhancer for YouTube installed inside your Chrome browser and start doing more on the YouTube desktop website: The add-on can suppress adverts and annotations, control volume levels and playback speeds with the mouse scroll wheel, loop videos more easily, apply custom themes, force videos to play at a particular resolution, and more.

---
9) Privacy Badger for Firefox on Android
Unlike Firefox for iOS, Firefox for Android supports extensions, and as on the desktop you've got a host of options to pick from. We're going to highlight one, Privacy Badger, which is straightforward to use, effective, and lightweight—it prevents websites and embedded adverts from recognizing who you are and logging your travels on the web.

---
10) Vidometer for the iOS camera
Vidometer for iOS is a cool tool that taps into the camera app on your iPhone and adds a bunch of useful overlays on top—you can track your route on an embedded map, insert street map imagery, include statistics on elevation, distance traveled, and acceleration forces, and more. It's perfect for everything from long train journeys to adventure sports.

---
11) Macaw for Twitter
Macaw for iOS is perfect if your Twitter feed needs some curation: It flags up tweets that are popular among your contacts, and Twitter accounts that a lot of your friends just started to follow, and recent tweets featuring a question (just in case you want to respond. It's a clever app too, taking care not to duplicate Twitter's own highlighting, for example.