In 1904, the micrographs Arthur E. Smith, were exhibited at the Royal Society's Annual Conversazione in London, are showing many viewers the world under a microscope for the first time. And some reacted to these giant images of insects, plants, and human body parts with not just wonder, but revulsion as well.
A diatom from Bori, Hungary
G/O Media may get a commission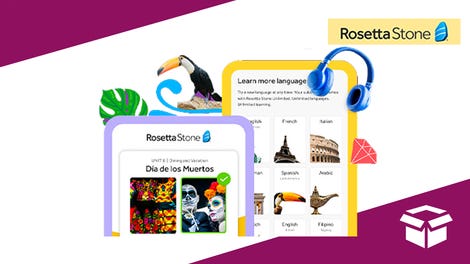 Extra 20% off
Rosetta Stone Lifetime Subscription - All Languages
Tiny marine species with skeleton composed of silica (Polycystina) from Barbados
Radula (a toothed ribbon used for cutting food by molluscs) of a sea snail
Section of a sea urchin
The sucking tube on the tongue of a blow-fly
Tongue of a butterfly
Foot of the great diving battle (Dytiscus marginalis)
Larva of antlion
Head of crane fly, also known as the Johnny Spinner
Triceratium favus
Section of a Lily bud
Transverse section of human scalp
Vertical section of a human tooth
Sheep tick
Mideopsis orbicularis, a water mite
The skin of a sole
The camera gear and the microscope used for the photo-micrographs above
___
All images are from the Internet Archive.