As you curse the rat's nest of terminals, walkways, and people movers of whatever transit hub you're using to get home this week, it's easy to forget how extraordinarily sophisticated the average airport is. They're works of art, really—but they're nothing compared to the airport concepts artists have dreamt up over the last 100 years.
This week, Scientific American reports on a proposed airport for greater London, which would float a massive superstructure in the Thames estuary. It sounds like a remarkably modern idea—but it's actually been around for at least 70 years. Given that we're spending this week looking at the changing role of air travel in our world, now seems like an ideal time to parse the voluminous amount of writing that's been done on the airport proposals of yore—below, you'll find our highlights.
---
1919: Urban Runways to Serve a City of Pilots
In the 1910s and 20s, commercial aviation as we know it hadn't quite reached the tipping point—and some visionaries imagined a city where civilians would own their own small craft, as we do cars today. Illustrated London News ran this illustration in October of 1919, showing how a runway could be wedged into the existing urban fabric. [PTAK Science Books]
---
G/O Media may get a commission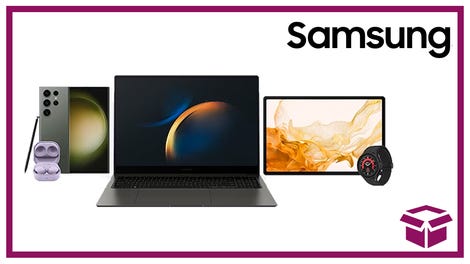 24 hour deals
Discover Samsung - Daily Deal
1926: Airborne Urban Airports
By the late 1920s, it seemed clear that every American wasn't destined to own his or her own plane like they would own their own Fords. The first commercial airlines were already emerging, thanks to the Congress-backed Air Mail system, and designs for airports evolved alongside this shift.
This page from Gregory Benford's book, The Wonderful Future That Never Was, called for a 1,400-square foot runway affixed to massive columns made out of commercial real estate—in other words, skyscrapers. [Paleofuture]
---
1934: An Airport Above the Thames
By the 1930s, air travel was considered the glamorous future of travel—and cities were looking for ways to accommodate the rapid influx of planes. This drawing appeared in a 1934 issue of Popular Science, proposing an airport on the Thames—with an entrance into Westminster Palace. [Gizmodo]
---
1938: Megastructures For a Mega-Industry
By the late 1930s, airplanes had become the hinge upon which military and commercial industry swung. With the explosion of planes came a problem: Where to locate runways near major economic centers. "Proposed as a solution to the problem of locating an airport in the heart of any big city," explained a 1938 issue of Popular Mechanix of this scheme by an unnamed French engineer, which would reorient its runway to the approach of each plane. [Modern Mechanix]
---
1939: A Skyscraper-Topping Airport
Another, similar plan from the same time imagined repurposing existing rooftops in Manhattan. The eight-runway airport would serve commuters from as far as 100 miles away who wanted to fly to work. On the bottom levels, taxis, buses, and parking lots would connect fliers with the rest of the city. [Modern Mechanix]
---
1946: A Manhattan Super-Airport
Hate Penn Station? Just be glad it doesn't stretch for 144 blocks. We've written about this proposal, which would've seen the construction of a multi-level, 900-acre airport along the West Side of Manhattan, before. The idea was to cut down on the time it took to get from JFK and LGA by car—at a cost of $3 billion, or $35 billion in today's money. [Ptak Science]
---
1950s: A Floating Terminal For NYC
Also in search of a solution to Manhattan's airport woes, Norman Bel Geddes imagined a floating runway at the tip of Manhattan, which passengers would access via a long tunnel underground. As John F. Ptak points out, the most interesting part of the scheme might be the job of pilot—not for the plane, but for the entire runway, which would be turned via rudder away from the wind as needed. [PTAK]
---
1960: The Jetscalator
As the size of the average airport grew, the logistics of getting foot-borne passengers to the terminal became a bigger conundrum. One solution to this problem? Mobile terminals, or the Jetscalator." A variant of these wheel-borne terminals have shuttled passengers at Washington Dulles for decades. [Paleofuture]
---
1970s: Norman Foster's Hammersmith Flyover
Hammersmith Flyover, an elevated highway in West London, was the subject of this 1970s plan by a young Norman Foster. This was the megastructural 1970s—and Foster imagined razing the highway and replacing it with a massive monolith of commercial spaces, offices, bus and train stations, and of course—a landing pad for aircraft up top. [Londonist]
---
1980s and 1990s: Floating Terminals
The floating airport—whether air- or sea-borne—had been a dream since the early days of air travel. Here's a case where it might be most interesting to talk about what was built: After more than three decades of theoretical concepts and proposals, the world's first floating airport—Kansai, in Japan—opened in 1994 on a 2.5-mile-long piece of artificial land. It was a solution to myriad problems with urban airports: the noise, the limited land resources, the inherent public safety issues. The only caveat? Today, it's sinking.
---
2010s: Portable Air Traffic Towers
These days, it isn't necessarily the addition of new technologies into the mix that obsesses us, but the subtraction. For example, Saab's virtual traffic controller system, which lets air traffic controllers do their job from, well, anywhere. Once a focus of every airport, the control tower is now a dying breed. [Gizmodo]
---
2020s: London Britannia Airport
This plan—which would replace the over-capacity Heathrow sometime in 2030—capitalizes on the same basic technology that built Kansai. Situated in the middle of the Thames Estuary, it would shuttle passengers via ferry to London and the rest of the country. [BBC; io9]
---
It's one of the busiest travel weeks of the year, so what better time to take a closer look at how we get where we're going—and how we could be doing it better? Check out more of Gizmodo's Air Travel Week posts here.