While the United States discusses about the political convenience of bombing President Assad's military, some of the two million Syrian refugees are begging Obama to attack at once. According to Spanish newspaper El País, that's the opinion of many of the 144,000 Syrian exiles surviving at Zaatari, a refugee city made of tents in Jordan. It looks like a scene from an post-apocalyptical movie.
They want the intervention with the desperation of someone who doesn't have anything at all. They are convinced that the attack will not change their situation any time soon, but they think that something will change. These are the words of 47-year-old refugee Abu Rifat:
"I beg Obama to act as quick as he can so we can take down the tyrant. This attack could be our hope to return soon to our homes, if they haven't been destroyed already. We are counting on the rebel army to get control over the country after at least one month after the attack. America has the capacity to attack Bashar with enough force to bring the regime to the brink of death, since it doesn't want to finish it completely."
But war aside, the AP Images from Zaatari—a seemingly endless city made just with tents and some temporary electrical system—are overwhelming. Imagine getting out of your comfortable home and having to run with just a few of your possessions to the middle of a Mexican desert to live in a tent with a dozen more people, no running water, common toilets and showers, no air conditioning, and streets made of dust when it's hot or mud when it rains.
I don't know what are the consequences of a military intervention—but something has to be done to end all this.
G/O Media may get a commission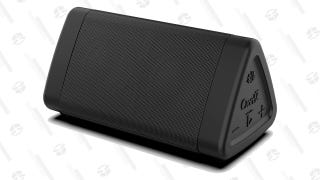 Save 31%
Oontz Angle 3 Portable Bluetooth Speaker
Aerial view of Zaatari, a refugee "camp" in Jordan, located 10 km east of Mafraq.
Another view of this temporal city. The last estimated number of refugees is 144,000 people.
Some of the basic utilities in the camp.
Of course, no asphalt in the "streets."
Accidents in the camp, like this fire, seem to be common.
Photos by AP Images