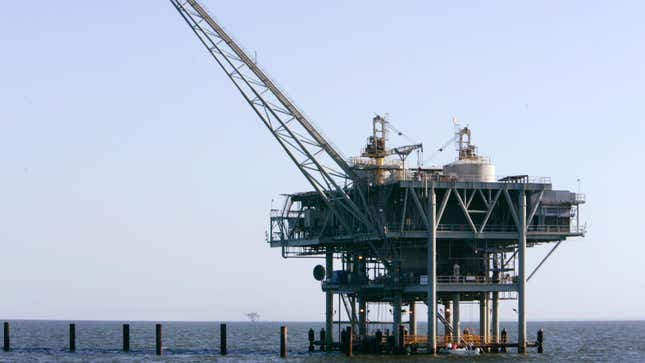 There are thousands of abandoned and unplugged oil wells throughout shallow waters, wetlands, and offshore along the Gulf of Mexico that pose environmental risks, according to new research.
Chat GPT-4 Worth the Upgrade? | Future Tech
A study published in Nature Energy found that there are 14,000 orphaned oil and gas wells in waters throughout the Gulf of Mexico's waters and in Alabama, Louisiana, and Texas. They created a cost analysis for plugging these idle wells after collecting data on more than 80,000 wells drilled in the Gulf from the U.S. Bureau of Safety and Environmental Enforcement. Though most of those wells have been plugged, around 14,000 remain uncovered. Plugging the wells would prevent environmental damage, but that could cost up to $30 billion, the researchers found.
Unplugged oil and gas wells can leak methane, a potent greenhouse gas that builds up in the atmosphere. If it accumulates in a smaller space, methane can cause asphyxiation and it is also flammable, according to the Department of the Interior. It's especially a hazard when wells are near communities and if it gets into homes. About 13,000 of these abandoned and unplugged wells are in federal or state shallow waters. The study authors explained that those wells should be prioritized for plugging. "Methane leaks from shallow water infrastructure are likely to reach the surface," Greg Upton, a study author and associate professor at the Louisiana State University Center for Energy Studies, said during a press conference. "Focusing work on shallow water wells closer to shore will provide more environmental benefits relative to the costs, [rather] than focusing on those deeper wells further from shore."
Previous research has shown that these wells can be a major source of water pollution and can leak other toxins, including arsenic. Closing off these wells would involve a process in which workers use cement to fill the reservoir where oil and gas come from. A plug is placed into the well, and then more cement is poured on top of that, according to Upton. The cost associated with this process is often determined by how much cement is used and the tools needed to correctly plug the well in different locations.
The deepwater wells that are farther offshore in the Gulf will be harder to plug. Wells in shallower waters represent 90% of the locations studied, and plugging those would only take up 25% of the estimated $30 billion, according to the team. "Wells in a marshy setting may not require diving equipment to reach, but ultra-deep-water wells are not even accessible by divers. They require expensive technologies such as remotely operated vehicles," the study authors wrote.
Sadly, it's unlikely that all of these wells are going to be plugged soon. Operators are responsible for plugging oil and gas wells after they're no longer needed, but some companies simply walk away or transfer ownership. When no one is legally responsible for that well anymore, it's "orphaned." Some states in the country have programs for plugging these wells, and the Biden administration set aside more than $4 billion to address abandoned wells last year, Reuters reported. But that's only some of what will be needed to address the idle wells throughout the Gulf.
The study authors are working with the researchers at the Louisiana Department of Natural Resources to answer questions about how the wells are affecting surrounding environments. "We're actually assisting them in estimating the methane emissions that are actually coming from these wells, in order to do an actual climate cost benefit analysis," Upton said.
Other parts of the U.S. are dotted with abandoned and unplugged wells. A 2021 study found that Central Appalachian states, including Ohio, West Virginia, Pennsylvania, and Kentucky, are home to more than 500,000 abandoned oil and gas wells. That's about 20% of the country's idle wells, according to the study. Plugging them could actually create thousands of jobs across the country, but, like the wells in the Gulf, government agencies will have to tackle the issue of the cost . It's likely that federal money will be needed to handle these inland wells, too.
Want more climate and environment stories? Check out Earther's guides to decarbonizing your home, divesting from fossil fuels, packing a disaster go bag, and overcoming climate dread. And don't miss our coverage of the latest IPCC climate report, the future of carbon dioxide removal, and the invasive plants you should rip to shreds.